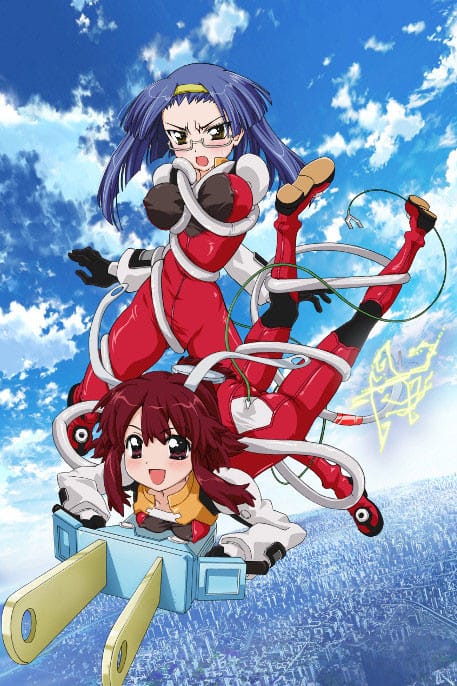 Did someone call for a Charger Girl?
Earlier today, Media Blasters announced the full English dub cast for Charger Girl Juden-chan. The series will star the following:
Plug Cryostat: Brittany Lauda
Sento Oumi: Daniel J. Edwards
Arresta Blanket: Kira Buckland
Rona Elmo: Daisy Guevara
Iono Tomogana: Felecia Angelle
Hakone Oumi: Cheryl Li
Narrator: Matt Shipman
Mysterious Villain: Matt Shipman
Pulse Trans: Amber Lee Connors
Sokko: Jessi Nowack
Maako: Caitlynn French
Chiiko: Amanda Lee
Takko: Tessa Whitten
Rinko: Miranda Gauvin
Reika Galvani: Hazel Summer
Kuran Shunt: Rose Dyson
Sweetie Millie: Yara Naika
Bloody Silica: Michaela A. Laws
The Boss: Michele Knotz
Kenta: David Errigo Jr.
Bitch: Billy Bob Thompson
Paita: Matt Shipman
Tentacle Monster: Ricco Fajardo
Ruiji: Rochelle J. Chiang
Akihiro: Eddy Lee
Author: Milly Prower
Luto Hougetsu: Nicole Martino
Charger Girl Engineer: Kimlinh Tran
Sunday Mama's Waitress: Jennifer Layla
Neodym PA: Malika Butler
Santa Bear: Mike Hecht
Additional voices on the project include:
Vic Mignogna
Mike Hecht
Matt Shipman
Ricco Fajardo
Jon Tanton
Greg Nugent
Leo Wiggins
Michael A. Zekas
Malika Butler
Jennifer Layla
Nicole Martino
Howard Wang
Adam Tilford
Natalie Van Sistine
Kira Buckland
David Errigo Jr.
Meli Grant
Brittany Lauda.
Brittany Lauda is directing the adaptation with assistant director Matt Shipman. The two will also write the show's dub scripts, with Shipman serving as lead ADR Writer. Justin Ramos will serve as ADR Engineer on the project. John Sirabella is attached as executive producer, while Carl Morano serves as producer.
Brittany Lauda was in charge of the dub's casting.
Last year, we reported that Brittany Lauda was cast as Plug Cryostat. In August, Crunchyroll revealed that they will stream the dubs for both Charger Girl Juden-chan and Ladies Versus Butlers!.
The series is currently available in subtitled format on Crunchyroll. The company describes the show as:
Sadness be gone! Though depressed people are scattered across the world, there are those from a parallel world who are here to help. Known as Juden-chan, these busty ladies use their special powers to charge up the mentally dejected and earn a living in the process. While Aresta and Plug are performing their Judan-chan duties, they discover a boy named Sento. Unlike most humans, Sento can actually see them!
Media Blasters released a dub teaser for Juden-chan in July 2015. You can check this out below:
Source: Media Blasters