The trial is about begin anew. Who will be found guilty this time?
Earlier today, the official Danganronpa 3 -The End of Kibōgamine Gakuen- (Danganronpa 3 -The End of Hope's Peak Academy-) anime website updated with a pair of visuals. One image promotes the show's "Side: Future" ("Mirai-hen", top), while the other shows off the "Side: Despair" ("Zetsubou-hen", Bottom).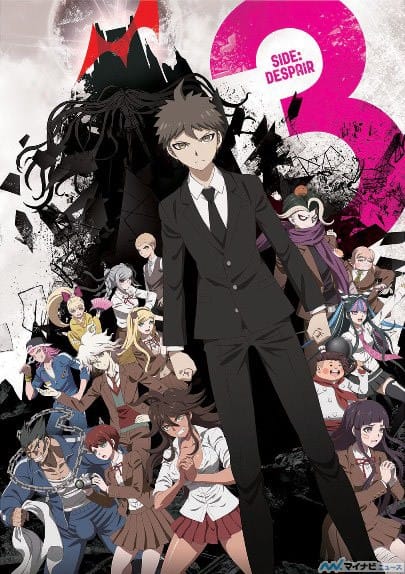 Advance screenings of both shows will be held on July 3. Events will be held at TOHO Cinemas in the following regions:
Tokyo: Shinjuku/Shibuya
Nagoya: Nagoya Bay City
Osaka: Umeda/Nanba
As of press time, it's unknown which specific episodes will be shown at the events.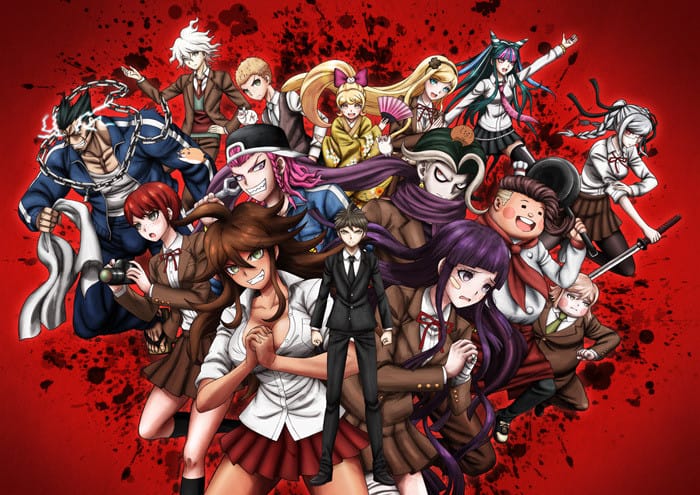 Both shows are based on Spike Chunsoft's Danganronpa video game series. Previously, NBC Universal revealed that "Side: Future" would air in July, while "Side: Despair" was slated for a later début.
"Side: Future" will première on Tokyo MX and AT-X on July 11, at 11:00PM. BS-11 will begin airing the series 90 minutes later, at 24:30 (July 12, at 12:30AM).
"Side: Despair" will début on Tokyo MX and AT-X on July 14, at 11:30PM. The series will hit BS-11 an hour later, at 24:30 (July 15, at 12:30AM).
Side: Future will revolve around the cast of the first game, while Side: Despair will follow the events of Danganronpa 2: Goodbye Despair. The confirmed cast includes:
Side: Future
Aoi Asahina: Chiwa Saito
Makoto Naegi: Megumi Ogata
Kyōko Kirigiri: Yōko Hikasa
Kazuo Tengan: Hidekatsu Shibata
Ruruka Andō: Inori Minase
Jūzō Sakakura: Junichi Suwabe
Ryōta Mitarai: Kanata Hongou
Kōichi Kizakura: Keiji Fujiwara
Great Gozu: Kenta Miyake
Chisa Yukizome: Mai Nakahara
Yasuhiro Hagakure: Masaya Matsukaze
Daisaku Bandai: Rie Kugimiya
Seiko Kimura: Saki Fujita
Monomi: Takako Sasuga
Sōnosuke Izayoi: Takuya Eguchi
Monokuma: TARAKO
Side: Despair
Hajime Hinata: Minami Takayama
Mikan Tsumiki: Ai Kayano
Ibuki Mioda: Ami Koshimizu
Fuyuhiko Kuzuryū: Daisuke Kishio
Nekomaru Nidai: Hiroki Yasumoto
Teruteru Hanamura: Jun Fukuyama
Ryōta Mitarai: Kanata Hongou
Peko Pekoyama: Kotono Mitsuishi
Nagito Komaeda: Megumi Ogata
Sonia Nevermind: Miho Arakawa
Akane Owari: Romi Park
Hiyoko Saionji: Suzuko Mimori
Tanaka the Forbidden: Tomokazu Sugita
Kazuichi Sōda: Yoshimasa Hosoya
Mahiru Koizumi: Yu Kobayashi
Both shows will be directed by Daisei Fukuoka at Lerche, with Seiji Kishi (Angel Beats!, Yuki Yuna Is a Hero) serving as chief director. Kazuaki Morita (Assassination Classroom, Oreimo) is providing character designs, while Norimitsu Kaihō (School-Live!, Guilty Crown: Lost Christmas) takes charge of series composition.
Source: Anime! Anime!