Get ready for the world's finest Magical Boys to rise again!
Earlier today, Crunchryoll announced that they will stream Cute High Earth Defense Club LOVE! LOVE! as part of their summer simulcast lineup. The film will kick off on July 7 at noon Pacific (3:00PM Eastern) for subscribers in all regions outside of Asia.
Last week, Funimation revealed that they will also stream the series, though they declined to state a specific première date at the time.
Cute High Earth Defense Club LOVE! LOVE! is the sequel to last year's Cute High Earth Defense Club LOVE! Shinji Takamatsu (After War Gundam Wing, Gintama) is returning to direct the series at Studio Comet. Michiko Yokote (Genshiken, Princess Tutu) will handle composition again this season, while Yumiko Hara (Muv-Luv Alternative: Total Eclipse) steps in as character designer. Hara served as Chief Animation Director on the original Cute High Earth Defense Club LOVE!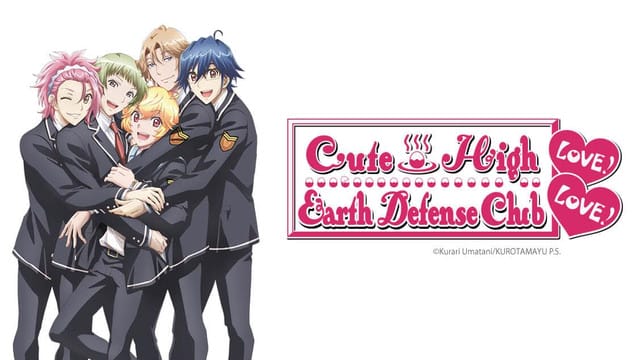 The confirmed voice cast includes:
Yumoto Hakone: Kazutomi Yamamoto
Atsushi Kinugawa: Kōtarō Nishiyama
Ryū Zaō: Toshiki Masuda
En Yufuin: Yuichiro Umehara
Io Naruko: Yusuke Shirai
Kinshirō Kusatsu: Hiroshi Kamiya
Ibushi Arima: Jun Fukuyama
Akihiko Beppu: Keisuke Koumoto
Wombat: Mugihito
Akoya Gero: Takuma Terashima
Gōra Hakone: Tomokazu Sugita
Haruhiko Beppu: Yoshiki Murakami
Crunchyroll describes the series as:
Binan High School in Northern Kanto is the home for the Binan High School Earth Defense Club. Under strange circumstances, they'd transformed into Battle Lovers and started taking on the Earth Conquest Club. And now it's been half a year since they started. They find out that the Defense Club and the Conquest Club were being pitted against each other due to a program on TV Space. And after the two clubs reconcile, they work together to defeat the mastermind, the show director, and get it canceled.

"Now we don't have to fight anymore," they thought, and decided to enjoy their high school lives. On one such day, they were lazing around in the Kurotamayu bathhouse, when…
A 90-second promotional video was released to promote the series, which you can check out below:
http://dai.ly/x4a2lnt
In North America, the original Cute High Earth Defense Club LOVE!  was one of three inaugural acquisitions by then-new publisher PonyCan USA.
Source: Crunchyroll