Was it shock for you, was it scaring you?
Earlier today, the Attack on Titan voice cast revealed that the anime series' second season is on track for a spring 2017 premiere. The crew, who broke the news at the "Shingeki Matsuri" fan event revealed a new visual for the season.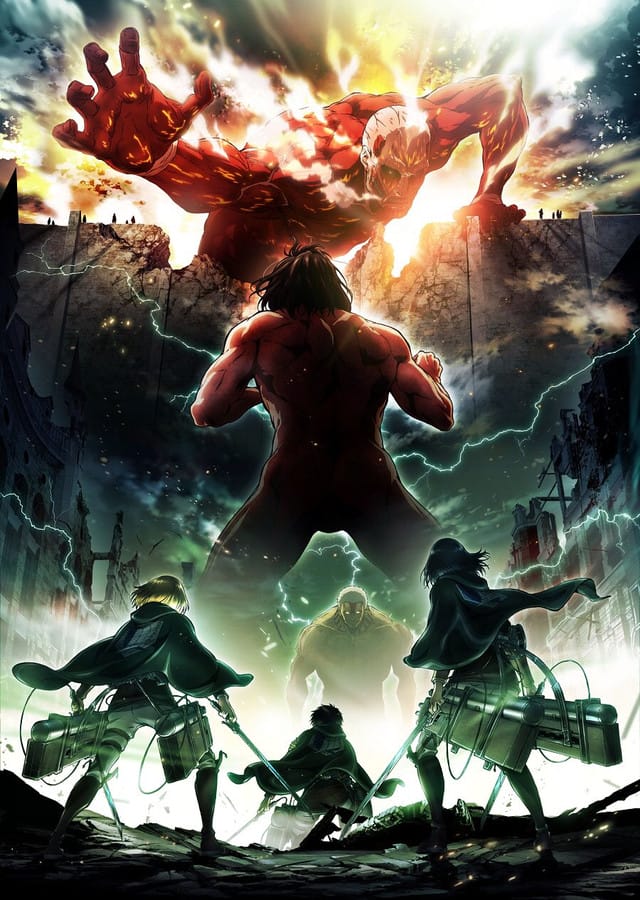 In addition, they confirmed that much of the original voice cast is returning for the series, including:
Eren: Yuuki Kaji
Mikasa: Yui Ishikawa
Armin: Marina Inoue
Jean: Kishō Taniyama
Annie: Yu Shimamura
Sasha: Yu Kobayashi
Christa: Shiori Mikami
Conny: Hiro Shimono
Reiner: Yoshimasa Hosoya
Bertholt: Tomohisa Hashizume
Ymir: Saki Fujita
Levi: Hiroshi Kamiya
Erwin: Daisuke Ono
Hanji: Romi Park
Hannes: Keiji Fujiwara
Tetsuro Araki, who directed the show's first season, is returning as Chief Director on the project. Masashi Koizuka, who handled storyboards in the original series, is stepping up as director. Yasuko Kobayashi and Kyoji Asano are returning to handle series composition and character designs, respectively. Wit Studio will again produce the show's animation, while Hiroyuki Sawano returns to compose the sountrack.
The remaining staff includes:
Chief Animation Directors: Kyoji Asano, Satoshi Kadowaki, & Ayumi Yamada
Assistant Director: Hiroyuki Tanaka
Action Animation Director: Yasuyuki Ebara, Arifumi Imai, & Takuma Ebisu
Art Setting: Yuuho Taniuchi
Titan Setting: Takaaki Chiba
Prop Design: Takuma Ebisu
Color Key: Ken Hashimoto
Art Director: Shunichiro Yoshihara
3DCG Director: Shigenori Hirozumi
3DCG Producer: Shuhei Yabuta
Director of Photography: Kazuhiro Yamada
Editing: Aya Hida
Sound Director: Masafumi Mima
Sound Effects: Shizuo Kurahashi
Sound Production: Techno Sound
Attack on Titan is based on Hajime Isayama's manga series of the same name. The show's first season aired in the spring 2013 anime season, and spanned 25 episodes. Five OVAs, spinoff anime series Attack on Titan Junior High, two live-action films, and nine video games were produced following the show's run.
The most recent title, Attack on Titan: Wings of Freedom, was published by Koei Tecmo and developed for the PlayStation 3 and PlayStation 4 by Omega Force (Dynasty Warriors). The game is due for release in western territories in August.
In the west, Attack on Titan was licensed by Funimation. The company released the title on DVD and Blu-Ray, in addition to streaming platforms Netflix, Hulu, and FunimationNow. The series aired on Adult Swim's Toonami block in 2014.
Source: Comic Natalie, Attack on Titan Website