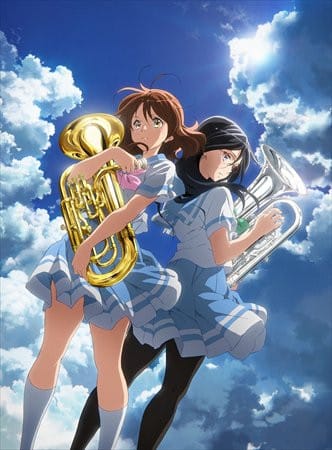 It looks like Kitauji High is hosting a short summer session!
Last night, Crunchyroll announced that they've added the Sound! Euphonium OVA to their digital catalog. The episode, titled Dash, Monaka, is the 14th episode in the series. The title was originally bundled with volume 7 of the Sound! Euphonium manga, and it will appear in PonyCan USA's third Blu-Ray collection when it hits stores on August 10.
Sound! Euphonium aired during the spring 2015 broadcast season. The 13-episode series was helmed by Tatsuya Ishihara (Clannad After Story, Love, Chunibyo & Other Delusions) at Kyoto Animation. Shoko Ikeda (The Melancholy of Haruhi Suzumiya) provided character designs, while Jukki Hanada (Nichijou – My Ordinary Life, Love Live! School Idol Project) took charge of series composition.
PonyCan USA currently holds the rights to the series in North America. The company is planning a Blu-Ray release, though specific release dates, formats, or pricing are still unknown. In addition to the physical release, Crunchyroll is streaming the series in its entirety on their digital platform.
Compilation film Sound! Euphonium the Movie: Welcome to the Kitauji High School Concert Band (Gekijo-ban Hibike! Euphonium ~ Kitauji Koko Suisoraku-Bu e Yokoso~) hit Japanese theaters on April 23.
The second season of the show is due to première in October. Nao Toyama and Atsumi Tanezaki will join the cast as Mizore Yoroizuka and Nozomi Kasaki, respectively. TRUE will perform the new season's opening, while the North Uji Quartet performs the closing theme.
Source: Crunchyroll