Toei's popping into a grand celebration with Pop In Q!
Earlier today, the official Pop In Q website updated with a a new promotional video, as well as new artwork and casting details.
The minute-long teaser features the film's five leads, who are brought together in a mysterious realm. It's here that they learn that they must save the world in the most obvious way: through dancing!
The new key visual features the film's five heroines against the backdrop of the magical realm.
The site also updated with new character pages for five characters from the film's "Popin" race. Character visuals for these characters were unveiled, which you can check out below: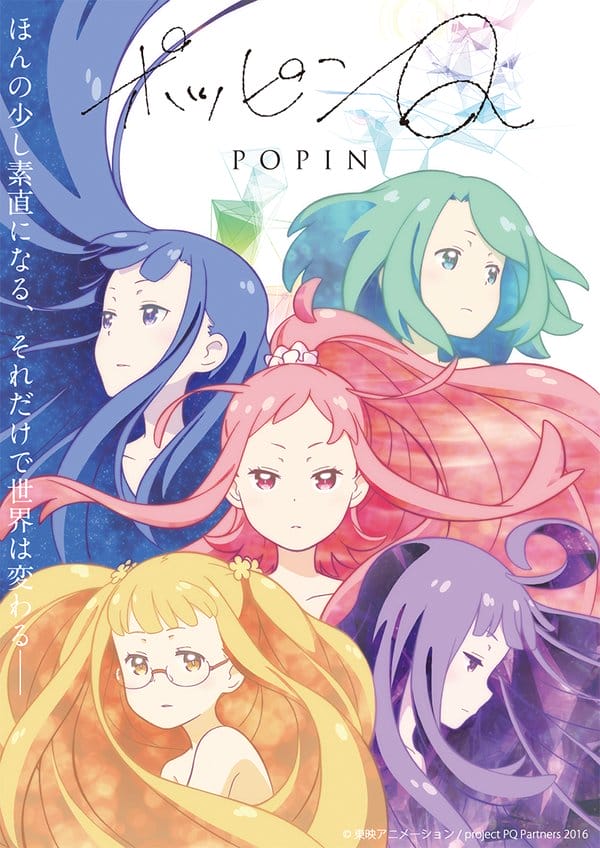 Four new cast members were revealed, including:
Elder: Unshou Ishizuka
Remy: Erii Yamazaki
Miharu Fukamachi: Azusa Tadokoro
Nana Mitsuhashi: Megumi Toda
Pop In Q is an original project, which is being produced to celebrate Toei's 60th anniversary. Naoki Miyahara (PreCure All Stars DX 3D Theater) is directing the project, while Takayuki Uragami fills the roles of character designer and chief animation director. Kouhaku Kuroboshi (Kino's Journey) provided the original character designs.
The confirmed voice cast includes:
Humans
Aoi Hioka: Shiori Izawa
Asahi Omichi: Ari Ozawa
Saki Tsukui: Tomoyo Kurosawa
Isumi Kominato: Asami Seto
Konatsu Tomodate: Atsumi Tanezaki
Pokons
Pokon: Marina Tanoue
Lucia: Kaori Ishihara
Daren: Kaede Hondo
Tadona: M.A.O
Lupee: Satomi Arai
Pop In Q is set in a world much like ours. It's the day before graduation, and five middle school girls are busy with the drudgery of everyday life. Suddenly, something truly miraculous happens! These five special ladies are pulled into a fantasy world, where they're told of an impending crisis. It's up to these special girls to bring the world together and ward off calamity by uniting their hearts in dance. Sadly, these young ladies are unable to find their love of this world, and they can't open up to one another. The clock is ticking, and the world (not to mention graduation!) rests upon their shoulders.
Several character visuals and a 3-minute teaser were released to promote the film. You can check these out below:
Promo Video
Character Visuals
Source: Ota-suke