Welcome, readers, to an all-new installment of AniWeekly! With Comic-Con behind us and Otakon a couple of weeks away, it's officially the summer doldrums. Worry not, though, readers! We're here to help you beat the summer heat with all the news and views that are fit to read!
Before we begin, though, we'd like to offer our sincerest prayers and wishes to Angel Beats! creator Jun Maeda. Maeda suffers from idiopathic dilated cardiomyopathy, a weakening of the heart's left ventricle which can only be treated with a transplant. So, right now, all we can do is hope that he can find a donor, and wish him the absolute best.
In the News
Anime's biggest tugger of heartstrings needs a new heart, himself. Jun Maeda, the man behind works like Angel Beats!, Clannad, and Charlotte, needs a heart transplant. Our most sincere well-wishes go out to him in this difficult time. We hope he finds a donor.
Nobody to blame for a great anime project! Netflix revealed that they acquired the license for the upcoming Blame! anime film. The feature will hit Netflix under the company's "Netflix Originals" label.
Even angels can be dropouts in this modern world! Dengeki Daioh magazine announced that Gabriel Dropout is getting an anime adaptation! The series will be produced by many of the folks who brought Himouto! Umaru-chan to life, including director Masahiko Ohta and writer Takashi Aoshima.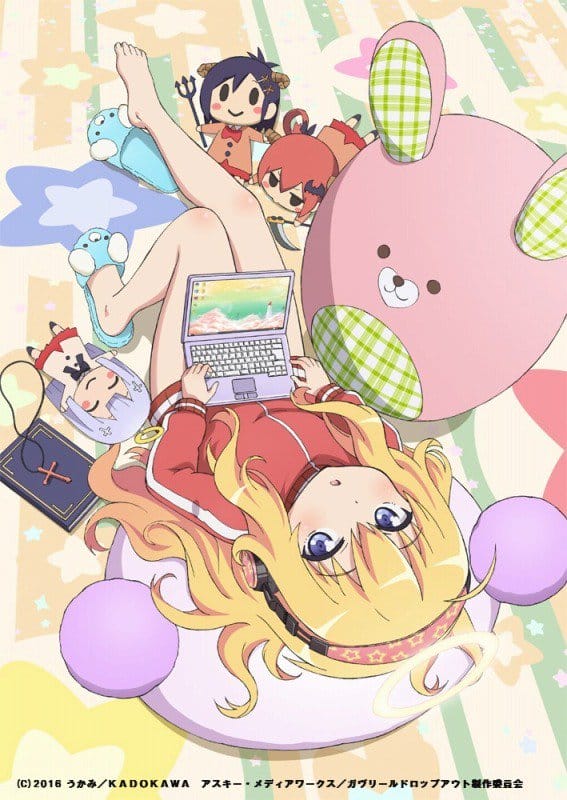 Now you can go to 24, too! The Time Bokan 24 anime website updated with a new promo video, as well as a key visual. The series aims to reboot classic comedy show Time Bokan for a modern audience. Rosario + Vampire director Takayuki Inagaki will helm the project at Tatsunoko and Level-5.
Let's get fanciful! Netflix announced that Glitter Force, Saban's Smile PreCure! localization, is coming back for a second season. 20 new episodes will hit the service on August 26.
Coming up after Breaking Angel, an all-new episode of Low Winter Sun. The official Twin Angel Break website opened its doors, bringing a promo video and several new visuals with it.
From the AniBlogging Community
What is a Narrative? Nothing more than a miserable pile of secrets! Have at you! Digibro, from My Sword Is Unbelievably Dull, published an article arguing the merits of judging a work's aesthetic as part of the narrative. Reaching back to Serial Experiments Lain in particular, Digibro makes an interesting case.
It's time for the (shit) talk. If you write, talk, or even exist in any fashion online, you're going to encounter a degree of shit talk. Trolls are a fact of life, whether you're on Reddit, Twitter, or one of those places that tend to be indescribable in polite company. Lauren at Otaku Journalist published a fantastic piece about these cyber-dicks, and how to deal with them with dignity. Seriously, if you're thinking of going into anime blogging, this should be gospel.
Happy Birthday, ANN! Last week, Anime News Network celebrated its 18th birthday. In those 18 years, ANN has become a cultural landmark for anime fans across the western world, often becoming synonymous with anime news. They've seen the industry grow through relative infancy, from its earliest booms, to the devastating bust of the '00s and beyond. They've outlasted countless worthy competitors, including news wire Anime News Service, and they continue to be that one place where anime news just is. Jonathan Clements published a fantastic write-up about ANN, which traces their growth, and how the site operates today.
Happy birthday, ANN, you magnificent bastards. Thanks for changing the way we view anime news.
Weekly Fun Stuff!
Since 2010, Canadian YouTubers Epic Meal Time have been proving that there are some places that food shouldn't go. Their heart-stopping dishes, which have calorie counts in the ten-thousands, have had viewers vicariously stopping their arteris over dishes like cheeseburger lasagna and the aptly-named Slaughterhouse.
This week, though, Epic Meal Time is looking to show the Final Fantasy crew just what it means to call for more bacon. In an eight-minute video, the crew heads to the Square-Enix offices to produce a special bento box for the Final Fantasy crew. With selections like cheeseburger tempura and McNugget sushi, it's not hard to see how this box can top 34,000 calories and 3,100 grams of fat.