Get your gear, cook that giant meat, and get ready for the hunt of a lifetime!
Earlier today, Funimation announced that they acquired the domestic rights to Monster Hunter Stories RIDE ON. The company will begin streaming the series in October.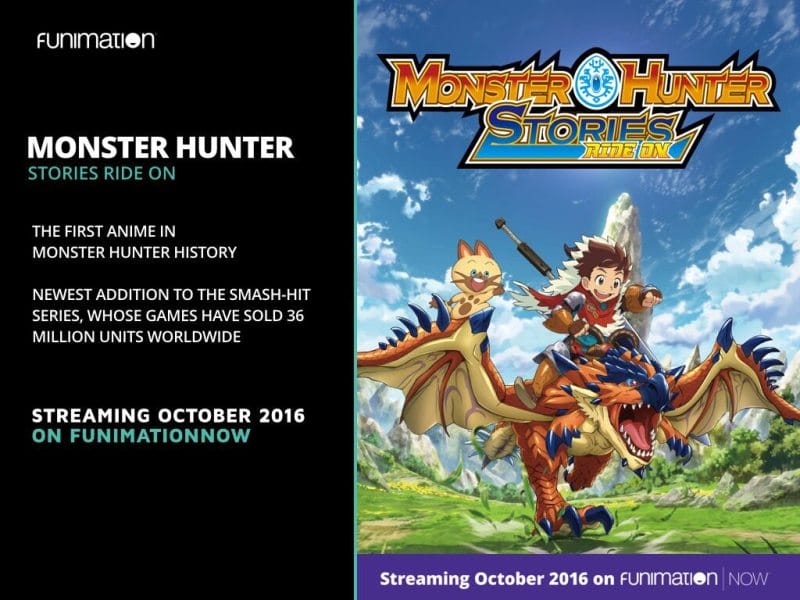 Monster Hunter Stories will be based on the upcoming Monster Hunter Stories 3DS game. The game and the series will revolve around "Monster Riders," who travel the world taming monsters rather than hunting them. The show was unveiled last week, during Capcom's Tokyo Game Show presentation.
Mitsuru Hongo (Deltora Quest, Sakura Wars: The Movie) will helm the anime adaptation at David Production, with Takuya Saito (Macross Zero, Outlaw Star) providing character designs. Natsuko Takahashi (Fantastic Detective Labyrinth, Yatterman (2008)) is in charge of series composition. KANJANI Eight will perform opening theme Panorama.
The confirmed voice cast includes:
Naviloo: M.A.O
Ryūto: Mutsumi Tamura
Lillia: Minami Takahashi
Shuval: Ryota Ohsaka
Village Chief Omuna: Tetsuo Goto
Ayuria: Yui Makino
The series will première on Fuji TV on October 1, 2016. The network is creating a new anime block for the series, which is a first for the network since One Piece hit the airwaves on October 1, 2016 at 9:30 AM.