Well, I guess that's one way to get junk in a box…
Earlier today, Funimation unveiled the limited edition boxed set for Shimoneta: A Boring World Where the Concept of Dirty Jokes Doesn't Exist. Dubbed the "SOX Recruitment Box," the set includes the following:
Shimoneta: A Boring World Where the Concept of Dirty Jokes Doesn't Exist Blu-Ray/DVD Combo Pack
SOX Mascot Sticker
SOX Mascot Pin
Ayame Pin
A single tube sock.
If you haven't figured out what the tube sock is for already, I urge you to just turn around and go someplace safe, you magnificently pure individual. You don't belong here!
That said, Shimoneta will hit stores on Blu-ray and DVD on November 29. The limited edition will carry a suggested price of $84.98.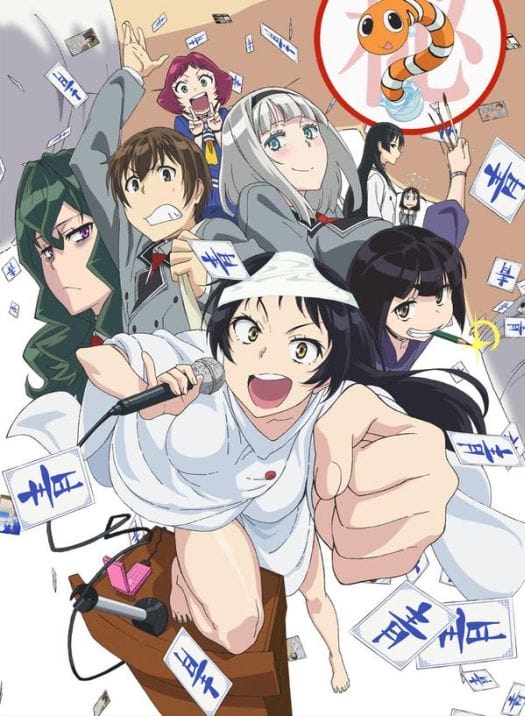 At Otakon, Funimation unveiled the show's dub cast. The confirmed roles include:
Ayame: Jamie Marchi
Tanukichi: Josh Grelle
Goriki: David Wald
Anna: Monica Rial
Kosuri: Lara Woodhull
Hyoka: Mikaela Krantz
White Peak: Anthony Bowling
Narrator/Base Black: Christopher Sabat
Jerry Jewell will adapt the adaptation.
Shimoneta is based on Hirotaka Akagi's light novel series of the same name. The show was helmed by Youhei Suzuki (The Hentai Prince and the Stony Cat) at J.C. Staff, with Masahiro Fujii (The Familiar of Zero, Hayate the Combat Butler!!) providing character designs. Masahiro Yokotani (The Devil Is A Part-Timer!, Free! – Iwatobi Swim Club) was in charge of series composition.
Funimation streamed Shimoneta as the series aired in Japan. They describe the show as:
In a world where dirty jokes don't exist, where the mere utterance of a ***** word will thrust you into jail, a hero must rise up as a symbol for all things lewd and rude. The mysterious Blue Snow, proudly wearing panties on her face and armed with naughty images and a foul mouth, will bring the art of dirty jokes back! With her erotic terrorist group, SOX, she will press against the stiff authority of the oppressive Decency Squad and step on their hard and overbearing rules. Tanukichi Okuma is the son of an imprisoned ero-terrorist. Rather than following in his father's footsteps, he plans to stay on the track of morality and wholesomeness. Just like his dream girl, Anna Nishikinomiya, he attends Japan's most moral school. But after an encounter with Blue Snow, his virtuous plans are ****** and he finds himself entangled with SOX. Will the pursuit of smut tarnish what hope he has with the pure Anna, or will he *** around, stimulated by the panty wearing deviant and her filthy mouth?
Source: Funimation Blog