I've said it before, and I'll say it again.
Yesterday, Media Blasters unveiled the full English dub cast for Rio – Rainbow Gate! The series will star the following:
Rio Rollins: Amber Lee Connors
Mint Clark: Amanda Julina
Rina Tachibana: Brittany Lauda
Anya Hellsing: Natalie Hoover
Elle Adams: Amanda Lee
Ille Adams: Caitlynn French
Rosa Canyon: Natalie Van Sistine
Mr. Clark: Todd Haberkorn
Tom Howard: Mike Pollock
Dana: Michelle Rojas
Tiffany: Melissa Sternenburg
Cartia Goldschmidt: Marissa Lenti
Linda: Sarah Anne Williams
Jack Mighty: Kira Buckland
Queen: Michele Knotz
King: Matt Shipman
Yang-Yang: Cheryl Li
Bull Hard: Billy Bob Thompson
Olrin Dunhill: Jason Marnocha
Elvis: Vic Mignogna
Joker: Meli Grant
Carlos: Anthony Sardinha
Robert: Eddy Lee
Jane: Felecia Angelle
Irina: Emily Fajardo
Ray: Howard Wang
Charlie: Nick Landis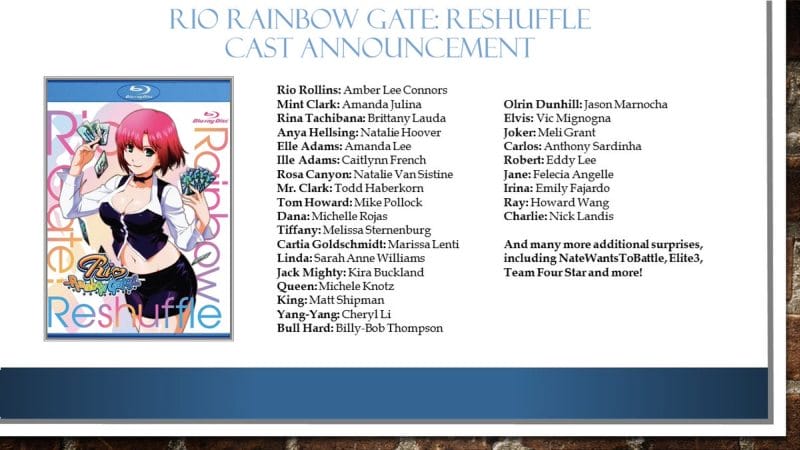 Media Blasters made the reveal at the Liberty City Anime Con. The company previously revealed the roles for Rio, Elvis, Anya, and Rosa with a three-minute teaser clip.
Sound Cadence Studios and Fever Dreams Sound Factory are collaborating on the dub's production. Amber Lee Connors is directing the dub with Brittany Lauda. The team of Connors, Howard Wang, and Justin Briner will collaborate on the scripts.
The remaining dub staff includes:
ADR Engineering (Sound Cadence): Amber Lee Connors, Howard Wang
ADR Engineer (NJ): Justin Ramos
Assistant ADR Director: Howard Wang
Assistant ADR Director (NJ): Matt Shipman
Production Assistant (Sound Cadence): Justin Briner
Rio – Rainbow Gate! is an original series, based on the character by pachislot company Net and video game publisher Tecmo (Dead Or Alive). The series, which originally rain in the winter 2011 anime season, was directed by Takao Kato (Pandora Hearts, To Love-Ru) at Xebec. Mayori Sekijima (Saber Marionette J, Skip Beat!) took charge of series composition, while Hisashi Shimura contributed character designs.
Media Blasters acquired Rio in 2013, and released a subtitle-only DVD set in 2014.
Rio as a character has been in existence since 2003, where she appeared in Net's Super Black Jack game franchise. She's appeared in several games since, including 2005's Rio's Carnival and PSP game Dead or Alive Paradise.
The series is currently available in its entirety on Crunchyroll.
Source: Twitter (MediaBlasters)