The studio that brought you Astro Boy is saving the day once again. This time, though, they're helping to spread the word on an important topic.
The Tohoku Regional Development Association announced that they are working with Mushi Production on a new anime feature. The project, titled Mirai o Mukete Bōsai o Kangaeru (Considering Disaster Prevention for the Future), aims to educate viewers on the lessons learned from 2011's Tohoku earthquake and tsunami, while emphasizing the importance of emergency preparedness and disaster prevention.
The feature will be shown for free during the Japan Society of Civil Engineers' National Convention in Sendai on September 7 and September 9. The special will also be shown in Fudai village, Kamaishi City, and Miyako. The Tohoku government is looking into possible avenues to air the special internationally.
Mirai o Mukete Bōsai o Kangaeru will be a 60-minute special, which is split into two parts. Both episodes will be based on true events that occured in Iwate prefecture's Fudai village and Kamaishi City. The episodes are as follows:
Sonaeru (Prepare)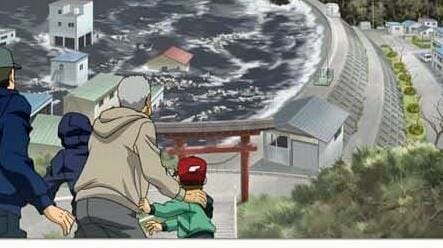 This episode takes place in the 1970s and 1980s. Kotoku Wamura, mayor of Fudai, is making a great effort to persuade the village assembly to build a proposed floodgate and seawall. Unfortunately, the town seems to feel it's a waste of taxpayer funds and effort. Wamura makes one last attempt to get his proposal for a 15.5 meter (51 feet) floodgate, the highest in th Tohoku region, recalling the great earthquakes and tsunamis that ravaged the area in 1896 and 1933.
His efforts were not in vain, as the seawall managed to save the village from the 2011 tsunami. Other villages in the area were not so lucky, as they suffered heavy damage.
Manabu (Learn)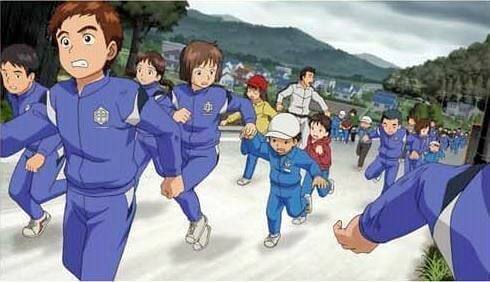 This installment is set in Kamaishi City during the 2011 disaster. The episode revolves around a group of elementary school students, and illustrates the lessons they've learned in regards to emergency preparedness. The episode shows "Tsunami Tendenko," a local custom which instructs people to seek higher ground on their effort, something their parents had long forgotten.
Source: Kahoku Online News