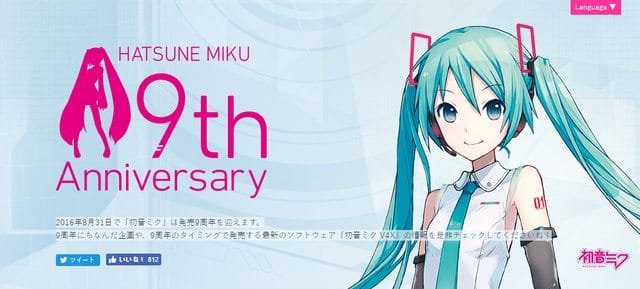 That's right, readers, it's been nine years since Hatsune Miku made her grand début. Crypton Future Media released the first version of Hatsune Miku's Vocaloid software on August 31, 2007 as the initial entry into the "Character Vocal Series."
Miku was built using Yamaha's Vocaloid 2 technology, by taking vocal samples from actress Saki Fujita. Each sample contains a single phonic, which was then altered by the engine to work with the software's built-in instrument.
Since then, she's gone on to become an icon in Japanese pop culture. She's sold out concerts across the globe, headlined fashion lines, and even made an appearance on Late Night With David Letterman.
She's become this world's Sharon Apple, with adorable green twin tails.
To celebrate her ninth birthday, Crypton released Hatsune Miku V4X, the latest version of the digital diva's software. The company released a new song, Melody by MJQ-P, to promote the release.
The software release was just the beginning of the celebration, though. A streaming event on NicoNico, as well as a promotion in smartphone game Hatsune Miku: Graffy Collection – The Mysterious Music Comet were held to ring in Miku's big day.
Fans who picked up Hatsune Miku: Project Diva X yesterday will be greeted with a short scene to mark the occasion:
Source: YouTube (HatsuneMiku)