Movie, Digivolve into teaser!
Yesterday, Toei Animation started streaming a new dub teaser for Digimon Adventure tri. – Chapter 1: Reunion. The minute-long trailer features a brief conversation between T.K. and Kari.
Digimon Adventure tri. – Chapter 1: Reunion received a one-night screening in North American theaters last night. Over 300 theaters showed the film. A traditional run for the feature is also planned, though specific dates have yet to be announced.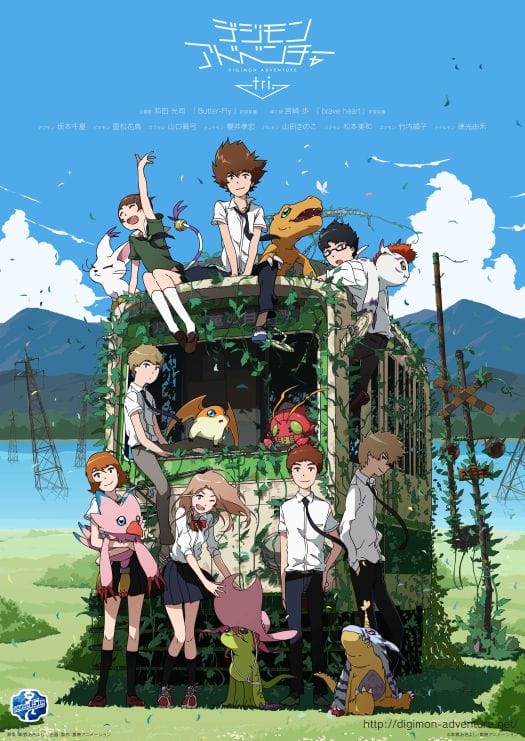 Digimon Adventure tri. is slated to be a series of six theatrical films. Digimon Adventure tri. – Chapter 1: Reunion originally opened in Japanese theaters on November 21, 2015. The most recent film, subtitled Ketsui (Determination), opened in Japanese theaters on March 12. The third film, subtitled Kokuhaku (Confession), will hit Japanese theaters on September 24.
Keitaro Motonaga (Magic Knight Rayearth OVA, Jormungand) was tapped to direct the films, while Yuuko Kakihara (Heaven's Lost Property) served script supervisor. Character designs were provided by Atsuya Uki (Cencoroll).
The confirmed dub cast includes:
Tai: Joshua Seth
Matt: Vic Mignogna
T.K: Johnny Yong Bosch
Sora: Colleen O'Shaughnessey
Joe: Robbie Daymond
Mimi: Philece Sampler
Izzy: Mona Marshall
Kari: Tara Sands
Meiko: Cristina Vee- Artist
Nishijima: Doug Erholtz
Himekawa: Kate Higgins
Agumon: Tom Fahn
Angemon: Dave Mallow
Birdramon: Melodee M. Spevack
Biyomon: Cherami Leigh
Gabumon: Kirk Thornton
Garurumon: Kirk Thornton
Gatomon: Kate Higgins
Gomamon: R. Martin Klein
Greymon: Voice Actor Kyle Hebert
Meicoomon: Kate Higgins
Palmon: Anna Garduno
Patamon: Laura Summer
Tentomon/Kabuterimon: Jeff Nimoy
Togemon: Mari Devon
Eleven Arts describes Digimon Adventure tri. – Chapter 1: Reunion as:
It's been six years since the summer adventure when Tai (now in high school) and the rest of the DigiDestined crossed over to the Digital World and nearly three years since frenzied final battles between warring factions. With the gate to the Digital World closed, time continues to pass, until the adventure Digivolves once again.
In North America, Crunchyroll is currently streaming the Digimon Adventure tri. films in subtitled format. Each feature is broken into four "episodes" on their platform. Crunchyroll currently offers the movies in the following regions:
United States
Canada
South Africa
Australia
New Zealand
Latin America
Last month, Eleven Arts unveiled a 90-second teaser for the film, which includes a preview of a new theme song.
Earlier this week, Fathom Events and Toei streamed a pair of dub teasers featuring Tai and the major female cast members. You can check these out below:
Source: YouTube (Toei Animation)