Happy Sunday, readers, and welcome to an all-new AniWeekly! Last week, we saw a few surprising changes arise in the anime world, from the surprise reveal of The Eccentric Family 2, to Sentai Filmworks ensuring our editor-in-chief's wallet now and forever by licensing Chihayafuru. There's a lot to love this time around, so we're here, as always, here to happily guide you through all the news that's fit to print!
In The News
Welcome to the script room! Aniplex launched a new in-house writer's group called "Script Room." Sword Art Online director will head up the group, which he hopes to mold into a team who can share their collective intelligence to conquer challenges great and small.
Chihayafuru is a karuta anime. Sentai Filmworks announced that they licensed both seasons of Chihayafuru. The company will release the series on home video, as well as select digital outlets in the near future.
Let's get eccentric! A new season of The Eccentric Family is in the works! The new show, The Eccentric Family 2, was unveiled at this year's Kyoto International Manga Anime Fair.
Gather round, as we return to the Boar Hat. A new Seven Deadly Sins anime series was officially unveiled! The show was revealed in the latest issue of Kodansha's Weekly Shōnen Magazine. A few days later, a short commercial confirmed the project was in the works.
So, how 'bout that revenge, Kyoko? Pied Piper announced a new round of dub cast members for Skip Beat!. The new players include Kyle Hebert, Erin Fitzgerald, and Chris Patton.
It's time to head back to the days of the Shinsengumi. The latest volume of Nanae Chrono's Peacemaker Kurogane manga revealed that the title will receive a new anime adaptation by White Fox.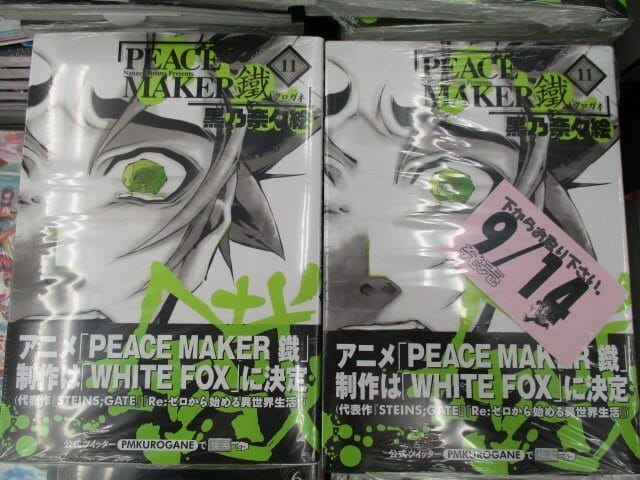 Vampire stripping for fun and profit! DMM Games announced that Akiba's Trip will receive an anime adaptation by Gonzo. The series will kick off in January 2017.
It's a very different kind of Rorschach test… he Hollywood Reporter revealed that Jackie Earle Haley signed on for a role in James Cameron's Battle Angel Alita flick. Haley will reportedly play "will play a monstrous cyborg in a villain role that will call for plenty of CG and greenscreen."
Glenwood calling! Tales of Zestiria the X will receive a second season. The show will return to Japanese TV in 2017, though a specific date has yet to be revealed.
From The AniBlogging Community
Remembering a legend. Muza-chan's Gate to Japan took a few moments to remember Kochikame, which ended publication after 40 years and 200 collected volumes. It's been a heck of a ride, and the series has left a lasting impression on countless anime and fans across the globe.
Growin' up, and growin' out. Tom at Nigorimasen! talks about the toll that time takes on an anime fan, and that moment of realization, when one learns that watching every simulcast isn't always the best way to go.
Weekly Fun Stuff!
Last week, Tokyo Game Show monopolized much of the narrative, with news of the hottest games to hit Japan. With that in mind, we've chosen a few trailers that warrant a peek.
Final Fantasy XV
BERSERK and the Band of the Hawk Game Trailer
Yakuza 6
Valkyria: Azure Revolution