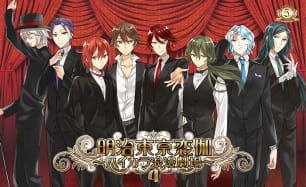 It's time to travel back, to a time when Emperor Meiji was still in power, and the Shogunate was on its way out.
Yesterday, it was announced that Broccoli's Meiji Tokyo Renka series of visual novels will receive an anime TV series. The news was unveiled at the night session of the Meiji Tokyo Renka ~Haikara Roman Gekijo 4 fan event, which was held at Chiba's Maihama Amphitheater.
2,000 fans were in attendance when the announcement was made. The event was held to celebrate the franchise's fifth anniversary.
In addition, a new game, titled Meiji Tokyo Renka ~Dance Party~ is in the works. The game will go on sale next year.
Meiji Tokyo Renka began its life as a mobile game, which was released in 2011. The title received a PlayStation Portable port in 2013. The most recent game, Meiji Tokyo Renka Full Moon, hit Sony's PlayStation Vita handheld in August. To date,t he franchise boasts 300,000 combined players.
The franchise received a stage musical, Kageki Meiji Tokyo Renka ~Oborozuki no Chat Noir~ (Musical Meiji Tokyo Love Song ~Black Cat of the Hazy Moon~), as well as 2015 anime film Gekijoban Meiji Tokyo Renka: Yumihari no Serenade.
Source: MoCa News