He's a ninja, and he's a bear. What's not to love?
On October 19, TV Tokyo started streaming a new pilot video for its Ninja Bear project. The minute-long, English-subtitled feature offers a brief overview of the property before cutting to a mini-episode.
https://www.youtube.com/watch?v=AXw1Cthw8IE
Ninja Bear is a new project, aimed at the inbound tourist market. Ninja Bear's English website states that the goal is to "create a character which can gain huge awareness in overseas in order to attract more of the tourists by the character."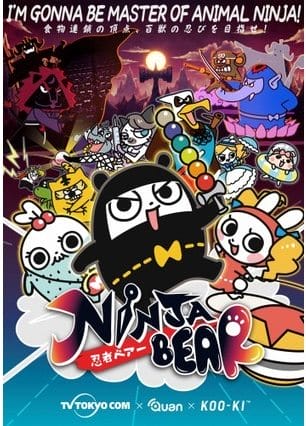 TV Tokyo is developing the property, which is based on a character by Quan, Inc. and KOO-KI. THe company plans to develop Ninja Bear with an anime and merchandise. TV Tokyo showcased the project last week, at the China Licensing Expo.
Quan, Inc. introduced Ninja Bear to the world in April 2015, when the character appeared as a Facebook Messenger sticker. The stickers have since been downloaded over 70 million times.
TV Tokyo describes Ninja Bear as:
The Ninja International Kindergarten in the Land of White Goats is where kids trying to become the world's best ninjas go to school.

Ninja Bear is aiming to become the master of the food chain or, in short, a master ninja! He's training night and day.

Other colorful and unique characters like Hige-chan, Bunnie Antoinette, Ham Rock Star, and Usawan are classmates at the school. No challenge is too great for these cool guys!

Enjoy their carefree and mischievous life at the Ninja Kindergarten!

And yet…wars created by adults seem to continue in every era.

The Land of White Goats and the Land of Black Goats are in an all-out war over paper, a valuable resource for the goat kingdoms.

How long will this seemingly endless struggle continue? What does fate have in store for Ninja Bear and his friends?"
Source: Anime! Anime!