Who needs Maaya Sakamoto's gorgeous voice when you have that epic bass?
Earlier today, the official Kadokawa Anime YouTube channel updated with a promotional video for Record of Grancrest War (Grancrest Senki). The minute-long teaser offers several pieces of character art, set to thumping EDM beats.
The Record of Grancrest War anime was officially unveiled on Saturday, at Fujimi Shobo's "Fantasia Bunko Daikanshasai 2016" ("Fantasia Bunko Big Thanks Festival 2016") fan event. Aniplex is producing the title.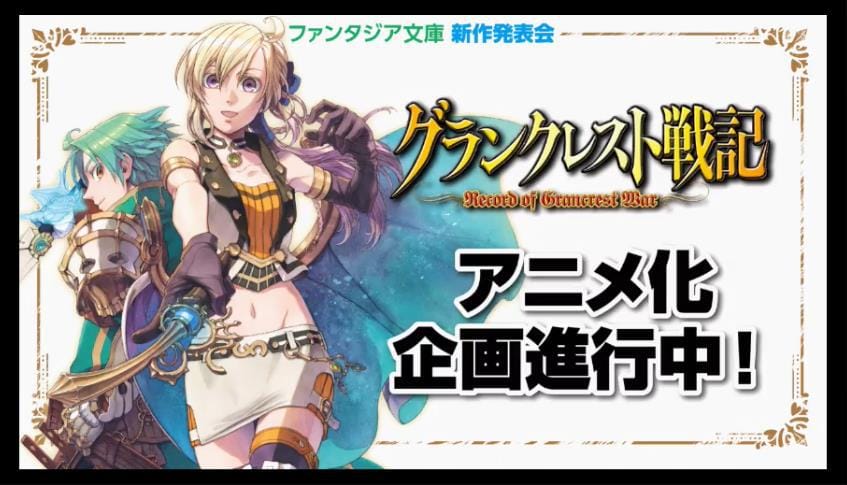 Record of Grancrest War is a light novel series by Record of Lodoss War creator Ryo Mizuno and illustrator Miyū. The title began publication in 2013, under Fujimi Shobo's Fujimi Fantasia Bunko imprint. Seven volumes have been produced to date, with the most recent hitting stores on May 20. Volume 9 will ship to retailers on November 19.
Publisher Kadokawa released a promo video for the first book in the franchise in 2013. You can check this out below:
The series is set on a continent where chaos reigns. The creeping turmoil breeds disaster, which is kept in check by special people. The continent's Lords are granted the power of a special Holy Seal, which can protect the populous and calm the lurking mayhem. One day, though, the Lords cast aside their duties to purify the chaos, instead opting to engage in a game of dominion. They face each other, battling for each others' Holy Seals, and the right to be the one true ruler of the continent.
It is here that readers meet Shirūka, a mage who lives on his own, scorning the Lords for abandoning their duties. Theo, on the other hand, is a wandering knight, who is training to gain the power to liberate his hometown from a tyrant. The two form an eternal oath to one another as master and servant, with the goal of casting aside the chaos, and reforming the continent together.
Source: YouTube (KADOKAWAanime)