Memories are funny things. On one hand, they're our fondest links to the past. On the other, they can be absolutely devastating.
Earlier today, the official Assassination Classroom anime website updated with a new teaser trailer for the upcoming Assassination Classroom The Movie: 365 Days (Gekijoban Ansatsu Kyoshitsu 365 Hi no Jikan) compilation film.. The minute-long teaser features new footage of Nagisa and Karma as they return to class 3-E.
Assassination Classroom The Movie: 365 Days will hit Japanese theaters on November 19. The film will include new story elements, in addition to the overall recap. A second feature, based on Jo Aoto's Koro-sensei Q! (Quest) spinoff manga will screen with the feature.
The first season of Assassination Classroom kicked off on January 9, 2015, and ran for 22 episodes. The second season began airing on January 7. Seiji Kishi (Angel Beats!, Yuki Yuna Is a Hero) helmed both seasons at studio Lerche. Kazuaki Morita (Fate/Prototype, Arpeggio of Blue Steel) provided character designs for the project, while Makoto Uezu (Arpeggio of Blue Steel, Is This a Zombie?) wrote the scripts.
57 episodes, plus an OVA were produced by the time the final credits rolled. FUNimation currently holds the rights to Assassination Classroom, and offers it on their FunimationNow streaming platform.
Funimation describes the series as:
Class 3E is about to begin their second semester! And while some things have changed, the class assignment is still the same: kill their teacher before the end of the year! Easier said than done since Koro Sensei's made it clear he won't go down without a fight. Will these students be able to take down the tentacled monster that moves at Mach 20 before he can destroy the world?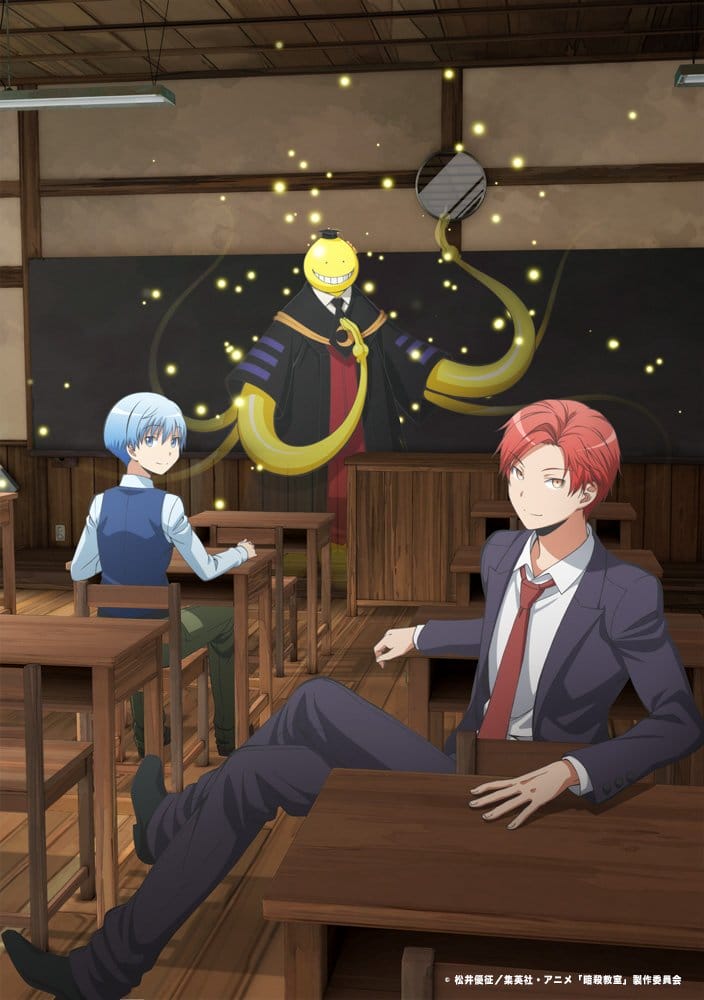 Yusei Matsui's Assassination Classroom manga kicked off in Weekly Shonen Jump in July 2012. As of press time, the title is slated to end in five chapters, the last of which will be released in the 16th issue of the year.
Viz Media holds the rights to the original manga, which completed its run in Weekly Shonen Jump on March 25.
Two promotional videos was produced to promote the film, which you can check out below:
Source: Twitter (ansatsu_anime)