Soon, the Black King will strike. It's up to the Drifters to fight back in a battle for supremacy.
Earlier today, Funimation announced the English dub cast for Drifters. The series will star the following:
Shimazu Toyohisa: Josh Grelle
Oda Nobunaga: Robert McCollum
Nasu no Yoichi: Justin Briner
Scipio Africanus: Mark Stoddard
Hannibal Barca: R Bruce Ellliott
Butch Cassidy: J. Michael Tatum
Sundance Kid: Kent Williams
Naoshi Kanno: Justin Cook
Tamon Yamaguchi: Sonny Strait
Jeanne D'Arc: Colleen Clinkenbeard
Gilles de Rais: Christopher R. Sabat
Anastasia Nikolaevna Romanova: Rachel Robinson
Grigori Rasputin: Christopher Bevins
Hijikata Toshizo: Ian Sinclair
Black King: Jeremy Schwartz
Murasaki: David Wald
Abe no Seimei (Haruakira): Chris Patton
Olminu: Gwendolyn Lau
Kafet: Aaron Roberts
EASY: Monica Rial
Minamoto no Yoshitsune: Greg Ayres
Masha: Mikaela Krantz
Mark: Apphia Yu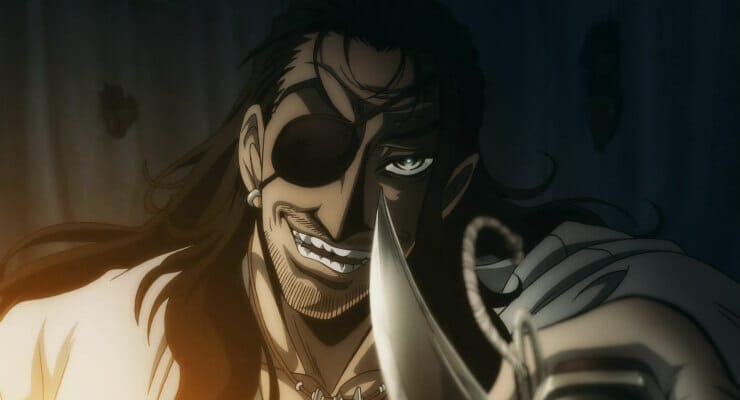 Christopher Bevins is directing the adaptation, which features scripts by Patrick Seitz. Matt Grounds will serve as ADR engineer, while Nathanael Harrison works as mix engineer.
Drifters will make its dub début on November 6, at 10:00PM Eastern (7:00PM Pacific).
Drifters is based on Hellsing creator Kouta Hirano's manga of the same name. Kenichi Suzuki (Jojo's Bizarre Adventure, Gundam Evolve) is helming the project at Hoods Entertainment, with Ryoji Nakamori (Hellsing Ultimate) providing character designs. Hideyuki Kurata (Oreimo, The World God Only Knows) is in charge of series composition.
Drifters began airing on October 7. Funimation describes the series as:
From the creator and team behind Hellsing comes a thrilling story where history and fantasy collide. Shimazu Toyohisa, a famous samurai who fought in the historical Battle of Sekigahara, is transported to another world when only moments from death. From that moment on, he becomes part of a group known as "Drifters" and is forced to battlea gainst other legendary warriors in an ultimate death game.
Source: Funimation Blog