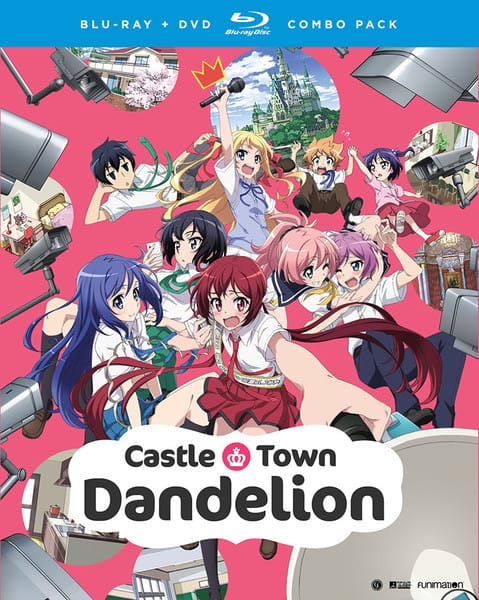 Publisher: Funimation
Is This A Screener? No
When it first aired in the summer of 2015, Castle Town Dandelion (Jōkamachi no Dandelion) didn't seem to get much love from the anime fan community. I find this sad, because those of us who watched the series know that it was one of the hidden highlights of a jam-packed summer.
To be fair, I can't blame anyone who didn't find the time to watch Castle Town Dandelion when it aired, since the season was bursting with other notable highlights that included Snow White with the Red Hair, Aoharu x Machinegun, and Charlotte, not to mention the second seasons of Gatchaman CROWDS and Non Non Biyori.
Now though, a year and a half later, Castle Town Dandelion is getting a new lease on life, thanks to a dubbed home video release from Funimation. It's officially my "Pick of the Week" for this, the inaugural edition of this feature.
If you've never heard of Castle Town Dandelion before, please allow me to fill you in just a little. This comedy series, focuses on the Sakuradas, a family of nine super-powered siblings. Did I mention they're royalty? Because they totally are.
One day, their father, the king, declares that he wants to retire and give the throne to one of his children. He decides that a contest is the best way to determine which of his children is going to get to sit on the throne next. Granted, Game of Thrones this isn't, as the competition is essentially a popularity contest held over the course of a year. Whoever wins the contest gets to be the next ruler.
Now, you might be thinking to yourself that this sounds like an incredibly silly premise. And you'd be right. It IS a very silly premise. That said, though, Castle Town Dandelion makes it work in unexpected ways. Not only does each sibling have a unique special power to keep the audience on their toes, they also have their own motivations and plans on how to go about winning the contest.  Leading lady Akari, for example, wants to win the contest because she's incredibly shy and believes that if she becomes the next ruler, she can make a decree that everyone has to leave her alone and not put her on camera ever again.
I could wax poetic for hours about all the delightful little jokes in this series, but I'd really rather let you discover them for yourselves. If you're a fan of cute comedies that just make you feel good, you won't find a better choice this week than Castle Town Dandelion . A pleasure from the very start to the satisfying ending, Castle Town Dandelion is a winner in pretty much all regards and an easy choice as my first "Pick of the Week".
Purchase This Title:
Castle Town Dandelion Blu-ray/DVD – $45.49
from: Right Stuf, Inc.
Full Disclosure: Anime Herald may receive a commission from retailer links.