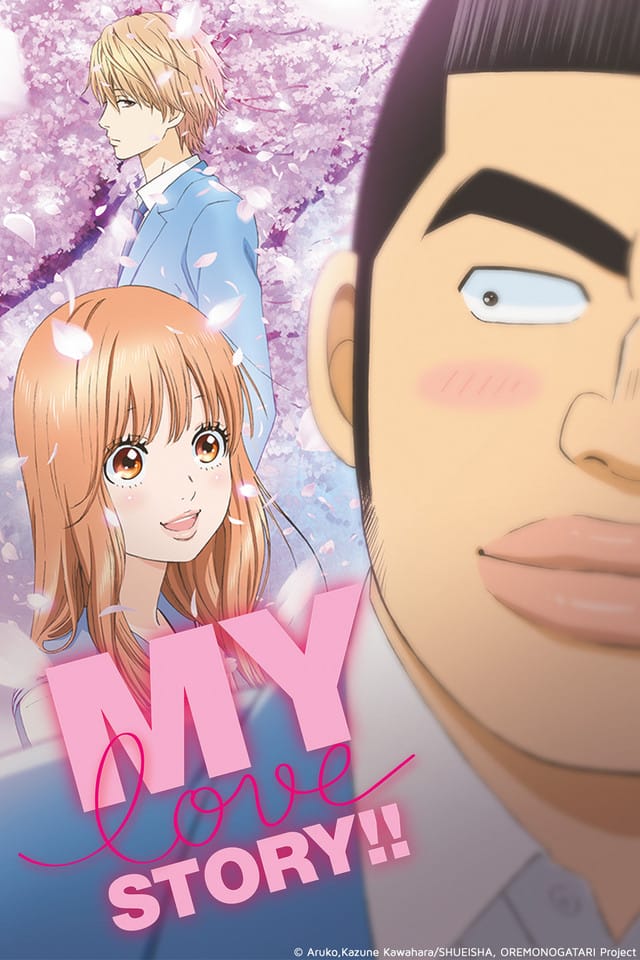 We've met the main crew, now it's time to greet the rest of the folks in Takeo Goda's world.
Earlier today, Sentai Filmworks unveiled the English dub cast for My Love Story!!. The series wills tar the following:
Takeo Goda: Andrew Love
Rinko Yamato: Tia Ballard
Makoto Sunakawa: Austin Tindle
Ai Sunakawa: Carli Mosier
Young Takeo: Luci Christian
Young Suna: Bryson Baugus
Takeo's Mom: Marcy Bannor
Takeo's Dad: Josh Morrison
Nanako: Luci Christian
Ayu: Shanae'a Moore
Kojima: Christina Kelly
Yuko: Rachel Landon
Mana: Christina Stroup
Kurihara: Cameron Bautsch
Momota: Gabriel Regojo
Kakitani: Blake Shepard
Fudo: Gareth West
Oda Hayato: Patrick Poole
Saijo Mariya: Stephanie Wittels
Amami Yukika: Juliet Simmons
Koki Ichinose: David Matranga
Additional Voices: Wendel Calvert
Additional Voices: Mark X. Laskowski
Additional Voices: John Swasey
Additional Voices: Jay Hickman
Additional Voices: Shelby Blocker
Additional Voices: Maggie Flecknoe
Additional Voices: Kregg Dailey
Additional Voices: Rachel Landon
Additional Voices: Melissa Pritchett
Additional Voices: Houston Hayes
Additional Voices: Shannon Emerick
Additional Voices: Kelly Manison
Additional Voices: Katelyn Barr
Additional Voices: Chelsea McCurdy
Additional Voices: Corey Hartzog
Additional Voices: Benjamin McLaughlin
Additional Voices: Jovan Jackson
Additional Voices: Hillary Haag
Additional Voices: Kalin Coates
Additional Voices: Carl Masterson
Additional Voices: Carolyn Medrano
Kyle Colby Jones is writing and directing the adaptation, while George Manly serves as ADR script spotter.
Sentai Filmworks will release My Love Story!! on DVD and Blu-Ray on December 20.
My Love Story!! is based on Kazune Kawahara and Aruko's manga of the same name. The series, which aired from April through September 2015, was helmed by Morio Asaka (Cardcaptor Sakura, Chihayafuru) at Madhouse. Kunihiko Hamada (Chihayafuru, Nana) provided character designs on the project, while Natsuko Takahashi (Tokyo Magnitude 8.0, Blue Drop) took charge of series composition.
Viz Media holds the domestic rights to the original manga series. The company describes the series as follows:
Takeo Goda is a giant guy with a giant heart. Too bad the girls don't want him! (They want his good-looking best friend, Sunakawa.) Used to being on the sidelines, Takeo simply stands tall and accepts his fate. But one day when he saves a girl named Yamato from a harasser on the train, his (love!) life suddenly takes an incredible turn!
Previously, Sentai Filmworks revealed that Andrew Love will take the lead role as gentle giant Takeo Goda, while Tia Ballard plays Rinko Yamato. You can check out the reveal trailers below:
Source: Sentai Filmworks