So, what benefits are there to bathing in another dimension?
Earlier today, J-Novel Club announced that they acquired the global digital rights to two new titles. The company will add the following to their catalog:
The Faraway Paladin (Saihate no Paladin) by Kanata Yanagino and illustrator Kususaga Rin
Mixed Bathing in Another Dimension (I Sekai Kon'yoku Monogatari) by Nagaharu Hibihana and illustrator Masakage Hagiya
The first chapters of both titles were added to J-Novel Club's platform earlier today. New chapters will be added on a weekly basis.
The Faraway Paladin began publication on March 29, under Overlap's "Overlap Bunko" imprint. Two volumes have been published to date, with the most recent hitting stores on July 25.
J-Novel Club describes the title as:
In a city of the dead, long since ruined and far from human civilization, lives a single human child. His name is Will, and he's being raised by three undead: the hearty skeletal warrior, Blood; the graceful mummified priestess, Mary; and the crotchety spectral sorcerer, Gus. The three pour love into the boy, and teach him all they know. But one day, Will starts to wonder: "Who am I?"

Will must unravel the mysteries of this faraway dead man's land, and unearth the secret pasts of the undead. He must learn the love and mercy of the good gods, and the bigotry and madness of the bad. And when he knows it all, the boy will take his first step on the path to becoming a Paladin.

"I promised you. It's gonna take a while, but I'll tell you everything. This is the story of the deaths of many heroes. It's the story of how we died, and it's the reason you grew up here."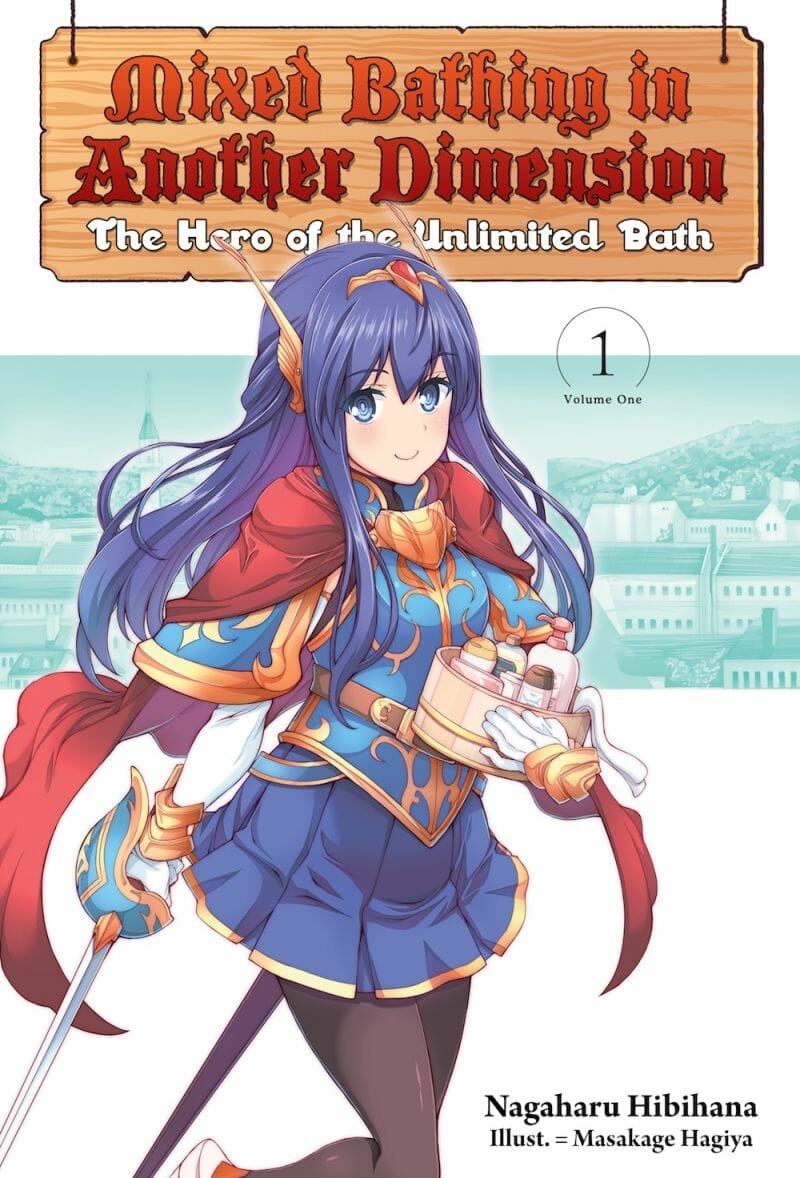 Mixed Bathing in Another Dimension began publication on March 25, 2015. The title, which is published under Overlap's "Overlap Bunko" imprint, currently spans three volumes, with the fourth due to hit retailers on November 18.
J-Novel Club describes the series as:
How am I supposed to fight with this?!" After being summoned into another dimension as one of the five heroes destined to defeat a demon lord, Toya Hojo awakens his hero power only to discover that… it's an unlimited bath? He was blessed with the power to create a bath that can be accessed anywhere, which seems to spell doom for his quest to defeat the demon lord. As he recovers from his shock, Toya slowly discovers the unique features of his power, which allow him to use it in ways he'd never dreamed of… But will he ever get any bath time with Haruno Shinonome, the beautiful girl who was also summoned along with him?!
The company offers subscriptions in two flavors: Membership and Premium Membership.
Membership allows access to all "pre-publication" materials via the J-Novel Club service. In addition, subscribers will have access to a special "Members Only" forum on the company's website. This tier is priced at $4.95 per month, or $54 per year ($4.50 per month)
Premium Membership also allows access to all "pre-publication" materials on the J-Novel Club service, as well as the Members-Only forum. The tier also includes a monthly credit for one published eBook purchase, as well as access to a "Premium Members Only" forum that will be frequented by translators and writers.
The company kicked off its operations with four titles:
Occultic;Nine by Chiyomaru Shikura, Illustrations by pako (Global English-Language Digital License)
Brave Chronicle: The Ruinmaker by Kenya Atsui, Illustrations by Saori Toyota (Global English-Language Digital License)
My Big Sister Lives in a Fantasy World by Tsuyoshi Fujitaka, Illustrations by An2A (Global English-Language Digital License)
My Little Sister Can Read Kanji by Takashi Kanjii, Illustrations by Halki Minamura (Global English-Language Digital License)
Last month, J-Novel Club added two additional titles to their catalog:
Grimgar of Fantasy and Ash (Hai to Gensō no Gurimugaru) by Ao Jyumonji, Illustrations by Eiri Shirai
I Saved Too Many Girls and Caused the Apocalypse (Ore ga Heroine o Tasukesugite Sekai ga Little Apocalypse!?) by Namekojirushi, Illustrations by Nao Watanuki
Source: J-Novel Club (Press Release)