Happy Saturday everyone, and welcome to a fun-filled week of Media Create sales numbers! …I assure you, it's not as boring as it sounds.
Anyway, we're at the start of a few very exciting weeks! This sales period, we saw the launch of the PS4 Pro, as well as the NES Mini. Next period will be the opening-week sales for Pokémon Sun & Moon, and the week after we'll be looking at Final Fantasy XV's début. Prepare for some big numbers and big prizes (I love it!)).
So, without further ado, let's check out the charts.
Nintendo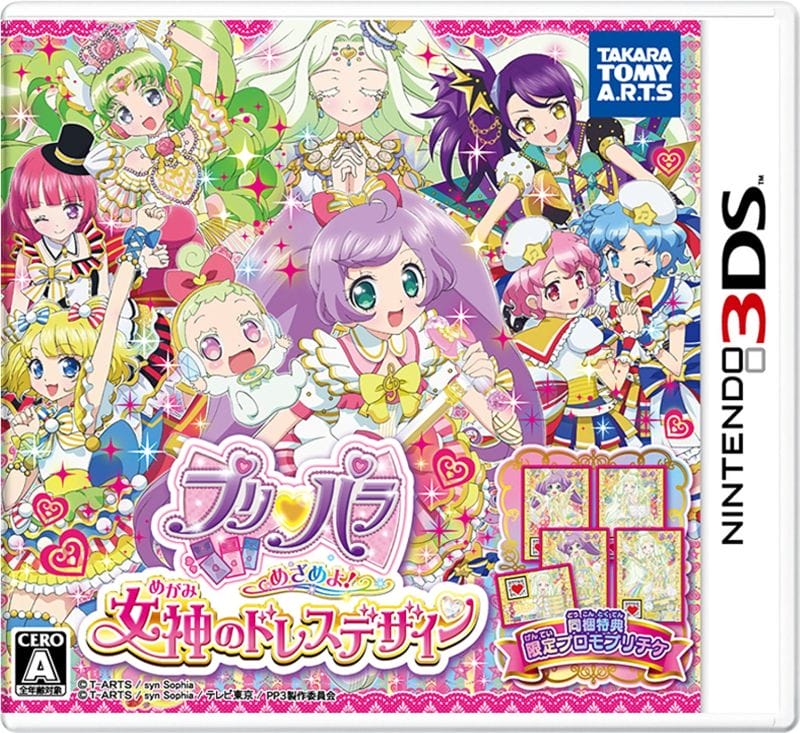 This was another depressed week for titles on Nintendo, which saw just six games (5 3DS, 1 Wii U) break into the top 20. There is a silver lining, though, as two titles did managed to crack the top-10 for the sales period.
Leading the charge was PriPara Mezameyo! Megami no Dress Design (3DS), a licensed title based on the PriPara anime (and arcade game) series. The title sold through 28,865 units in its début, to claim third place. This is down from last year's PriPara Mezase! Idol Grand Prix No.1! (3DS), which debuted at 34,045 units. Overall, though, eh. It's a licensed title, and it was never destined to be a blockbuster. It's down, but the decline (~17.94%) is pretty negligible.
Meanwhile, fans across Japan got their tops ready for battle with Spinjas, I mean Beyblade Burst! The 3DS title sold through 16,516 units in its début week to capture the #7 spot. As the first entry into the series since 2013's Metal Fight Beyblade 4DXZEROG Ultimate Tournament (3DS), well… I can't say I know, for sure. I don't have numbers for the title's performance, so it's a bit of a black box. For now, we'll be using Burst as the baseline for the franchise.
Mario continues to mill about the festivities, though, with Mario Party: Star Rush. The title moved another 6,630 units this period (57,876 LTD) to hold on to 12th place. The title continues to underperform all other entries, though it may have enough "oomph" to last through the holiday season with the right seasonal bump.
The hunt continues closely behind Mario's merriment. Monster Hunter Stories staked out 13th place, with 6,364 copies reaching customers' hands (266,788 LTD). The title is poised to cross the 275K milestone by the end of the month, so kudos to Capcom for making a successful spinoff! Here's hoping they can grow the brand further in the future.
Sadly, it looks like Minecraft (Wii U) took a tumble this period, dropping down to 17th with 4,688 units sold (171,893 LTD). Still, barring some disaster, Minecraft will break the 175K milestone next sales period, so congrats to Microsoft and Mojang for holding tightly in this difficult market.
At the bottom of the charts, Bandai Namco saw another sales bomb. Saiki Kusuo no Ψ Nan: Shijou Ψ Dai no Ψ Nan!?, based on slice-of-life manga and anime The Disastrous Life of Saiki K., stumbled into 20th place, with a mere 3,519 units sold. Famitsu pegs this as 40-60% sell-through, which is just painful. I don't expect to see this one holding on for very long, if at all.
On the Hardware Front
The big story this week was the release of the Famicom Mini. Nintendo's charmingly quirky plug-and-play console sold through an astounding 261,381 units in its début week, essentially selling out across Japan. This is fantastic for the big N, who's had some troubles with the Wii U throughout 2016 (and 2015, 2014…).
The 3DS also held tightly to its second-place spot, as it moved another 32,301 units during the period. The Wii U's fortunes improved slightly this time around, with sales jumping up to 2,756 units.
Sony
The sales chart was truly PlayStation country this time around. Fourteen games made their way to the big board, with nine PS4 titles, four Vita games, and one hybrid release making the cut.
The big dog this week, without contest, though, was Fate/Extella: The Umbral Star. This action-packed entry into Type-Moon's "Fate" universe saw sell-outs across the country on both the PS4 and Vita SKUs. the Vita version took top billing, selling through 73,019 units to take first place. The PS4 SKU wasn't far behind, as it moved 67,356 copies to take second. There was also a combined SKU, the Velber Box, which included both the PS4 and Vita versions of the game. This moved 18,439 copies to take the #6 spot.
Combined, the three SKUs sold through 158,814 units. That's nothing short of fantastic for the series, which has enjoyed a dedicated customer-base that's been bolstered by Fate/Grand order.
For those who want a grand adventure over fast-paced action, there's always the rolling forests of Skyrim. The Elder Scrolls V: Skyrim – Special Edition (PS4) hit the charts at 4th place, selling through 27,330 copies. The title didn't have the strength of the Dragonborn, but it's still a strong opening for a title that first hit retailers in 2011.
Meanwhile, fans ventured back to space to get their shoot-bang on. Call of Duty: Infinite Warfare moved another 26,070 copies (131,834 LTD) to take fifth place. The week-two drop is about 75%, which is in-line with market expectations.
It seems that the lure of Saiyans are falling back in their latest epic battle Dragon Ball: Xenoverse 2 tumbled down to 8th place this period, with 14,367 units sold (80,402 LTD). This is dead-center of the "acceptable" drop-off range, so we may see the title hit 100K yet if the losses slow next sales period.
Back in the sepia-toned era, Battlefield 1 made another charge toward 200K this period. The historical shooter sold through 12,950 copies (195,369 LTD) to take 9th place. This almost certainly should cross the 200K mark, barring some disaster, next week.
On the flip side, Titanfall 2 continues to be a titan-fail. The title shifted another 7,069 units (42,126 LTD) to take 10th place, though it's seeing sharp drops week-over-week. The title will struggle to reach anything close to 100K.
On the note of disappointments, World of Final Fantasy is certain to have folks asking *why* any company would launch this game so close to its flagship product. The Vita version of the game moved just 7,007 copies (68,924 LTD) to take 11th place. The PS4 version charted at 16th place, with 5,442 units reaching customers' hands (71,459 LTD). Combined, the two SKUs moved 140,383 copies. While not awful overall, I have to imagine that Square-Enix is disappointed with the numbers. Still, overall reception is middling, and I have to imagine that totals down a bit due to proximity to Final Fantasy XV. A shame, but them's the breaks.
In another fantasy world, Kirito's staked his claim on two levels of the big board. Sword Art Online: Hollow Realization's PS4 version shifted another 6,335 copies (93,031 LTD) to take 14th place. The Vita version was close behind at 15th place, with 6,229 weekly sales (91,679 LTD). Combined, the two SKUs shifted 184,710 units.
Even down the charts, Minecraft continues to be the Vita's rock. The blocky builder shifted another 4,386 copies this period (915,601 LTD) to claim the #18 spot. The title is on-track to break 925K before it exits, and I still wouldn't be shocked to see this return in after the busy holiday season.
Punished Snake headed up the read this period. Metal Gear Solid V: The Definitive Experience moved 4,196 copies to take 19th place. Mind, this is a re-release of Ground Zeroes and Metal Gear Solid V: The Phantom Pain, so we weren't expecting blockbuster sales in week one. It will likely exit the charts by next sales period.
On the Hardware Front
The PS4 absolutely dominated the console charts this period, selling through a staggering 92,344 units. This is primarily due to the strong opening of the PS4 Pro, which moved 65,000 units in its opening week. the Vita, on the other hand, saw a small bump past the 10K mark, with 10,410 units reaching customers' hands.
The PS3 continues to trundle along, slowly moving toward its well-earned rest. The console moved 611 units this week, down from last week's 735.
Microsoft
In Astronomy, 125 Liberatrix is an asteroid within the Main Asteroid Belt. It was discovered on September 11, 1872 by French optician and astronomer Prosper Henry. To date, two instances have been recorded, in which 125 Liberatrix has been visible to the human eye. The most recent came on December 11, 2014, when the asteroid crossed over a major star and became visible over southern California and parts of Mexico.
In the Japanese console market, 125 XBox Ones sold is enough to have a few Microsoft employees eyeing the staff openings at their rivals.