The search for Laplace's box is heading to new frontiers. Specifically, the Unicorn Gundam's about to cross paths with the Absolution.
Earlier today, the official Toonami Facebook page announced that Mobile Suit Gundam Unicorn RE:0096 will join the block's lineup. The series will begin airing on January 7, at 1:00AM Eastern.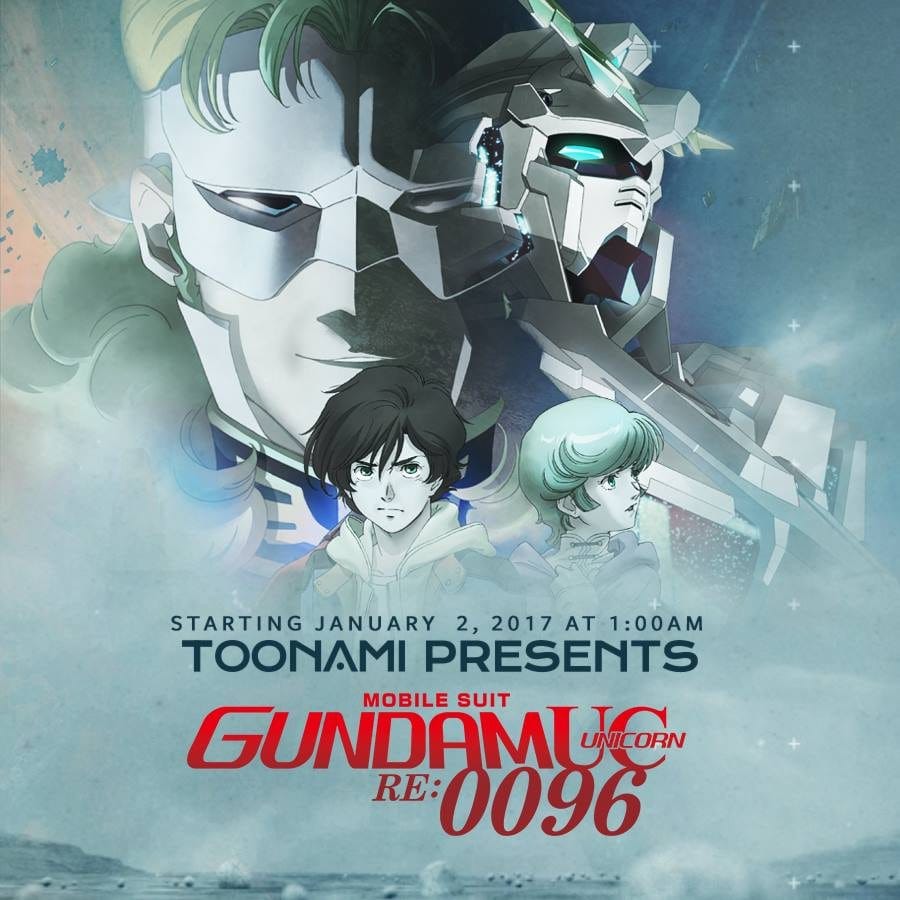 Note: The image appears to have a typo. November 2 is a Monday.
Mobile Suit Gundam Unicorn Re:0096 is a re-edited version of 2010 OVA Mobile Suit Gundam UC, which adds additional footage and a new set of opening and ending themes. The two-cour series debuted on Japanese TV on April 3. Kazuhiro Furuhashi (Getbackers, Rurouni Kenshin) returned to direct the project at Sunrise. Kumiko Takahashi (Witch Hunter Robin, Ouran High School Host Club) provided character designs, while Yasuyuki Muto (Afro Samurai, Persona -trinity soul- ) wrote the screenplay. Hiroyuki Sawano (Kill la Kill, Aldnoah.Zero) scored the soundtrack.
Hiroyuki Sawano, under the name SawanoHiroyuki[nZk], also produced new opening and closing themes. Opening theme Into The Sky stars Sawano's vocal project "SawanoHiroyuki[nZk]:Tielle", while ending theme bL8dy f8 -eUC- features another of his vocal projects, "SawanoHiroyuki[nZk]:Aimer".
Crunchyroll streamed Mobile Suit Gundam Unicorn Re:0096 as it aired in Japan. They describe the series as follows:
Once again…

Will you be able to survive?

U.C. 0001…

A new era begins with the settlement of space. But as the ceremonial transition from the A.D. to the U.C. (Universal Century) era is in progress, the space station Laplace, official residence of the Earth Federation prime minister, is shattered by a terrorist bombing.

A young man named Syam, who joined the terrorists because of poverty, is caught in the explosion of Laplace and discovers something amid the wreckage. This is the forbidden box that will later be known as Laplace's Box.

U.C. 0096…

Three years have passed since Char's Rebellion. On the surface, it appears that tranquility has returned to a world which has been troubled by conflict ever since the One Year War.

Banagher Links, a boy living at the manufacturing colony Industrial 7, meets a mysterious girl who calls herself Audrey Burne. Audrey has taken independent action to stop the Vist Foundation from handing over Laplace's Box to the Neo Zeon remnants known as the Sleeves, and Banagher decides to help her. But the colony becomes a battlefield as fighting breaks out between the Sleeves and the Earth Federation Forces, who have also come to prevent the handover. As Banagher runs through the battle in search of Audrey, he has a fateful encounter with a white mobile suit, the Unicorn Gundam, which is the key to Laplace's Box.

What is Laplace's Box?

What secret does the Box contain?

The hundred-year curse of the Universal Century is about to be resolved.
Source: Facebook (Toonami)