You know, I don't care if it's taken from Dragon Ball Super, this delightful hype train image is getting some more mileage today.
Yesteday, Funimation announced that Adult Swim will air Dragon Ball Z Kai: The Final Chapters as part of their Toonami block. The series will kick off on January 7, at midnight Eastern.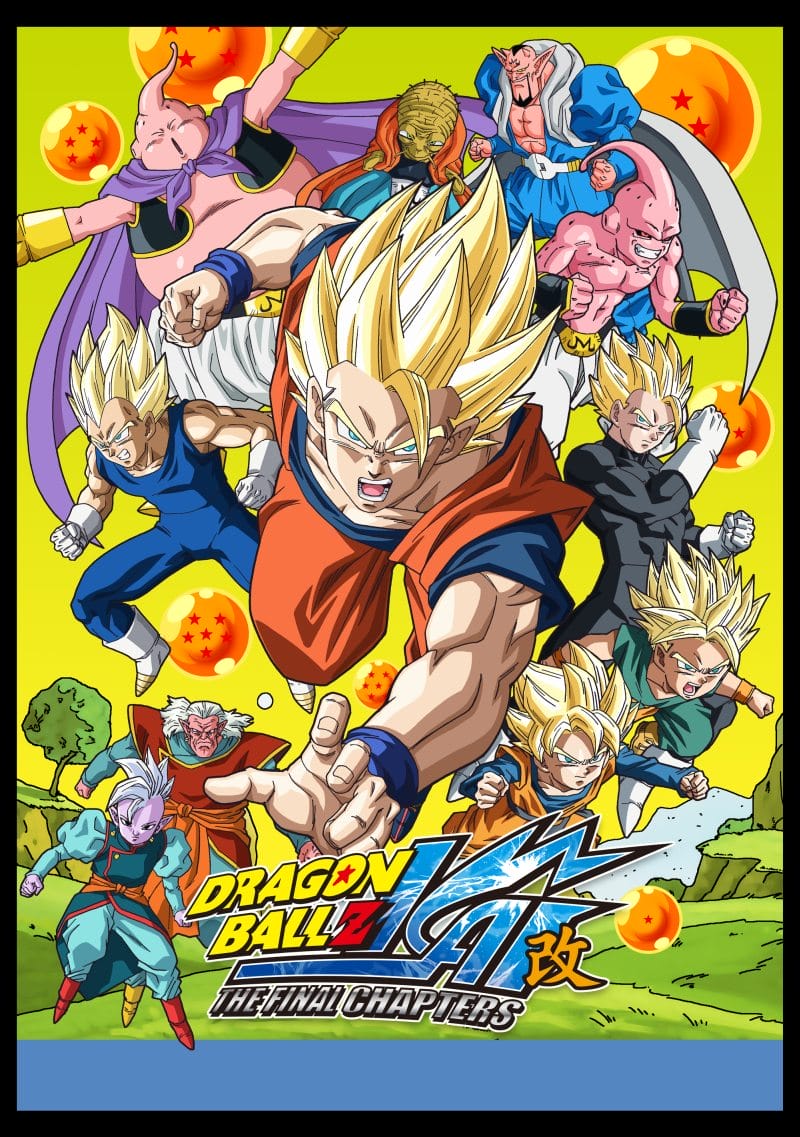 Dragon Ball Z Kai: The Final Chapters includes the Majin Buu saga. The confirmed dub cast includes:
Gohan: Kyle Hebert
Narrator: Doc Morgan
Erasa: Alexis Tipton
Videl: Kara Edwards
Sharpner: Duncan Brannan
Goku: Seán Schemmel
Young Trunks: Laura Bailey
Cell: Dameon Clarke
Android 16: Jeremy Inman
Frieza: Chris Ayres
Young Gohan: Colleen Clinkenbeard
King Kai: Seán Schemmel
Bulma: Monica Rial
Chi-Chi: Cynthia Cranz
Vegeta: Christopher R. Sabat
Mayor: Charlie Campbell
Rock: Phil Parsons
Goten: Kara Edwards
Musuka: J. Michael Tatum
Strongman: Chuck Huber
Toto: Mike McFarland
Chobi: Monica Rial
Mrs. Toto: Rawly Pickens
South Kai: Jason Douglas
Baba: Linda Young
Oolong: Brad Jackson
Ox King: Kyle Hebert
Puar: Brina Palencia
Announcer: Eric Vale
Fake Cell: Wally West
Fake Mr. Satan: Jay Garrick
Fake Goku: Bart Allen
Ikose: Josh Grelle
Jewel: Robert McCollum
Yamu: John Burgmeier
Kibito: Chuck Huber
Spopovitch: Andrew T. Chandler
Pintar: Chris Cason
Mighty Mask: Jim Foronda
Young Goku: Colleen Clinkenbeard
Imamu: Apphia Yu
Idasa's Mom: Jamie Marchi
Android 18: Colleen Clinkenbeard
Mr. Popo: Chris Cason
Dende: Justin Cook
Master Roshi: Mike McFarland
Marron: Tia Ballard
Turtle: Chris Cason
Papoi: J. Michael Tatum
Piccolo: Christopher R. Sabat
Krillin: Sonny Strait
Bubbles: Christopher R. Sabat
Yamcha: Christopher R. Sabat
Gregory: John Burgmeier
Tien: John Burgmeier
Christopher R. Sabat is directing the adaptation, which features Carly Hunter, Justin Cook, and Michael Harcourt as producers. Gen Fukunaga will executive produce.
Dragon Ball Z Kai is a revised retelling of the Dragon Ball Z anime series. Yasuhiro Nowatari directed the series at Toei Animation.
The show received two seasons in Japan:
Episodes 1 – 97: 10/5/2009 – 3/27/2011
Episodes 99 – 159 4/6/2014 – 6/28/2015
The final episode of the first season was released as an OVA, as its broadcast was cancelled by the Tōhoku offshore earthquake and tsunami.
Funimation describes Dragon Ball Z Kai: The Final Chapters as:
Seven years have passed since Cell's defeat, and the Z Fighters have returned to normal life. Goku has continued his training in the Other World, Krillin has gotten married, and Gohan has his hands full attempting to navigate the pitfalls of high school. But with the new World Martial Arts Tournament about to begin, it's time for Goku and the Z Fighters to reunite and face off against the greatest warriors on Earth!

Meanwhile, the evil wizard Babidi has traveled across the galaxy on a quest for revenge, hoping to fulfill his father's thwarted dreams of universal domination. The Supreme Kai has come to enlist the aid of the Z Fighters in his effort to prevent Babidi from awakening a monster of unimaginable terror—Majin Buu!
Source: Funimation Blog