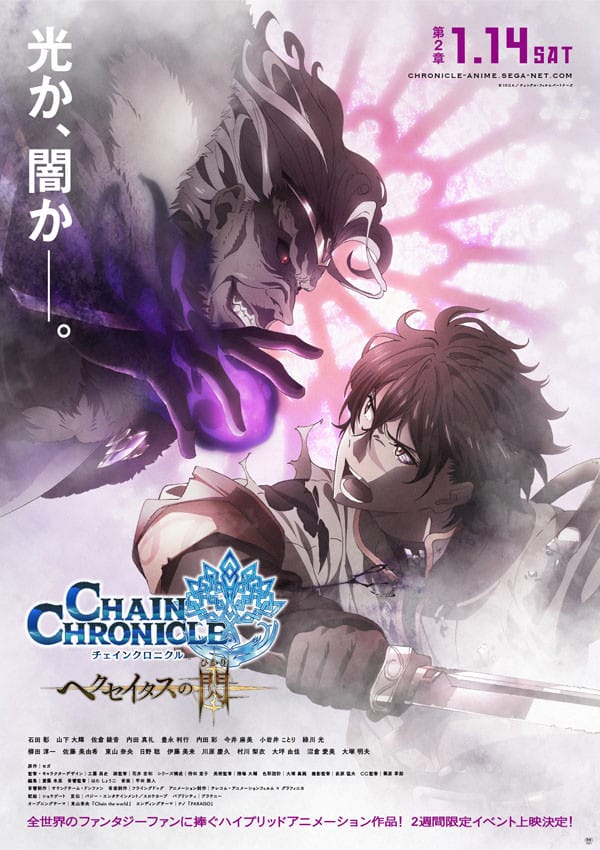 Crunchyroll and Funimation are carrying the chains of anime with this new series!
Earlier today, Crunchyroll and Funimation announced that they will stream the Chain Chronicle – The Light of Haecceitas- (Chain Chronicle: Haecceitas no Hikari) films and TV series on their digital platforms. Crunchyroll will offer the series in subtitled format, while Funimation will offer an English SimulDub.
Crunchyroll will also stream the first Chain Chronicle anime film, which covers the show's first four episodes. The movie will hit the service on Friday at 2:00PM Eastern (11:00AM Pacific), along with the first episode of the TV series. Episodes 2 through 4 will follow at an unspecified later date.
Crunchyroll will stream the second film in January, and the third film in February. Both the series and films will be available in all regions outside of Asia.
Funimation will reveal details on the Chain Chronicle dub at an unspecified later date.
Masashi Kudo (Hayate the Combat Butler! Cuties, Ikki Tousen: Extravaganza Epoch) is helming the project and providing character designs at Telecom Animation Film and Graphinica. Touko Machida (Lucky Star, Karneval) is in charge of series composition.
The remaining crew includes:
Music: Masato Kōda
Art Director: Daisuke Jinba
Sound Director: Shoji Hata
Director of Photography: Takeo Ogiwara
Assistant Director: Hirokazu Hanai
Color design: Masumi Ootsuka
Editing: Akari Saitō
The confirmed voice cast includes:
Yuri: Akira Ishida
Phina: Ayane Sakura
Pirika: Maaya Uchida
Cain: Toshiyuki Toyonaga
Marina: Aya Uchida
Mishidia: Asami Imai
Shuza: Hikaru Midorikawa
Juliana: Kotori Koiwai
Werner: Junichi Yanagita
Fatima: Miyuki Satou
Rafaga: Satoshi Hino
Lilith: Miku Itō
Kiki: Rie Murakawa
Roro: Yuka Ōtsubo
Chain Chronicle: Haecceitas no Hikari is based on Sega's Chain Chronicle smartphone game. In 2014, a series of eight theatrical shorts hit five Japanese cinemas. The episodes received a limited engagement in September 2014, which was followed by a DVD release on December 18 of the same year.
Source: Fandom Post