So tell me: what does a genocidal organ hunt?
Yesterday, the official Genocidal Organ anime film's website updated with a new promotional video. The 30-second trailer offers a look at the movie in action.
In addition, the site added a new poster visual, which you can check out below. The image was drawn by artist redjuice.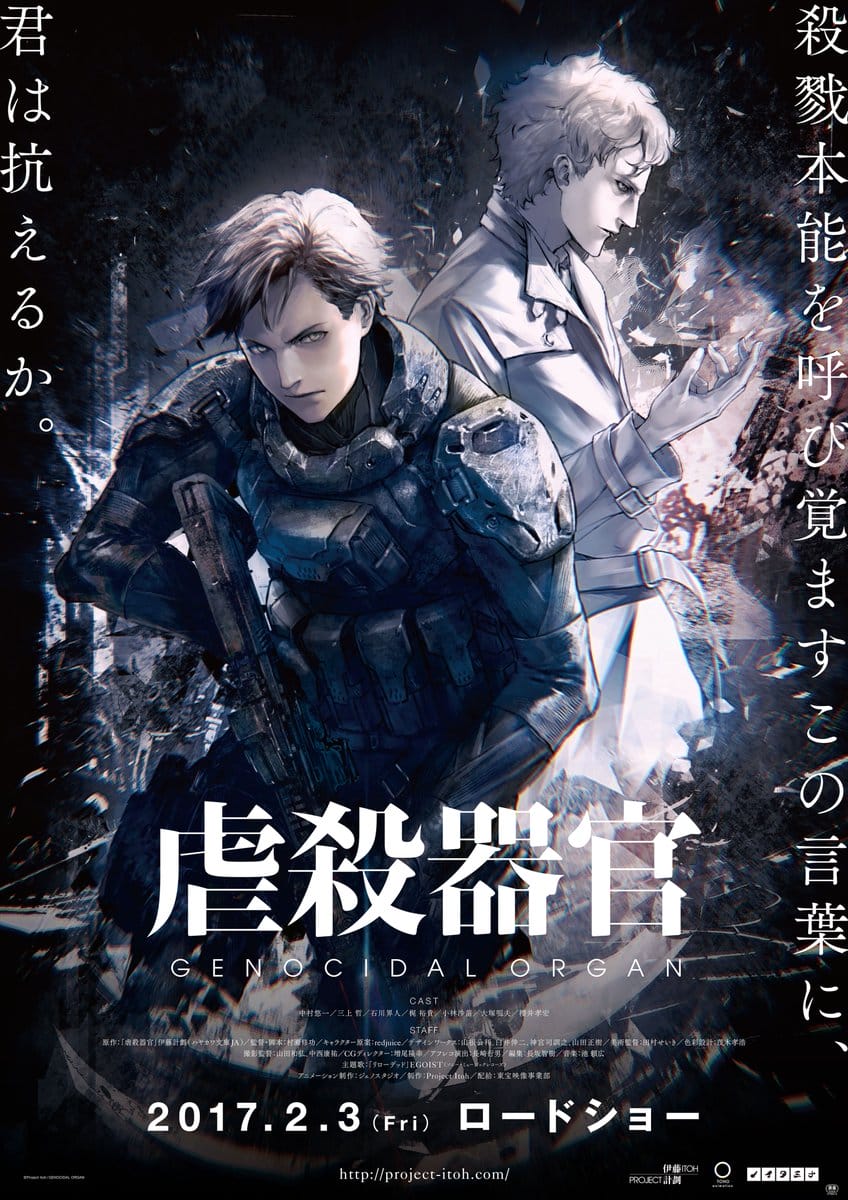 Genocidal Organ made its global début on October 31, at the Tokyo International Film Festival. The feature will get a wider Japanese theatrical release starting February 3, 2017.
Genocidal Organ is the third entry in a trilogy of films based on the late Satoshi Ito's Project Itoh novels. The feature was originally announced as the first film in the series, with a planned October 2015 début. Manglobe was slated to produce the movie, which was to be written and directed by Shukou Murase (Ergo Proxy, Gangsta.).
The film was delayed when Manglobe closed its doors in November 2015. Shortly after the news broke, the Project Itoh website updated with news that new studio "Geno Studio" would produce the film. The studio is a subsidiary of production company Twin Engine, which was founded by Eden of the East director Koji Yamamoto. Murase, as well as numerous key staff members would continue their work at the new company.
The confirmed voice cast includes:
Clavis Shepherd: Yuichi Nakamura
Rockwell: Akio Ohtsuka
Realand: Kaito Ishikawa
Lucia: Sanae Kobayashi
Williams: Satoshi Mikami
John Paul: Takahiro Sakurai
Alex: Yuuki Kaji
Funimation currently holds the domestic rights to all three Project Itoh films in North America. Viz Media releases the novels in North America under their Haikasoru imprint. They describe Genocidal Organ as:
The war on terror exploded, literally, the day Sarajevo was destroyed by a homemade nuclear device. The leading democracies have transformed into total surveillance states, and the developing world has drowned under a wave of genocides. The mysterious American John Paul seems to be behind the collapse of the world system, and it's up to intelligence agent Clavis Shepherd to track John Paul across the wreckage of civilizations and to find the true heart of darkness—a genocidal organ.
The team released a pair of short promotional videos in October and November, which you can check out below.
Source: Twitter (PJ_Itoh)