You know, for a show about a dropout, this series is really committing to the cause.
Yesterday, the official Gabriel Dropout anime website updated with four new cast members. The show will add the following:
Taplis Himeno: Inori Minase
Dog: Mikako Izawa
Class Rep: Mai Fuchigami
Cafe Owner: Hideyuki Umezu
The new actors join four previously confirmed roles:
Gabriel White Tenma: Miyu Tomita
Vignette April Tsukinose: Saori Onishi
Satanichia McDowell Kurumizawa: Naomi Ozora
Raphiel Ainsworth Shiraha: Kana Hanazawa
Gabriel Dropout hits Japanese TV on January 9. Crunchyroll will stream the show as part of their Winter 2017 simulcast lineup.
The series is based on ukami's manga of the same name. Masahiko Ohta (Himouto! Umaru-chan, Survival Game Club!) is helming the project at Doga Kobo, with Katsuhiro Kumagai (Luck & Logic) providing character designs. Takashi Aoshima (Himouto! Umaru-chan, Survival Game Club!) is in charge of series composition.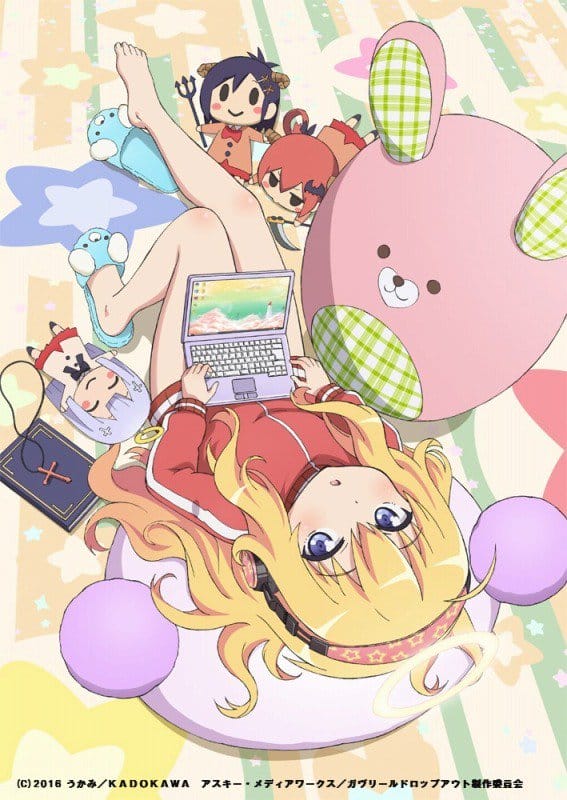 Both the opening and closing themes will be performed by Miyu Tomita, Saori Onishi, Naomi Ozora, and Kana Hanazawa. The opening theme, Gabriel Drop Kick., was composed and arranged by Ken'ichi "Hyadain" Maeyamada. Ending theme Hallelujah Essaim. was written by Ryuji Sakai and arranged by Shingo Yamazaki.
Crunchyroll describes Gabriel Dropout as:
An angel at the top of an angel school has descended to the human world! However, she has already acclimated to the life of the human world so much that she ends up leading a self-indulgent life, skipping school all the time and being absorbed in online games. Gabriel soon forgets about her original goal to make human beings happy and has turned into a lazy and hopeless angel, or a "sloppy angel" in short. Amazingly, she swears to continue to fully enjoy the pleasure of various entertainments of the human world.
Source: Ota-suke