So, what are we going to find in the super sandbox? Old abandoned sand castles? Long-forgotten keys? Maybe a few lost toys arranged in a haunting reminder of what was?
On Thursday, Success opened the official website for the World of Super Sand Box (Chōyū Sekai: Being the Reality) anime series. The site updated with a new visual for the project, as well as the show's staff.
Hatsuki Tsuji (Yu-Gi-Oh! GX, Cardfight!! Vanguard) was tapped to direct the show, with Success and Asahi Production handling overall production. Masahiro Sonoda (Dance in the Vampire Bund) will serve as series director. Akihiko Inari is in charge of series composition.
Satohi Konno will produce character designs for the title, with Hiroshi Tsubai working as assistant character designer.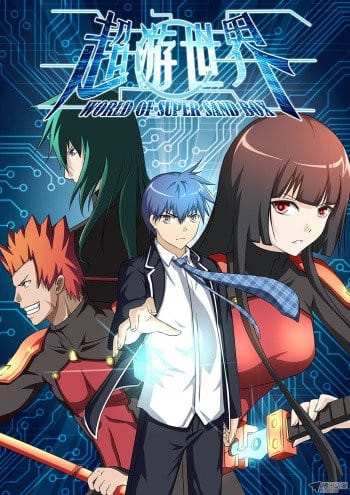 The remaining staff includes:
Chief Animation Director: Futaba Aoi
Color Key: Miyuki Isogai
Art Director: Mitsuharu Miyamae
Directors of Photography: Yousuke Motoki, Kenji Takahashi
Sound Director: Yuichi Imaizumi
Editor: Yūki Honda
Chief Planner: Zhou Zhengyu
Chief Executive Producer: Li Junting
Riho Iida will perform the show's theme song.
The confirmed voice cast includes:
Noii: Shun Horie
Motis: Yoshiko Ikuta
Cass: Yurika Kubo
Haki: Kazutomi Yamamoto
Vinsen: Yuki Adachi
Keikan: Kazuma Horie
Ryū-sensei: Emiri Katō
Chinnō: Sarara Yashima
Hakū: Rika Tachibana
Mōnsuto: Riho Iida
Viros: Takehito Koyasu
Saber's Commanding Officer: Masaaki Yano
World of Super Sand Box will hit Japanese and Chinese TV on January 12. In Japan, the series will be streamed on Niconico, YouTube, and AbemaTV. The project adapts
This is the third Japanese co-production for Tencent, who also collaborated on two previous projects. The company collaborated with Haoliners to produce Fall 2016 series Bloodivores and Summer 2016 show Hitori no Shita: The Outcast.
A promotional video for the series hit the web earlier this week. You can check it out below:
Source: Twitter (cys_japan)