You know, if you told me in 1999 that Saiyuki would still be a thing today, I'd have probably looked at you funny. Nowadays? It's hard to imagine the world without it.
Earlier today, the "Saiyuki FESTA" fan event was held at Chiba's Makuhari Messe convention center. There, fans were greeted with a wealth of information on the upcoming Saiyuki Reload Blast anime series. The first promo video, along with the cast, staff, and première date were unveiled for the crowd.
The 90-second promotional teaser offers a preview of the show in motion, along with a brief plot overview.
The main visual features the show's cast posing against a stark white background.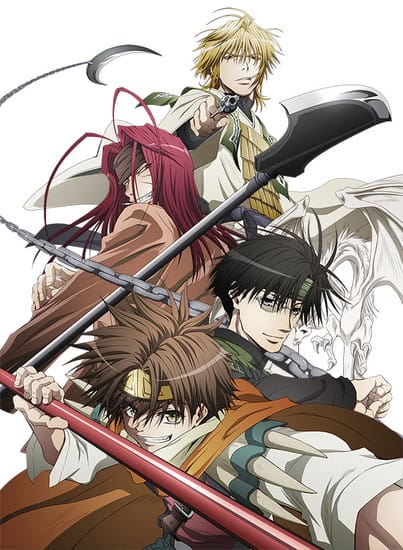 This will be the first Saiyuki anime that isn't animated by Studio Pierrot. Hideaki Nakano (Aoharu x Machinegun, SerVamp) will direct the project at Platinum Vision, with Youko Satou (Dog & Scissors, Pipopapo Patrol-kun) providing character designs. Kenji Konuta (Blood Lad, Library War) will oversee the show's scripts.
Previously, Nakano and Konuta worked together on Aoharu x Machinegun and SerVamp.
Several voice actors will return for the project, including:
Genjo Sanzo: Toshihiko Seki
Son Goku: Souichiro Hoshi
Sha Gojyo: Hiroaki Hirata
Cho Hakkai: Akira Ishida
Sayuki Reload Blast will hit Japanese TV in July.
Kazuya Minekura's Saiyuki Reload Blast began publication in Ichijinsha's Comic Zero-Sum magazine in 2009. The series has been serialized irregularly since 2013 due to Minekura's declining health.
The original Saiyuki manga spawned a 1999 OVA and 2000 TV series, along with a sequel film, Saiyuki Requiem: A Requiem for The One Not Chosen, and OVA series Saiyuki: A Sin of Hope. TV series Saiyuki Reload aired in Fall 2003, while Saiyuki ReLoad GunLock hit Japanese TV in Spring 2004.
Most recently, OVA series Saiyuki Gaiden hit Japanese stores in 2011.
Source: Comic Natalie