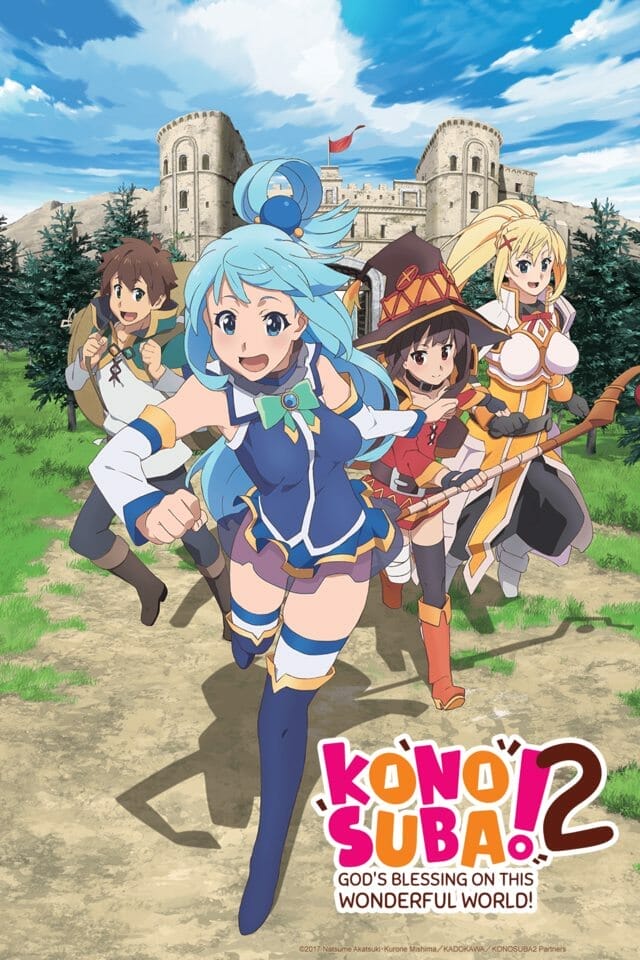 It's time to take a trip back to that wonderful world!
Yesterday, Crunchyroll announced that they will stream Konosuba -God's blessing on this wonderful world! 2 as part of their Winter 2017 simulcast lineup. The series kicked off earlier today for all subscribers outside of the following regions:
Asia
Spain
Portugal
Australia
New Zealand
German Speaking Europe
French Speaking Europe
Italian Speaking Europe
Dutch Speaking Europe
Konosuba -God's blessing on this wonderful world! 2 is the sequel to the original Konosuba anime, which aired in January 2016. Takaomi Kanasaki (Is This a Zombie?, Tokyo Ravens) returned to the director's chair at Studio Deen, with Koichi Kikuta back to provide character designs. Makoto Uezu (Yuki Yuna Is a Hero, Akame ga KILL!) is in charge of series composition again.
The confirmed voice cast includes:
Darkness: Ai Kayano
Kazuma Sato: Jun Fukushima
Megumin: Rie Takahashi
Aqua: Sora Amamiya
Yunyun: Aki Toyosaki
Chris: Ayaka Suwa
Sena: Hitomi Nabatame
Vanir: Masakazu Nishida
Luna: Sayuri Hara
Kyoya Mitsurugi: Takuya Eguchi
Ruffian: Tetsu Inada
Wiz: Yui Horie
Both the original Konosuba and this new season are based on Natsume Akatsuki's light novel series of the same name. Crunchyroll describes the new season as:
Following a tragic accident, the game-loving shut-in Satou Kazuma was reborn in a parallel world. Though his dream of enjoying a new life as an adventurer in an RPG-inspired world and striving to be a hero didn't come true, he managed to get by in his new world. He was joined by Aqua, the goddess who accompanied him to the parallel world; Megumin, an arch wizard who can only use her magic once a day; and Darkness, a crusader whose attacks always miss. And so, along with his party of girls who have extremely advanced powers but unfortunately can't take full advantage of them, he managed to complete some quests here and there.

Then, one day, after Kazuma's party saved the town of Axel from the mobile fortress Destroyer, a messenger from the capital came to tell Kazuma that he was suspected of the crime of subversion to the state! Where will the ordinary adventurer Kazuma's life in a parallel world lead him tomorrow?!
Source: Crunchyroll