Apparently, things get a bit eccentric when folks celebrate in Kyoto.
Earlier today, anime series The Eccentric Family was named a Kyoto Special Goodwill Ambassador, which honors the series (and its upcoming sequel) for "develop[ing] the brand of Kyoto and its tourism." A ceremony was held at the Shimogamo Shrine, where Kyoto mayor Daisaku Kadokawa presented a certificate to Eccentric Family producer Kenji Horikawa.
Then came the booze. No, really.
After the presentation, both mayor Kadokawa and the Eccentric Family cast and crew hosted a sake-opening ceremony. At the event, the team unveiled two new visuals for the upcoming The Eccentric Family 2, which you can check out below: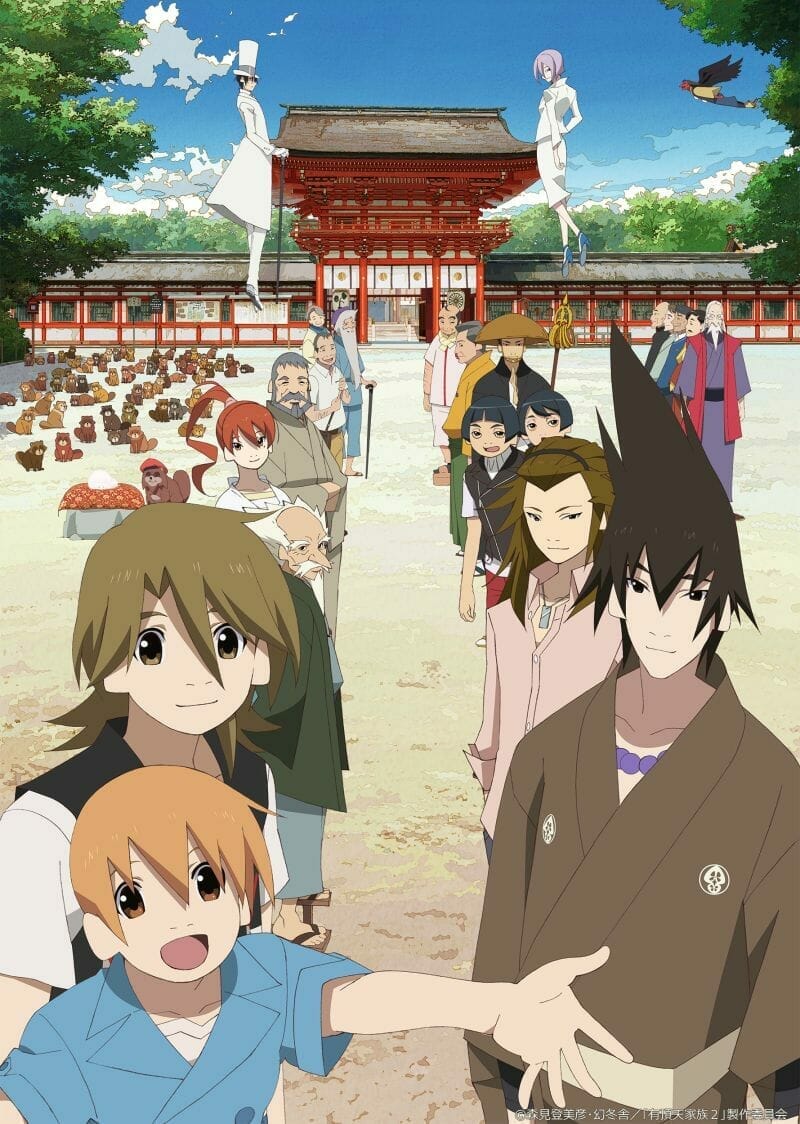 Later in the day, the show's official website updated with a new two-minute promo video, which introduces the main characters.
With the new trailer came several four new cast reveals:
Nidaime: Junji Majima
Gyokuran: Yōko Hikasa
Kureichiro Ebisugawa: Yuichi Nakamura
Tenmanya: Bin Shimada
Character visuals for each of the new roles were also unveiled, which you can check out below:
The Eccentric Family 2 is on track for an April 9 premiere. The core staff from the first season will return to work on the series, including director Masayuki Yoshihara and original character designer Kōji Kumeta Kumeta (Sayonara, Zetsubou-sensei). P.A. Works will produce the show's animation, while Lantis handles the show's music.
In addition, the main voice cast members from the show's first season will return to reprise their roles:
Yasaburo Shimogamo: Takahiro Sakurai
Yoichiro Shimogamo: Junichi Suwabe
Yajiro Shimogamo: Hiroyuki Yoshino
Yajiro Shimogamo: Mai Nakahara
Benten: Mamiko Noto
NIS America currently distributes the first season of The Eccentric Family in North America. They describe the show as:
In modern day Kyoto, humans live in the city, tengus take to the sky, and tanukis roam the earth. One such tanuki is Yasaburo, the third son of Soichiro Shimogamo, famed tanuki leader who met his end far too early at the hands of a group of humans and their year-end banquet hot pot. Yasaburo has since embraced his "fool's blood" and strives for a happy, carefree life. But between taking care of his old tengu master Akadama-sensei, avoiding the life- threatening advances of the beautiful human Benten, dealing with his dangerously stupid twin cousins, and avoiding becoming a hot pot himself in the next year-end banquet, the young tanuki has his proverbial work cut out for him!
Source: Ota-suke, PARUS (Press Release)