Happy Saturday everyone, and welcome to shiny new year of Media Create sales! This year, we don't have that wonkiness of a correcting "Week 53", so there's no real confusion or weirdness to account for (hooray!).
You'll see a lot of familiar titles this period, as the release calendar was a bit slim. Still, there's a good bit of drama and surprising shifts that are worth a peek.
Speaking of surprising, how about that Switch presentation? :D Were you up til 3AM to pre-order yours, or will you be passing on Nintendo's new hybrid? But I'm kind of derailing, here. On with the numbers!
Nintendo
This was another banner week for the Big N, who saw fourteen titles on Nintendo hardware in the top 20. Of those, thirteen were 3DS games, and one was a Wii U title.
Rather than beat the heat at Alola this week, though, folks made their way to the construction site. Mario Maker 3DS took the #1 spot this period, selling through 100,308 units (890,838 LTD). The title is in beast mode right now, seeing a 37% week-over-week jump. The game is on track to break a million units sold by the end of the next, if all goes well.
Though its allure did want this time around, Alola remains a hot spot for gamers and Poke-fans alike. Pokémon Sun & Moon (3DS) saw sales remain flat week-over-week, with 90,298 copies reaching customers (3,039,585 LTD). The individual SKU has finally crushed the 3-million mark, which is nothing short of amazing. Combining this with the sales of the double-pack bundle, which sits at 157,492 last charting, we're looking at 3,197,077 units sold. Given the legs and the overall strengh of sales, we could see this break four mil by summer. But that really depends on trajectory once we get deeper into January.
It really does seem that the thirst was real for more Momotetsu in Japan. Momotaro Dentetsu 2017: Tachiagare Nippon!! (3DS), the latest in the long-running series of train-themed board games, shifted 47,905 copies (244,357 LTD) to take third place. The title officially broke the 200K milestone this sales period, and will undoubtedly shatter 250K next week. A huge kudos to Nintendo and Konami (mostly Nintendo) on proving that this revival can, and will work. Now, let's see what the revival treatment can do for Bomberman!
Meanwhile, Miitopia continues to have the weirdest sales trajectory I've ever seen. The title jumped 31% week-over-week, selling another 23,867 units (144,838 LTD). The game will cross 150K next sales period, which is super great for a title that was deemed "bomba bin" status in its début.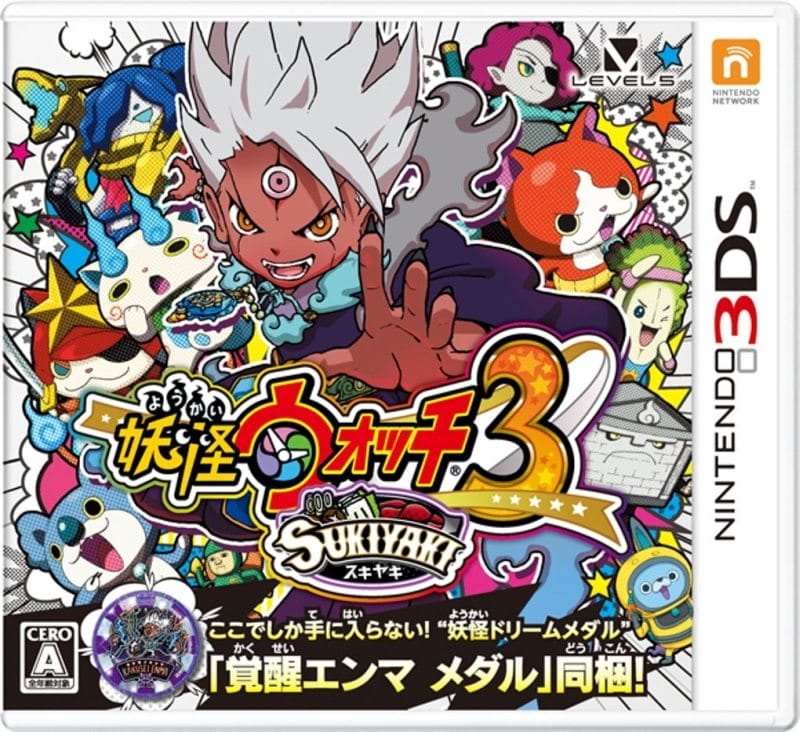 As they say, yokai are everywhere, even in the top-10 charts! Yo-Kai Watch 3: Sukiyaki continues to show strong legs, with 23,690 sold this period (585,206 LTD) and a 6th place finish. The title is on-track to break 600K this period, which is just a fantastic feather in the cap of Yo-Kai Watch 3. The title appears to have been hit by a supply shortage, which has had a slight retarding effect overall. I'm curious to see how things pan out on restock.
Possibly related, the Yo-Kai Watch 3: Sushi / Tempura Busters T-Pack bundle bounced back into the big board this week, taking 19th place with 7,002 units sold (41,430).
Moving away from the ghosties, though, fans have been trying to turn over a new leaf in this new year. The Animal Crossing: New Leaf (3DS) Welcome amiibo SKU sold through 15,512 units (101,354 LTD) to take the #8 space. Again – this is about the fourth re-release of the game, which has already sold over four million copies in Japan. To see this new version break 100K is just plain astounding.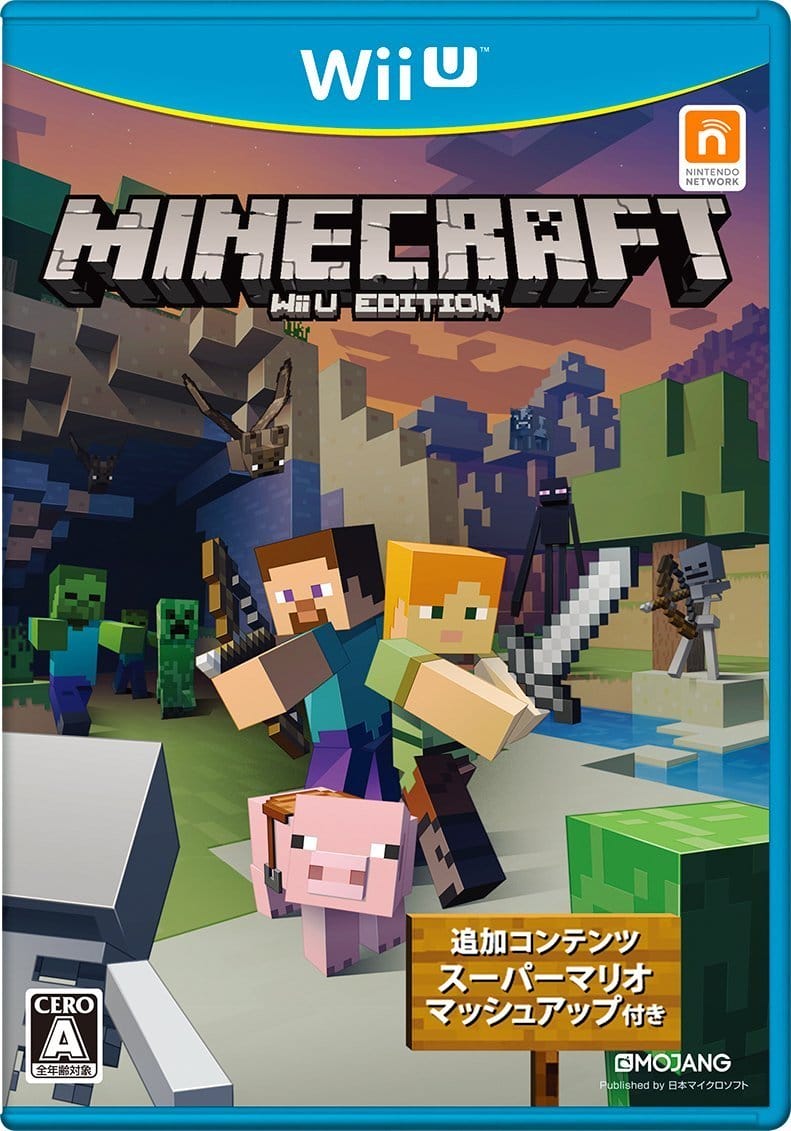 Even in the dead of winter, baseball fans are kicking mud off their cleats. Well, kind of. 3DS title Jikkyou Powerful Pro Baseball Heroes saw a small bump this period, holding its position at 10th place with 13,766 sales (73,560 LTD). The title is still vastly below its recent predecessors, but the legs we're seeing are encouraging. I'll be curious to see the final numbers on this one!
And then there's Minecraft (Wii U). Mojang's blocky builder (and rare Microsoft game studios success story) held on to 11th place this period, with 13,391 units hitting customers (271,044 LTD). The game, which is the only Wii U title left on the charts, continues to defy expectations, and should easily clear 300K by the end of the month. Much like its Vita counterpart, Minecraft's performance is nothing short of fantastic.
It seems that the party isn't over yet at Casa de Mario! Mario Party: Star Rush (3DS) continues to defy expectations, with 10,293 copies sold (145,318). This is a jump of about 44% from last week, which is (again) surprising. The title is still grossly underperforming relative to other entries, but it's hard to really call this one a failure, given its consistent legs week-over-week.
Meanwhile, Mario Kart 7 (3DS) continues to live! For now! The quirky kart racer saw a 56% bump this period, drifting to 8,946 sales (2,723,302 LTD) and rising to 14th place. I'm curious to see just how long this resurgence in the charts can continue, as we're looking at a six year old game, performing (and crushing) a ton of new hotness.
Speaking of crushing the new hotness, Kirby's mecha continues to impress! Kirby: Planet Robobot (3DS) rocketed back to the top-20 this period, with 8,225 units sold (525,226 LTD). The title's legs remain strong, despite a few dips out of the rotation. I'm hoping that we'll see the title continue to hold strong for its first anniversary in April.
Meanwhile, Sumikko Gurashi: Mura o Tsukurundesu (3DS) continues to bring a healthy dose of weird to the big board. The title moved another 8,141 copies (145,722 LTD) to take 17th place. We should see this one cross 150K by the time it exits the charts.
That Mario Run bump continues to be very real, it seems. New Super Mario Bros. 2 (3DS) bounced back into the charts this time around, taking 18th place with 7,785 sales (2,516,249 LTD).
On the Hardware Front
The 3DS started 2017 by reclaiming the hardware crown, selling through 88,878 units. This is up from the same week last year, where the handheld sold through a comparatively paltry 60,479 units.
The Wii U also saw a small bump, bouncing up to 3,147 units sold. this is far down from the same period in 2016, when the Wii U sold through 24,722 units.
Sony
This was a modest week for PlayStation fans, as titles on the PlayStation 4 and Vita took a mere six spots on the charts. Of those, five were PS4 games.
That said, Vita fans do have something to celebrate, as Minecraft led the charge. Mojang's blocky builder saw sales jump by 35% this week, moving another 32,031 units (1,074,494 LTD). The game took fourth place for the period. That said, I don't know what more I can say about this game's performance, really. It's the top-selling Sony-published game on Vita, and the first actual million seller since 2004's Gran Turismo 4. Huge kudos to Mojang and Microsoft, as well as Sony.
Not far behind, the Beautiful Boy Band Adventures continue to meander about through Duscae. Final Fantasy XV (PS4) sold through 23,346 units (907,768 LTD) to take 7th place this period. The title broke the 900K mark which, while low for the franchise, is a strong showing overall. With luck, we'll see this one make a miracle and break that million-sales mark.
The forces of organized crime continue to keep a close watch on the top-10 this period. Yakuza 6: The Song of Life moved another 13,825 copies (235,352 LTD) to take the #9 space. The title is on track to break 350K by the end of the month, which would be a good showing overall. Not Yakuza 5 good, but still good.
Speaking of good showings, the budget PS4 re-release of Grand Theft Auto V continues to have a tight grip on the charts. The SKU sold through 9,513 units this period (235,352 LTD), which is enough to claim 13th place. For a budget re-release of a port of a , this is nothing short of a three year old game, this is nothing short of fantastic.
Sadly, while gritty crime is a winner, cyber-crime seems to be falling flat. Watch Dogs 2 (PS4) plummeted to 15th place this period, with 8,718 units (97,955 LTD) reaching customers. With the current legs, we'll see this cross 100K, but not much more than that.
On the note of brushes against milestones, Battlefield 1 (PS4) stands just shy of a quarter million sales. The title moved 6,770 copies this period (244,406), taking the rear at 20th place. This one's a nail biter, as there's potential for that 250K achievement, but it could just as easily fall out of the charts.
On the Hardware Front
The PS4 took a very close secoond place this week, with 87,169 units reaching customers. Of those, 8,242 were PS4 Pro consoles. This is more than double the sales of the same week in 2016, which saw the PS4 selling through 36,559 units.
the Vita also saw a strong week with 34,023 units reaching customers.
The PS3, meanwhile, continues to do its own thing. The console managed to move 1,156 units this sales period.
Microsoft
In the game of darts, the highest possible that a person can get in one turn is 180. This requires the player to achieve the challenging feat of nailing three triple 20s. The score is pretty infamous due to its difficulty to achieve, and even served as the title of a 1986 darts game on the ZX Spectrum.
In the world of console sales, 180 XBox One consoles sold is both a sad return to reality and a clear indicator that the XBox One S launch party is pretty much over.