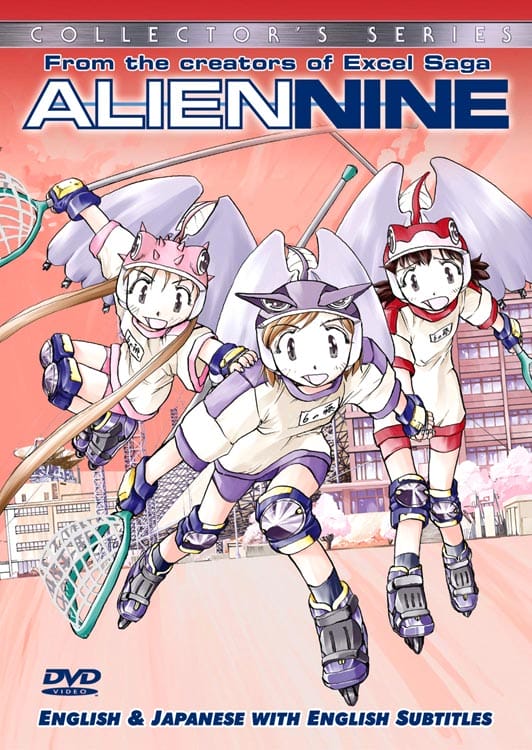 The Alien Party's expanding to a brand new venue this winter.
Yesterday, streaming service Tubi TV added 2001 OVA series Alien Nine to their digital lineup. The series is available in its entirety in subtitled format.
Alien Nine is based on Hitoshi Tomizawa's manga series of the same name. Jiro Fujimoto (Episode 1, Ane Haramix, Holy Knight) and Yasuhiro Irie (Episodes 2-4, Fullmetal Alchemist: Brotherhood, Code:Breaker) directed the project at J.C. Staff, with Irie pulling double duty with character designs. Sadayuki Murai (Episodes 1 & 3, Bubblegum Crisis: Tokyo 2040, Millennium Actress) and Seishi Minakami (Episodes 2 & 4, Paprika, Boogiepop Phantom) wrote the title's screenplays.
Central Park Media originally released the Alien Nine anime and manga in North America. They described the title as:
Yuri is totally bummed. She just started 6th grade and has been elected to capture and eliminate the aliens that are constantly invading the school…maybe this job wouldn't be too bad, except it includes wearing gross symbiotic alien helmets that survive by eating the waste material produced from its host body. Yuck! Yuri may be scared of her new position, but she isn't alone. To help her is the energetic Kasumi and the serious Kumi who both volunteered for their positions in this strange alien party. But why would the school send 6th graders to fight the alien menace? And will their borgs be enough to help them win?!
Source: Fandom Post