Happy Saturday everyone, and welcome to a new week of Media Create sales numbers! We're firmly into 2017 now, and the big decline has finally hit. We'll be expecting one or two more dips before things even out, but we'll definitely be in our happy little rut before February.
That said, this was another good week for Nintendo and PlayStation gamers alike, with Gravity Rush 2 and Poochy & Yoshi's Woolly World hitting retailers. For XBox fans, ehhhh… you'll find out later in the article.
But until then, let's get down to the numbers!
Nintendo
Titles on Nintendo hardware managed to claim eight spots on the big board this week, with 7 3DS titles and a Wii U game (rhymes with "sine graphed") making the cut.
This time around, folks fell head-over-heels for the adorable antics of Yarn Yoshi. Poochy & Yoshi's Woolly World (3DS) led the way, taking second place with 39,555 units sold. Compared to the Wii U's Yoshi's Woolly World, which opened at 31,158, this is a definite improvement. The title moved about 60-80% of its initial allocation according to Famitsu, which is a decent showing for mid-January. Again, stressing for mid-January. The game actually did about half of the début numbers for Yoshi's New Island, which debuted with in July 2014 (66,225).
The spooks and spectres of Yo-Kai Watch, meanwhile, continue to haunt the top-10. Yo-Kai Watch 3: Sukiyaki held on to 6th place, selling through 20,831 copies (629,229 LTD). We should see the title break 250K by the early weeks of February, if it maintains its current momentum.
Last sales period, fans continued to build more elaborate death traps for gaming's favorite plumber. Super Mario Maker 3DS shifted another 14,285 units (928,969 LTD) to take the #9 space. I'll definitely be watching this one closely, as we get closer to ther big million mark. While it should be able to break the milestone easily, I do wonder if we'll see this before or after the upcoming Switch launch.
Not far behind, the Momotetsu love train continues to chug along the sales charts. Momotaro Dentetsu 2017: Tachiagare Nippon!! (3DS) sold through 8,638 copies this period (269,727 LTD) to take 10th place. I'm not sure where the title will stand once it drops out of the top-20, but I'd be shocked if this revival didn't break 300K, at the very least.
On the note of sales successes, Animal Crossing: New Leaf's "Welcome amiibo" re-release (3DS) shifted another 5,033 copies (112,797 LTD) to take 15th place. Again, I'm going to put some emphasis that this is the fourth re-release of New Leaf, and it's still clearing 100,000 copies. Simply amazing.
Miitopia (3DS), meanwhile, continues to drop like a stone. The quirky Mii-centric RPG moved just 4,775 copies this week (156,947 LTD) to take 16th place. I expect the title to come close to, but not surpass the 175K mark when it finally leaves the top-20. That said, considering the title's atrocious opening, I'd call Miitopia a success, overall.
Minecraft continues to be the final Wii U holdout. Mojang's blocky adventure sold through 3,732 units this period (279,716 LTD) to take 18th place. I'm still not sure where this will finally rest when it exits the charts, but I'm not ready to count it out. The Vita SKU has had some amazing rebounds in the past, so anything is possible.
On the Hardware Front
The 3DS took home second place this sales period, with 26,057 units reaching customers. The Wii U on the other hand, well… gather round 'cause it's story time:
In Japanese history, Kyoto became the capital of Japan in 794CE. This ended the Nara Period and began the Heian Period, which many regard as a golden age of Japanese culture.
In the world of game sales, 794 Wii U consoles means that those folks from Kyoto are likely nervously glancing at the calendar in hopes that March 3 comes up quickly.
Sony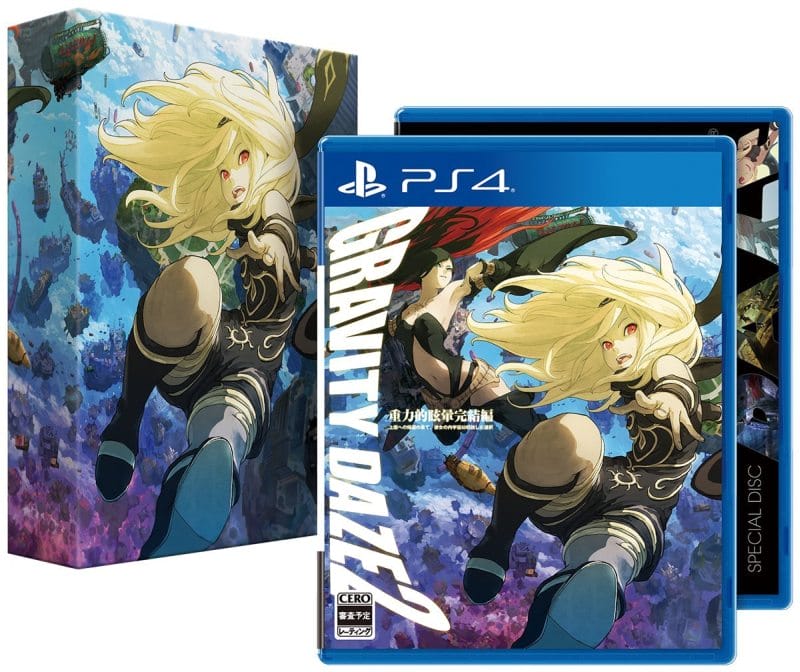 This sales period, the PlayStation family managed to snatch up twelve spots on the big board, with eight PS4 games and four Vita titles making the cut.
This time around, fans flocked to Hekseville for an exhilarating aerial adventure. Gravity Rush 2 (PS4) took first place this period, selling through 74,361 copies in its début. The title managed to beat the first game's week-one numbers (43,462), which is definitely beating many observer expectations. Still, its 40-60% sell-through is troubling. We may see this one hit the bargain bin sooner than later.
Sadly, the Revolution seems to be fizzling before it began. While Valkyria Revolution (PS4) opened at third place with 38,197 units, these numbers just are not good overall. Same goes for the Vita Version's 7th place opening, with 18,219 units sold. A combined 56,416 units for a high-profile spinoff has to have some sting for Sega. The poor reception and word-of-mouth is just gravy on the sadness sandwich.
Meanwhile, Square Enix's latest foray into the Magic Kingdom continues to bring that sense of adventure to the PS4. Kingdom Hearts HD II.8 Final Chapter Prologue (Double Double Mambo Tango Foxtrot – sorry, I can't help myself) moved another 22,758 copies this week (160,555 LTD) to take fourth place. The 83% week-over-week drop is expected, and falls within that 75-85% "week 2" window, though it is approaching the higher end. I can't say for sure if the title will have long legs, but I'm not expecting it.
Moving down the charts we have a few objectionsin our midst. Danganronpa V3: Killing Harmony (Vita) managed to present enough evidence to claim the #8 space, with 15,943 units sold (92,110 LTD). The PS4 version sold just under half of this, with 7,955 copies reaching customers (47,961 LTD). Combined, the two SKUs sold through 140,071 units. Again, this is a great performance for the title. Both SKUs managed kept their drops on the lower end of the expected declines, which is encouraging. We should see the title break 150K next sales period, and I wouldn't be shocked to see it cross 175K lifetime. The franchise is showing real growth, and I do hope that Spike Chunsoft takes the right lessons from its success.
On the note of success stories, the lure of San Andreas continues to be immense. Grand Theft Auto V's (PS4) budget-price re-release managed to steal 12th place this period, with 7,456 copies (252,874 LTD) reaching customers. The title, again, a re-release of a remaster of a 2013 game, managed to clear a quarter million copies. Kudos, Rockstar. No notes for you.
And then there's Minecraft (Vita). This title could be seen more as a fixture at this point, as we get close to its second anniversary. The title managed to shift another 6,824 units this period (1,090,208 LTD), which was enough to claim 13th place. The title is on track to break 1.1 million next week.
Sadly, it looks like the Regalia is about to run out of gas once again. Final Fantasy XV (PS4) sold through a scant 5,859 copies this period (923,632 LTD), which saw Ignis coming up with a new recipe at 14th place. We likely won't see the game break a million before it exits the charts, but it should come quite close.
Sexy samurai men managed to charge into the top-20 this period, with Vita visual novel Hana Oboro: Sengoku Denranki. The title moved 4,522 in its début week.
Not far behind, though, folks were still battling in the trenches. Battlefield 1 (PS4) retreated to 19th place this period, with 3,432 sales (252,485 LTD). That said, the game did managed to break the 250K mark, which is always encouraging to see from the genre.
Sadly, the lure of cybercrime seems to have lost its luster. Watch Doga 2 (PS4) dropped to 20th place this time around, with 3,037 units reaching customers (105,648 LTD). That said, title did cross the 100K mark, so it's not all doom and gloom for Ubisoft's latest open world title.
On the Hardware Front
The PS4 took the top sales spot this period, with 33,376 units reaching customers. Of those, 7,133 were PS4 Pro units. I'm still surprised at how flat sales have remained on this one. We're seeing declines, but they're generally small.
The Vita took third place this sales period, with 11,521 units reaching customers.
Now, this week we saw a pair of sales milestones! The Vita finally crossed the 5.5 million units sold mark in Japan. This is pretty huge, no matter how you slice it. So Kudos to you, Vita, the little handheld that could.
The PS4 Pro saw a smaller celebration this period, finally breaking 153,788 units sold since launch.
Microsoft
In the world of pro basketball, Reggie Lewis wore the number 35 for the Boston Celtics. Through his short career, Lewis averaged 20.8 points per game, with a career average of 17.6 points per contest. In 1992, Lewis was selected to play for the NBA All-Star team. Lewis passed away suddenly in 1993, after a sudden cardiac incident struck on the basketball court during practice. His number was retired as a memorial, and Lewis became one of two Celtics to receive the honor without bringing home a championship.
In the world of Japanese gaming sales, well… let's just say 35 XBox Ones sold won't be gaining any posthumous honors for the console.