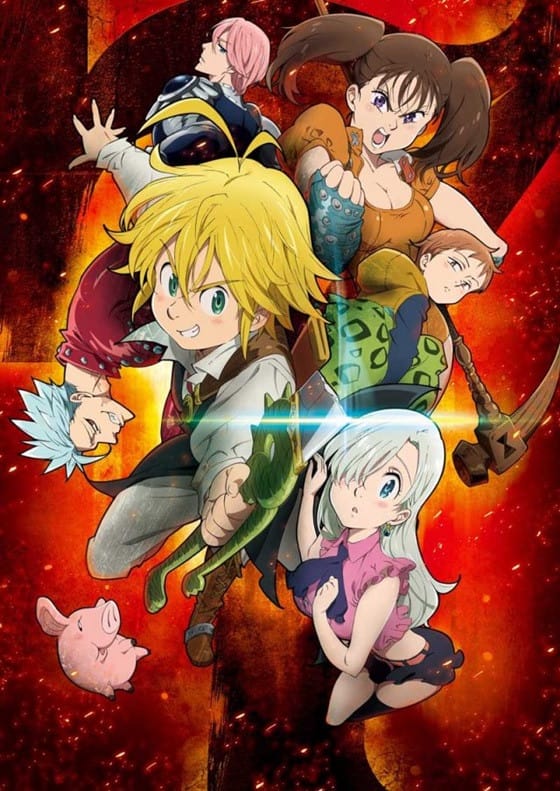 Funimation is getting a bit sinful this Valentine's Day.
Not that way! Get that mind out of the gutter!
Earlier today, Funimation announced that they licensed the home video rights to the first season of The Seven Deadly Sins. The title is currently slated for a 2017 release in the United States and Canada.
The Seven Deadly Sins first hit Japanese TV in the fall 2014 broadcast season. Tensai Okamura (Blue Exorcist, Darker than Black) directed the project at A-1 Pictures. Keigo Sasaki provided character designs, while Shôtarô Suga was in charge of series composition. Netflix currently streams the show as a Netflix Original.
Funimation describes The Seven Deadly Sins as:
When Holy Knights arrest her father and sisters, Princess Elizabeth seeks out a group of legendary warriors known as the Seven Deadly Sins. Once revered, the Sins betrayed the kingdom and became fearsome fugitives that no man is willing to face—a far cry from the heroes this princess needs.

Finding the Sins is no easy task, and Elizabeth's journey takes her to a small tavern where she collapses in front of a short, unassuming man and his talking pig. Helpful, albeit perverted, the barkeep reveals that he's actually Meliodas, the Dragon Sin of Wrath—captain of the Seven Deadly Sins! Agreeing to help her, the two travel the countryside in search of his companions. But their journey pits them against dangerous creatures and the treacherous, power-hungry Holy Knights who plan on eliminating the Sins for good.
The show's second season aired in August, under the title The Seven Deadly Sins -Signs of Holy War-. Tomokazu Tokoro (Hellsing Ultimate, Haibane Renmei) directed the four-episode show at A-1 Pictures, with Keigo Sasaki Night Raid 1931, Blue Exorcist) providing character designs. Yuniko Ayana (BanG Dream!, Kinmoza! Kiniro + Mosaic) was in charge of series composition for the project. Netflix will stream the title as a Netflix Original starting February 17.
Source: Funimation Blog