There's a bad comic edit we could us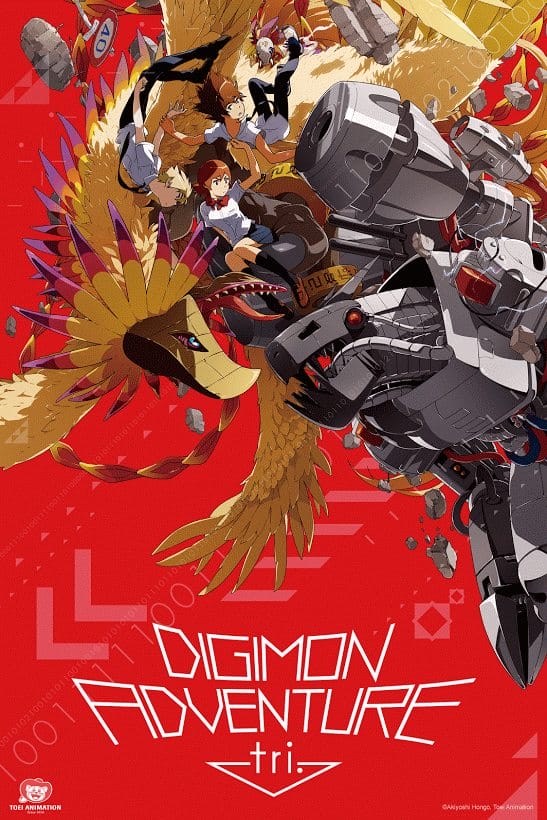 e, but we'll avoid posting that here.
Earlier today, Crunchyroll announced that they added Digimon Adventure tri. Part 4: Loss (Digimon Adventure tri. Soshitsu) to their digital lineup. The film is currently available to premium subscribers in the following regions:
United States
Canada
South Africa
Australia
New Zealand
Latin America
Albania
Algeria
Armenia
Azerbaijan
Bahrain
Belarus
Bosnia and Herzegovina
Bulgaria
Croatia
Cyprus
Czech Republic
Denmark
Djibouti
Egypt
Estonia
Finland
Georgia
Hungary
Iceland
Iran
Iraq
Israel
Jordan
Kuwait
Kazakhstan
Latvia
Lebanon
Libya
Liechtenstein
Lithuania
Macedonia
Malta
Mauritania
Moldova
Montenegro
Morocco
Netherlands
Norway
Northern Cyprus
Oman
Palestine
Poland
Qatar
Romania
Russia
Saudi Arabia
Serbia
Slovakia
Slovenia
Somalia
Spain
Sudan
Sweden
Syria
LI> Tunisia
Turkey
Ukraine
United Arab Emirates
Western Sahara
Yemen
Digimon Adventure tri. Part 4: Loss hit Japanese theaters earlier today. A DVD and Blu-Ray release is currently slated for April 4 in Japan.
Keitaro Motonaga (Magic Knight Rayearth OVA, Jormungand) was tapped to direct the film, while Yuuko Kakihara (Heaven's Lost Property) served script supervisor. Character designs were provided by Atsuya Uki (Cencoroll).
Digimon Adventure opening theme Butter-fly was performed by the late Kouji Wada for the feature's opening theme. Brave Heart by Ayumi Miyazaki was used as an insert song during Digivolution segments. AiM's I Wish was used for the closing theme.
Crunchyroll describes the feature as:
It's been six years since that summer adventure when Taichi Yagami and the rest of the DigiDestined crossed over to the Digital World. And nearly three years have passed since the final battle between Hikari Yagami's group and BelialVamdemon. As the peaceful days passed by, at some point the gate to the Digital World closed. Not even the DigiDestined know what caused this, and time alone continues to pass.
Eleven Arts will distribute the Digimon Adventure tri. films in a North American theatrical run. The company is producing a dub for the features, which reunite many of the original actors, including Mona Marshall, Jeff Nimoy, and Laura Summer.
The first feature debuted in North American theaters on September 15. Shout! Factory currently has the domestic rights for the first three films, which they will release on DVD and Blu-Ray later this year.
Source: Crunchyroll