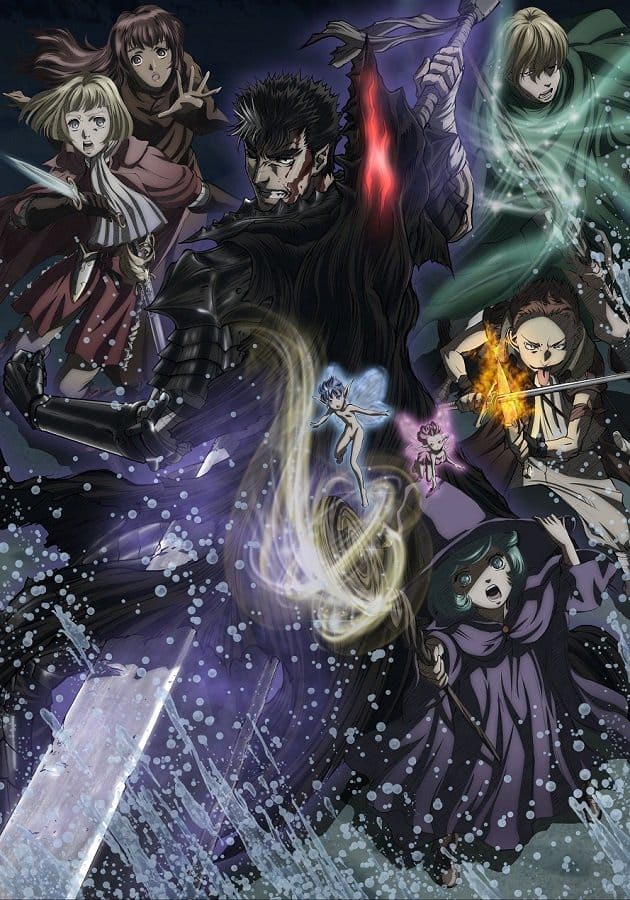 So, how long before the sadness sets in this time?
Earlier today, Crunchyroll announced that they will stream the second season of Berserk on their digital platform. The company also added the Berserk season 1 compilation special to their platform earlier this evening.
Both the special and the new season will be available to all subscribers outside of Asia, New Zealand, and Australia.
Berserk adapts Kentarou Miura manga series of the same name. Miura is serving as executive supervisor for the project, which sees Shin Itagaki (Ben-To, Black Cat) is in the director's chair at Liden Films. Hisashi Abe (Sorcerer Hunters, Gunslinger Girl) is providing character designs. Makoto Fukami (Psycho-Pass: The Movie) is in charge of series composition, with Takashi Yamashita serving as his assistant. Shiro Sagisu (Berserk: The Golden Age, Neon Genesis Evangelion) is scoring the soundtrack.
The confirmed voice cast includes:
Guts: Hiroaki Iwanaga
Puck: Kaoru Mizuhara
Farnese: Yoko Hikasa
Serpico: Kazuyuki Okitsu
Ishidoro: Hiro Shimono
Casca: Toa Yukinari
Schierke: Chiwa Saito
Ivalera: Satomi Arai
Flora: Sumi Shimamoto
Zodd: Kenta Miyake
Sonia: Yoshino Nanjo
Grifith: Takahiro Sakurai
The Skull Knight: Akio Otsuka
Narrator: Unsho Ishizuka
The new season will début on the following networks:
MBS: 4/7/2017 at 26:40 (4/8/2017 at 2:40AM)
TBS: 4/7/2017 at 26:25 (4/8/2017 at 2:25AM)
WOWOW: 4/7/2017 at 22:00 (4/7/2017 at 10:00PM); 22:30 (10:30PM) week 2 onward
BS-TBS: 4/8/2017 at 24:30 (4/8/2017 at 12:30AM)
dAnime Store: 4/9/2017 at 12:00 (4/9/2017 at noon)
Crunchyroll describes the new season as:
Spurred by the flame raging in his heart, the Black Swordsman Guts continues his seemingly endless quest for revenge. Standing in his path are heinous outlaws, delusional evil spirits, and a devout child of god.Even as it chips away at his life, Guts continues to fight his enemies, who wield repulsive and inhumane power, with nary but his body and sword—his strength as a human. What lies at the end of his travels? The answer is shrouded in the "night." Strain your eyes and stare into the dark!
NBC Universal streamed a teaser trailer for the upcoming season in September 2016. you can check it out below:
Source: Crunchyroll