Happy Sunday everyone, and welcome to a new AniWeekly! With spring just days away, all eyes are on the coming convention season. We're beginning our descent into the gauntlet, with Tokyo's AnimeJapan next weekend, followed by Anime Boston on the 31st. Then there's Kawaii Kon on April 7, Sakura-Con on the 14th, and so on.
In short, it's going to be an interesting few months! And, as always, we'll be deep in the trenches at the Hynes to bring you the latest from Anime Boston.
That said, past week was filled with surprising stories, from the Sailor Moon musical's big North American debut to Bandai Namco's big buyout of Daisuki parent Anime Consortium Japan. So join us, as we guide you through all the anime fun that's fit to read!
In the News
This, my friends, is what we call a game changer. Bandai Namco Holdings Inc. announced that they will acquire Anime Consortium Japan. The consortium was an industry-wide initiative, and the current parent of streaming service Daisuki.
Moon, music power, make up! You're not dreaming. The Sailor Moon musicals are coming to North America! A performance of Pretty Guardian Sailor Moon: The Musical-Amour Eternal will be held at this year's Anime Matsuri.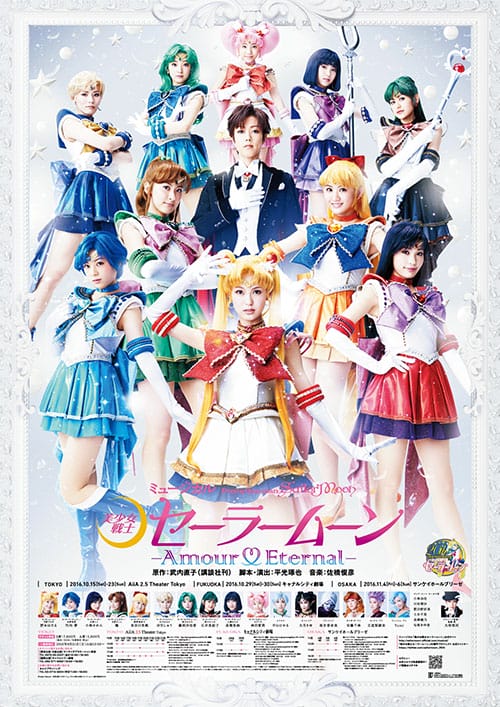 Don't be a crybaby. More Devilman is coming! A new Devilman anime, titled Devilman Crybaby, is in the works. The series will be directed by Masaaki Yuasa (Ping Pong the Animation) and produced by Science SARU studio. The show is a Netflix Original, which will stream in 190 countries next year.
Live, love, laugh… under the clouds. The Laughing Under the Clouds Twitter account broke the news that a new Laughing Under the Clouds anime film is in the works. Wit Studio was tapped to produce the feature.
It's time to meet Kirito and Asuna. Uh… again. Aniplex of America opened ticket sales for Sword Art Online the Movie -Ordinal Scale-'s English dubbed theatrical run. The film will begin its run on April 22.
God-zilla! Netflix revealed that they acquired the global distribution rights to Gen Urobuchi's Godzilla anime movie. The movie will stream on their digital platform later this year.
We know that March comes in like a lion, but few tell you that it sticks around. Following the ending of March Comes in Like a Lion was a short teaser that confirmed a second season is in the works. The title will return to Japanese TV in October.
We're heading back to the First Summer of Love… minus the drugs and the mud men. A new Eureka Seven film project is in the works. Three films will be produced, with the first due to hit theaters this year. The story will begin with the First Summer of Love, a decade before the original Eureka Seven anime takes place.
The Iron Fortress will appear in a theater near you! Maybe! Crunchyroll took the blanket off their first "Anime Movie Night" presentation. Both Kabaneri of the Iron Fortress movies will screen as a double feature in select theaters across North America on April 26.
I'm goin' Berserk! Crunchyroll announced that they will stream the second season of Berserk on their digital platform. A specific schedule hasn't been revealed, though the show will première on April 7.
From the AniBlogging Community
Follow your dream! (You've got to follow it!) Lauren at Otaku Journalist has a new course ready for prime time! This free email course is a primer on how to earn your first $1,000 blogging about what you love.
All about that bubble life. Ask just about any industry-watcher if we're in a bubble, and you're likely to get an unequivocal "yes." That said, though, how treacherious is our situation, really? Krystallina at The OASG dares to ask "Is the Industry in a More Precarious Situation Than We Realize?"
Weekly Fun Stuff!
Have you ever wondered what Attack on Titan would look like, if it were just-plain adorable? YouTuber Camiee has you covered with this mash-up between Hajime Isayama's grim epic and The Stony Cat and the Hentai Prince.