It looks like VRV wants this anime season to be everything but a bittersweet symphony.
Earlier today, Crunchyroll parent Ellation announced that their VRV service will stream simulcasts for seven titles. The company will run the following as ad-supported streams:
Akashic Records of the Bastard Magical Instructor
Attack on Titan Season 2
Berserk
Boruto: Naruto Next Generations
Dragon Ball Super
My Hero Academia Season 2
What do you do at the end of the world? Are you busy? Will you save us?
The titles will première on VRV within an hour of their début on Crunchyroll's Premium subscription service. Attack on Titan will be offer both the subtitled simulcast and the Funimation's SimulDub.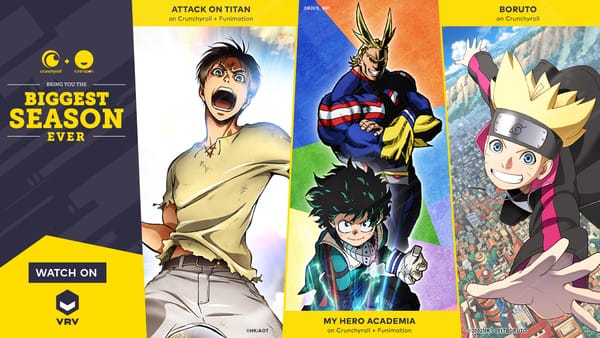 VRV is a multi-platform streaming service, which is available on the Chromecast, Android, iOS, Sony's PlayStation 4, and Microsoft' XBox One. On Tuesday, VRV launched a beta for computer web browsers. A Roku app is also planned, though a specific launch date has yet to be announced.
The service was officially unveiled in June 2016 and soft-launched a few months later, in November. The platform sports content from the following providers:
Crunchyroll
Funimation
Cartoon Hangover
CollegeHumor
Geek & Sundry Alpha
GINX eSports TV
Machinima
MONDO
Nerdist Alpha
RiffTrax
Rooster Teeth
Seeso
Shudder
Tested
VRV offers free ad-supported content, as well as a subscription services for each "channel" that include additional content. VRV offers a $9.99 bundle subscription, which includes the following channels:
Crunchyroll
Funimation
Cartoon Hangover
Geek & Sundry Alpha
MONDO
Nerdist
Rooster Teeth
Tested
Source: Ellation (Email Communication)