You know, most years, I tend to try to give a blow-by-blow of these panels, to highlight exactly what went down, from the trailers to the new reveals.
This year, though, I think it's time to change things.
Let me first say that an anime convention, above all, is an exercise in time management. After all, time is the one resource that's limited to all of us. Once a moment's spent, there's no getting it back. With this in mind, every panel, exhibition, and presentation becomes a game of sacrifices, trading one event for another, and generally trusting one's intuition.
As someone who's worked the convention scene year in and year out, I've been to my fair share of industry panels. And, by and large, the format is pretty much the same throughout. If you've ever watched an infomercial or sat through a timeshare presentation, you're likely pretty familiar with the style. These panels follow a pretty strict progression:
Opening remarks
Titles now on streaming services
Titles now on home video
One or two token new announcements to generate hype
By and large, these items fit comfortably into the span of an hour, and the beats move quickly. The industry members get their product promotion, the fans get a few new nuggets of information to share, and everybody goes home happy.
If the company has something huge to show off like, say, Attack on Titan, or Sword Art Online, then a 90 minute panel is generally seen as justifiable, as the extra time is a great way to hype this new heavy-hitter.
Without that killer new property, though? Ninety minutes becomes a fucking eternity. Each new slide, every new title has fans (and journalists) questioning why the hell they're even in the room.
And, really, that's how Funimation's Anime Boston panel played out for more than a few voices in attendance. Audible grumbles could be heard from my position in the back, as more and more ads for Blu-rays, FunimationNow, and the like rolled through on the presentation. All the while, an actual, real news item (the Sakura Quest SimulDub) was noted so quickly that, if you sneezed, you missed it.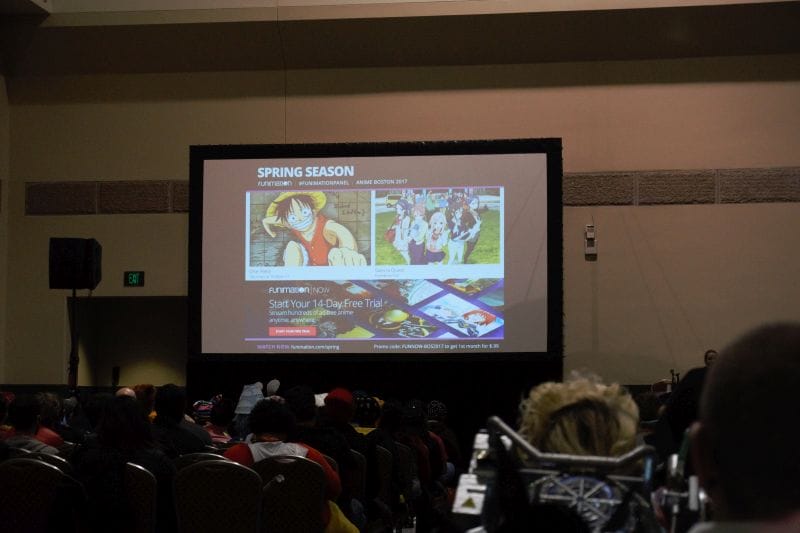 Granted, once the actual "announcements" phase began, we also started seeing some real excitement. Funimation taking a feather from Aniplex's cap with Black Butler: Book of the Atlantic was a massive coup, while the Blu-Ray release for Yamada-kun and the Seven Witches made more than a few fans happy.
That said, though, this was about five minutes of real, appreciable content that seemed to be a limp payoff for an hour and a half of infomercial-style sales pitches.
Mind you, I hold no real avarice to the presenters in this case – they're given a block of time, and they do their best to fill it. But, unless the publisher's promoting a major reveal, you're covering the event for an outlet, or you're just dying to see those one or two titles that come at the very end, I'd probably suggest placing any 90-minute industry panel on the lowest end of your priorities.
Note: We do have full photos from the panel, which you can check out below. Enjoy!