Bastard teachers, clockwork planets, and more await in Funimation's SimulDub lineup this season.
Earlier today, Funimation unveiled four new titles for their Spring 2017 SimulDub lineup. The company will stream the following:
Akashic Records of Bastard Magic Instructor (4/25/2017 at 9:30PM Eastern)
Alice & Zoroku (5/3/2017 at 10:00PM Eastern)
Clockwork Planet (5/8/2017 at 9:00PM Eastern)
The Silver Guardian (5/3/2017 at 9:00PM Eastern)
Akashic Records of Bastard Magic Instructor is based on Taro Hitsuji's light novel series of the same name. Minato Kazuto is directing the project at at Liden Films. Satoshi Kimura (Terraformars) is serving as character designer on the project, while Touko Machida (Chaika – The Coffin Princess, Wake Up, Girls!) takes charge of series composition and scripts. Hiroaki Tsutsumi is scoring the show's soundtrack.
Crunchyroll is streaming the series as part of their simulcast lineup. They describe the series as:
A twisted heroic fantasy featuring a magic teacher who hates magic! The story takes place in a world where magic and science have evolved side by side. The Alzano Imperial Magic Academy is located in the southern part of the Alzano Empire, one of the major magical powers, and it is among most prominent magic schools in the world, where students can learn the highest forms of magic. All those who strive to learn magic dream of studying at this academy, and its students as well as its teachers are proud to be a part of its 400-year history. Glenn Radars is a new instructor who has suddenly been appointed to teach part-time at this highly respected academy. He begins by telling his students, "I'll teach you all what real magic is." The previously unheard-of lessons of this man known as a good-for-nothing bastard are about to begin.
Alice & Zoroku is based on Tetsuya Imai's manga of the same name. Katsushi Sakurabi (Flying Witch, Lostorage incited WIXOSS) is directing the show at J.C. Staff, with Kazunori Iwakura (Sky Girls, Ai Yori Aoshi) providing character designs. Fumihiko Takayama (Sweet Blue Flowers, Yomigaeru Sora – RESCUE WINGS) is in charge of series composition.
Seven Seas currently holds the rights to the Alice & Zoroku manga. They describe the title as:
A group of young girls possess a mysterious power known as "Alice's Dream," which gives them the ability to turn their thoughts into reality. Detained and experimented upon, these youths are locked away in secret until one of them manages to escape. Her name is Sana—a girl with the power to ignore the very laws of physics. When this willful powerhouse crosses paths with a stubborn old man named Zouroku, his carefully-ordered life will never be the same again!
Clockwork Planet adapts Yuu Kamiya and Tsubaki Himana's light novel series of the same name. Tsuyoshi Nagasawa (MM!, Nyaruko: Crawling with Love!) is directing the show at Xebec, with Shuichi Shimamura (Honey and Clover, Saber Marionette J) providing character designs. Kenji Sugihara (Shiki, Oreca Battle) is in charge of series composition.
fripside will perform opening theme song clockwork planet, while After the Rain provides closing theme Anticlockwise.
Crunchyroll currently streams Clockwork Planet as a simulcast. They describe the series as:
Earth died a thousand years ago, and a legendary clockmaker known only as "Y" rebuilt it using clockwork. Naoto Miura, a failing high school student, encounters RyuZU, an automaton that "Y" left behind, and the genius clockmaker Marie. When the abilities of these three come together, the gears of fate begin to turn. The cycle of failure and success repeats endlessly as the three of them work to repair the endangered "Clockwork Planet" in this clockpunk fantasy!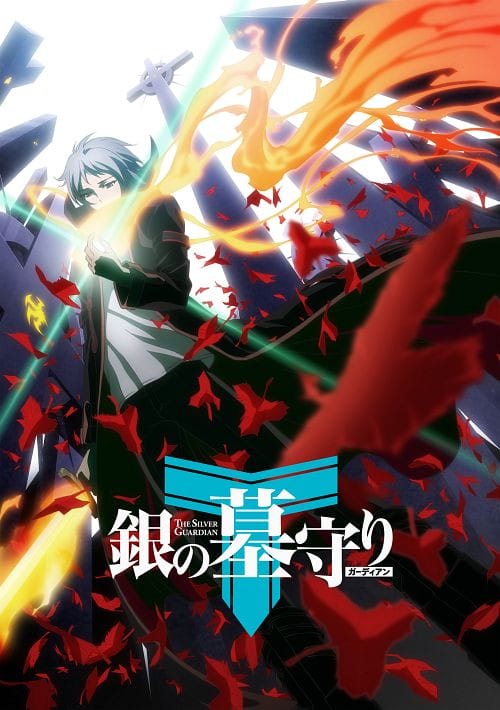 The Silver Guardian is based on Chinese comic series Yín Zhī Shǒu Mù Rén. Masahiko Ohkura (Yukikaze, Blue Drop) will direct the show at Haoliners Emon, with Yoshiaki Tsubata (Phantom ~Requiem for the Phantom~, Souten no Ken) providing character designs. Ohkura will take charge of series composition, along with Hidefumi Kimura (Avenger, Kiddy Grade).
Minako Seki (Kingdom) is scoring the title's soundtrack.
Crunchyroll is streaming The Silver Guardian as part of their spring simulcast lineup. The describe the show as:
The protagonist, Riku Suigin is a pro-level gamer. The heroine, Riku Rei, knows of this and is the most beautiful girl in school and also loves video games. Suigin receives a device to play a net game called "Grave Buster" from Rei, but Rei is suddenly kidnapped. When Rei puts his hand on the device, he's sucked into the world of the game. And in that world, a battle between the tomb raiders and tomb protectors for the tomb of the mother goddess Bango's tomb has been going on for 1000 years.
Source: Funimation