Consider the Following:
Butts. That is all.
Earlier today, a new visual for the Seitokai Yakuindomo anime film hit the web. The image is a bit cheekier than most, for sure, and may have a few folks wondering who the butt of the joke really is.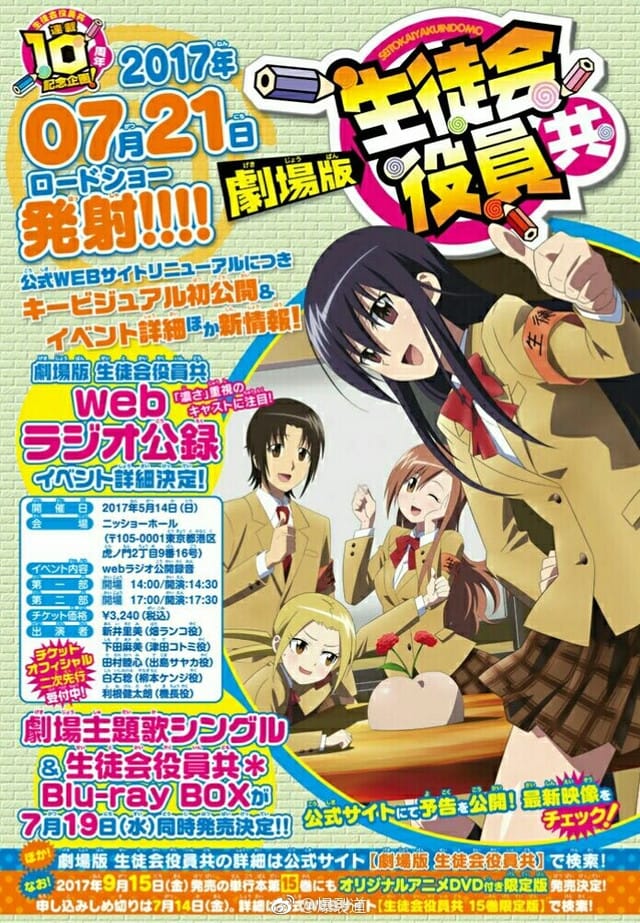 The Seitokai Yakuindomo film will hit Japanese theaters on July 21, 2017. Hiromitsu Kanazawa (Princess Lover!, Asa made Jugyō Chu!) will direct the film at GoHands, with Makoto Furuta handling character designs. Yuya Mori is composing the soundtrack at King Records.
Other confirmed crew members include:
Sound Director: Ryo Tanaka
Art Director: Ken Naito
Director of Photography: Taki Kikuchi
Sound production: Glow Vision
Distributor: Clock Works
The confirmed voice cast includes:
Takatoshi Tsuda: Shintaro Asanuma
Shino Amakusa: Yoko Hikasa
Aria Shichijo: Satomi Satou
Suzu Hagimura: Sayuri Yahagi
Kotomi Tsuda: Asami Shimoda
Naruko Yokoshima: Yu Kobayashi
Mutsumi Mitsuba: Chiaki Omigawa
Ranko Hata: Satomi Arai
Kaede Igarashi: Emiri Kato
Sayaka Dejima: Mutsumi Tamura
Uomi: Chiwa Saito
Nene Todoroki: Hekiru Shiina
Mori-san: Sumire Uesaka
Tozen Ujiie's Seitokai Yakuindomo manga began publication in Shonen Magazine in June 2007. The series spans 13 collected volumes, with the most recent hitting in April.
The title spawned a TV anime adaptation in 2010, which ran for 13 episodes. Hiromitsu Kanazawa directed the show at GoHands, with Makoto Furuta providing character designs. Makoto Nakamura (Coppelion, Noramimi) took charge of series composition.
A 13-episode OVA and a 2014 TV anime series reunited the team.
Crunchyroll currently streams Seitokai Yakuindomo on their digital platform. They describe the show as:
Our story here circulates around the Osai Academy, formerly an all-girls private high school which has recently been integrated for both genders. Our protagonist, Takatoshi Tsuda is pushed into becoming the vice-president of the student council, where he is the lone male member surrounded by 3 beautiful girls.
Source: Yaraon!