You know, this is one of the few times I'll ever get to use this:
Earlier today, gambling machine maker Daxel announced that they're making a new Pachislot based on Yuki Yuna Is A Hero (Yuki Yuna wa Yusha de Aru). The game will feature new voice acting and animated scenes, and the screen will support 124Gbit animation.
A trailer was released to promote the news (Warning: features bright strobing lights!):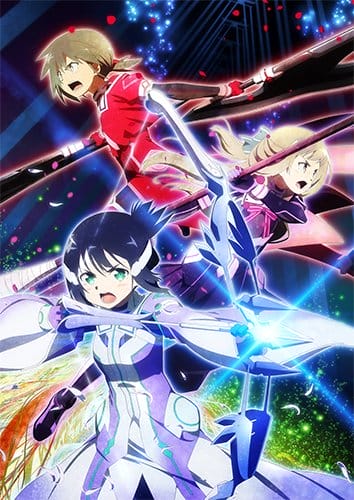 Yuki Yuna Is A Hero aired during the Fall 2014 broadcast season. The series, which was helmed by Seiji Kishi at Studio Gokumi, ran for twelve episodes. Takahiro Sakai provided character designs on the series, while Makoto Uezu took charge of series composition.
PonyCan USA holds the rights to Yuki Yuna Is A Hero in North America. Crunchyroll streamed the show as it aired in Japan. They describe it as:
Yuna Yuki is an ordinary second-year middle school student. She gets up in the morning, gets ready for school, goes to classes, participates in club activities, and has fun with her friends. But there is one extraordinary thing about Yuki — she belongs to the "Brave Hero Club." What does the Brave Hero Club do? Who is the mysterious being called "Vertex?" Yuki Yuna and her friends' story takes place in Year 300, Era of the Gods.
An ongoing film trilogy, titled Yuki Yuna wa Yusha de Aru: Washio Sumi no Sho (Yuki Yuna Is a Hero: Washio Sumi Chapter) is also in production. The second movie, titled Soul, hit Japanese theaters on April 15.
Seiji Kishi (Assassination Classroom, Yuki Yuna Is a Hero) was tapped to serve as chief director on the project, with Daisei Fukuoka (Danganronpa 3: The End of Hope's Peak High School Despair & Future Arcs) helming the project at Studio Gokumi. Makoto Uezu (The Heroic Legend of Arslan, Scum's Wish) returned to take charge of series composition for the films.
Source: Yaraon!