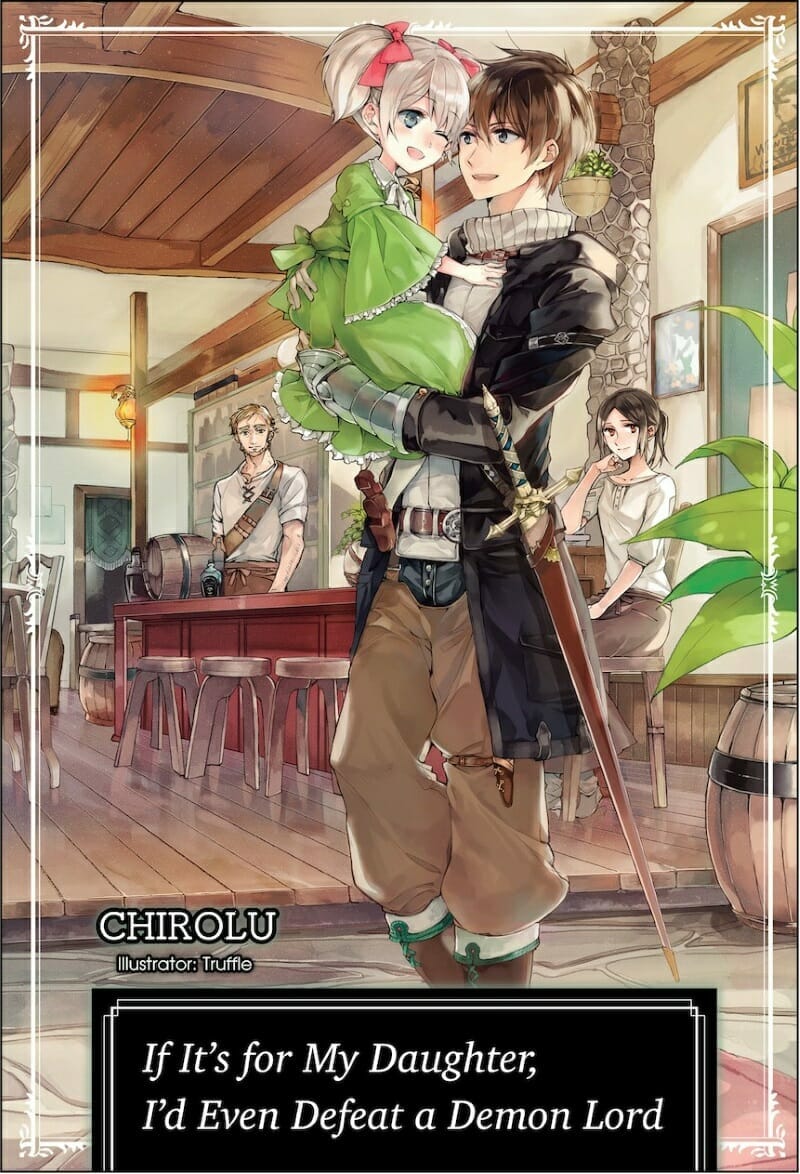 So, what demon lord are we talking about, and why is this guy defeating him for his daughter?
Earlier today, J-Novel Club announced that they acquired the global English rights to Chirolu and illustrator Truffle's If It's for My Daughter, I'd Even Defeat a Demon Lord (Uchi no Musume no Tamenaraba, Ore wa Moshika Shitara Maō mo Taoseru Kamo Shirenai., UchiMusume for short) light novels. The first half of the first volume is available on J-Novel club, with 40 pages available as a free preview.
If It's for My Daughter, I'd Even Defeat a Demon Lord's first volume hit stores under Hobby Japan's imprint in February 2015. To date, five volumes have been released, with the most recent hitting stores on November 24.
J-Novel Club describes the title as:
Dale is a cool, composed, and highly skilled adventurer who's made quite a name for himself despite his youth. One day on a job deep in the forest, he comes across a little devil girl who's almost wasted away. Unable to just leave her there to die, Dale takes her home and becomes her adoptive father.

Devil or not, Latina is beyond adorable, and the adventurer soon finds himself head over heels with being a parent. But why was she out in the forest to begin with, and why does she carry the mark of a criminal?
In addition, J-Novel Club revealed that they will host their first "catch up" campaign this week. The event, which runs through May 8, will see all volumes made available for members. This includes titles that were removed after publication. The full list of returning titles includes:
Brave Chronicle: The Ruinmaker
Occultic;Nine Volumes 1-2
My Little Sister Can Read Kanji Volumes 1-2
My Big Sister Lives in a Fantasy World Volumes 1-3
Grimgar of Fantasy and Ash Volumes 1-3
I Saved Too Many Girls and Caused the Apocalypse Volumes 1-2
Mixed Bathing in Another Dimension Volumes 1-2
The Faraway Paladin Volume 1
Paying to Win in a VRMMO Volumes 1-2
How a Realist Hero Rebuilt the Kingdom Volume 1
In Another World With My Smartphone Volumes 1-2
Arifureta: From Commonplace to World's Strongest Volume 1
New subscribers can receive a free one-week trial to J-Novel Club with coupon code "springcatchup".
In an October interview, J-Novel Club founder Sam Pinansky discussed the possibility of catch-up events like this, highlighting temporary campaigns as a possible solution to the service's rotating catalog:
What I'm intending to do later on, once we get a bigger catalog, is have certain series be free to read, all the way from volume 1 for certain periods of time.