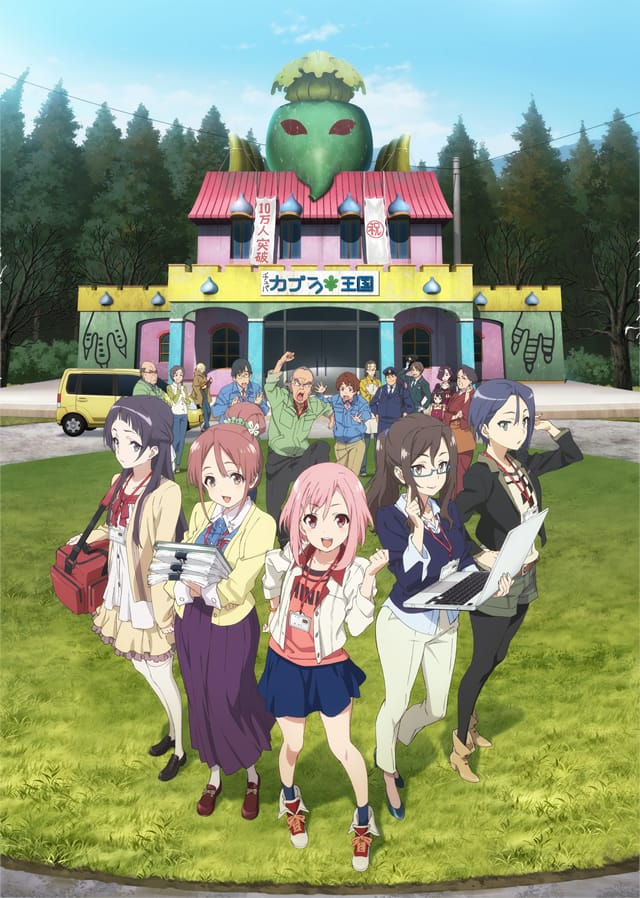 Come, fair travelers, for the great Chupacabra Kingdom awaits!
Who the hell gets paid to write this crap? Oh… right.
Earlier today, Funimation unveiled their English dub cat for Sakura Quest. The series will star the following:
Yoshino: Alexis Tipton
Shiori: Tia Ballard
Maki: Leah Clark
Sanae: Elizabeth Maxwell
Ririko: Brina Palencia
Ushimatsu: Mark Stoddard
Mino: Aaron Roberts
Yamada: Dallas Reid
Chitose: Rachel Robinson
Takamizawa: Robert McCollum
Sandal: Jerry Jewell
Angelica: Colleen Clinkenbeard
Erika: Jill Harris
Gen: Kenny Green
Tora: Sonny Strait
Tatsu: Phil Parsons
Kinu: Linda Leonard
Episode 1:
Yae: Caitlin Glass
Hashimoto: David Matranga
Caitlin Glass is directing the adaptation, which features scripts by Jessica Cavanagh. Manuel Aragon is serving as ADR Engineer, while Nathanael Harrison works as Mixing Engineer.
Sakura Quest's SimulDub will debut on FunimationNow on May 9. The series kicked off on Japanese TV on April 5. The title is an original project from P.A. Works.
Soichi Masui (Chaika – The Coffin Princess, Scrapped Princess) is directing Sakura Quest, which features character designs by BunBun (Yuki Yuna Is a Hero, Izetta: The Last Witch). Masahiro Yokotani (Free! – Iwatobi Swim Club, Re:Zero) will supervise the show's scripts. "Alexandre S. D. Celibidache" is credited with the original concept.
Funimation Sakura Quest as:
Five young women have one thing in common—the careers they planned for themselves weren't working out. Job dissatisfaction, trying to make ends meet, and personal insecurities lead each of them to start working at a local tourism bureau where their lives become intertwined. As the girls experience their first year on the job, they learn a lot about their town, their industry, and themselves.
Source: Funimation Blog