Now those are a couple of names I haven't heard in ages. Wow.
Earlier today, Discotek took to Facebook to announce that they've added several new titles to their lineup. The company licensed the following:
Marmalade Boy
Nightwalker: The Midnight Detective
Nutcracker Fantasy
A Journey Through Fairyland
The Wonderful Wizard of Oz
Nutcracker Fantasy will be released on DVD on August 29. The release will include both the subtitled and dubbed versions of the film.
Nutcracker Fantasy is a stop-motion from Sanrio. The feature was a Christmas movie, which debuted in 1979. Takeo Nakamura (Santa Claus Is Comin' to Town animator) directed the feature, with Shintarô Tsuji writing the scripts.
Discotek describes the feature as:
This original stop-motion Sanrio production features beautiful photography, lighting, sets, and intricate dolls. They help create a delightful and sometimes dark world complete with the menacing Ragman and a tyrannical two-headed rat queen. After a young girl, Clara, receives a nutcracker from her enigmatic Uncle Drosselmayer, she finds that her precious present is stolen by thieving rats led by Mauslynx, the double-headed rat queen. To win it back, Clara enters a surreal land through her family's grandfather clock. One of her stops is the Kingdom of Dolls, where she finds the king grieving over his cursed, eternally-asleep daughter, Princess Mary, a doppelganger for Clara herself. She and Franz, the captain of the guards and Mary's suitor, infiltrate the army of rats in a desperate attempt to dethrone the despot!
A Journey Through Fairyland will be released on DVD on August 29. The release will include both the subtitled and dubbed versions of the feature.
A Journey Through Fairyland (Yosei Florence) is a 1985 film from Sanrio. Masami Hata (Hello Kitty and Friends, Little Nemo – Adventures in Slumberland) directed the feature, while Kyu Takabatake wrote the screenplay.
Discotek describes the movie as:
Michael is a gifted oboe player, but his heart's not in it. He ignores his musical studies to lose himself in the garden, playing only for the benefit of his beloved flowers. Michael's frustrated teacher gives him an ultimatum: Be serious, or leave the music school forever! Despondent, Michael prepares to say goodbye to the garden. But the floral fairy Florence, so bewitched by his music, bestows a powerful magic wand on Michael, and whisks him away. Will Michael's astonishing adventure with Florence in Fairyland help him rediscover his love of music?
Discotek will release Nightwalker: The Midnight Detective on DVD on August 29. Their release will include the subtitled version, as well as Central Park Media's dub.
Nightwalker: The Midnight Detective is an original series from AIC. The show, which aired in Summer 1998, was directed by Kiyotoshi Sasano and Yutaka Kagawa (Wonder Momo, Rainbow Samurai). The team of Miho Shimokasa and Satoshi Isono provided character designs.
Central Park Media originally released Nightwalker on VHS and DVD under their U.S. Manga Corps label. Discotek describes the show as:
A vampire with no past, on a mission to atone for his sins against humanity, Shido is a private detective with a secret obsession. The Nightbreed – a supernatural race of demons even more sinister than his own kind – have descended on the city, taking possession of human bodies which they use to wreak havoc and murder. With the beautiful and determined government agent Yayoi hot on his tail, and his vampiric elder Cain intent on bringing Shido back into the fold, the undead vigilante races to keep one step ahead and solve the mysteries of the Nightbreed before it's too late.
The Wonderful Wizard of Oz will hit DVD and Blu-Ray on August 29. The release will include the English adaptation.
The Wonderful Wizard of Oz is a 1986 TV series from Studio Panmedia. Hiroshi Saito (Adventures of Tom Sawyer, Rascal the Raccoon) and Masaru Tonogouchi directed the project, which features character designs by Shuichi Seki (Flanders no Inu, Boku no Patrasche, Adventures of Tom Sawyer). Akira Miyazaki wrote the show's screenplay and storyboarded.
Discotek describes The Wonderful Wizard of Oz as:
Dorothy and her canine pal Toto live a quiet life on a Kansas farm with Uncle Henry and Aunt Em. But one day, the little girl and her dog find themselves spirited away from the fields of Kansas, to the magical land of Oz! Dorothy and Toto meet many friends on the yellow-brick road to Emerald City, where she hopes to find a way home to Kansas– but when she arrives, the city's mysterious ruler, the Wizard of Oz, is not what she expects! The Wizard can help Dorothy get home, but at a daunting price: she and her friends the Tin Woodsman, the Scarecrow, and the Cowardly Lion must kill the Wicked Witch of the West and free the Winkies from her rule.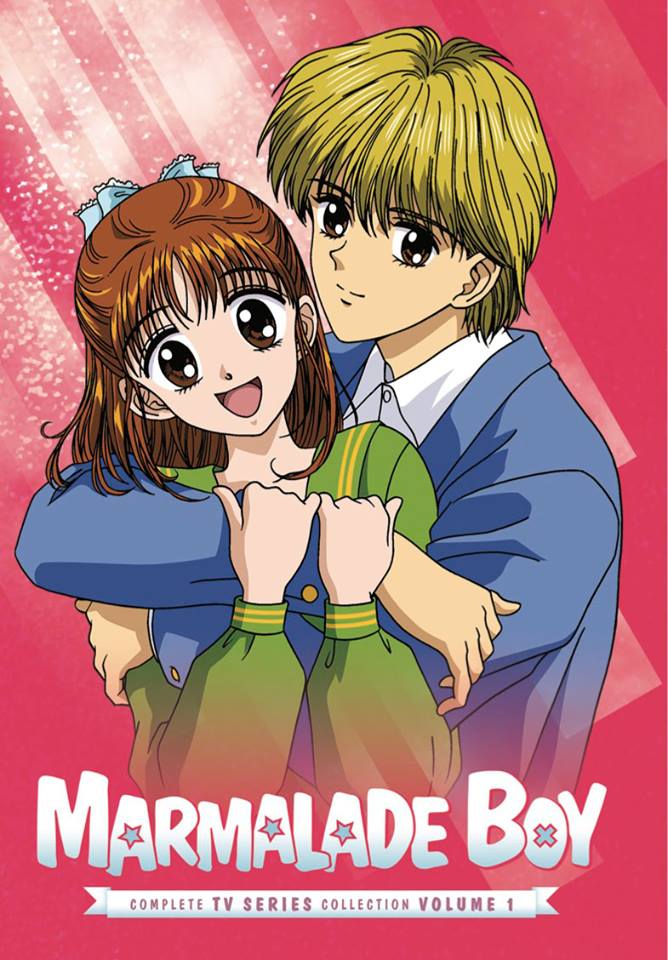 Marmalade Boy will be released on DVD in two sets. The first set, which features episodes 1-38, will hit stores on August 29. The second set, which includes episodes 39 – 76, doesn't have a release date as of press time. Both releases will include the dubbed and subtitled versions of the show.
Marmalade Boy is based on Wataru Yoshizumi's manga of the same name. Akinori Yabe (Momotaro Densetsu) directed the 1994 series at Toei Animation, with Yoshihiko Umakoshi (Berserk, Boys Over Flowers) providing character designs. Aya Matsui (Ghost Sweeper Mikami, Pokémon Sun & Moon) was in charge of series composition.
TOKYOPOP originally released Marmalade Boy in North America. Discotek describes the series as:
Miki Koishikawa's parents have always been strange. While deeply caring for their daughter, they're prone to wasteful spending, oversleeping, and even taking extravagant trips. And their latest trip to Hawaii has brought back something truly outrageous: love. Not for each other, but for a different couple entirely! With her parents planning to divorce and swap partners with the Matsuuras, Miki's life is turned upside down with a new, highly abnormal family all living together in one house. To top it off, the Matsuuras have a son named Yuu exactly Miki's age, and he's too gorgeous for words. For better or for worse, this is Miki's life now, but adjusting won't be easy when jealous rivals and old flames enter the mix! Dip into the pot of classic shoujo with this first collection of Marmalade Boy, containing the first 38 episodes! This includes the original Japanese language with English subtitles, and the English dub.