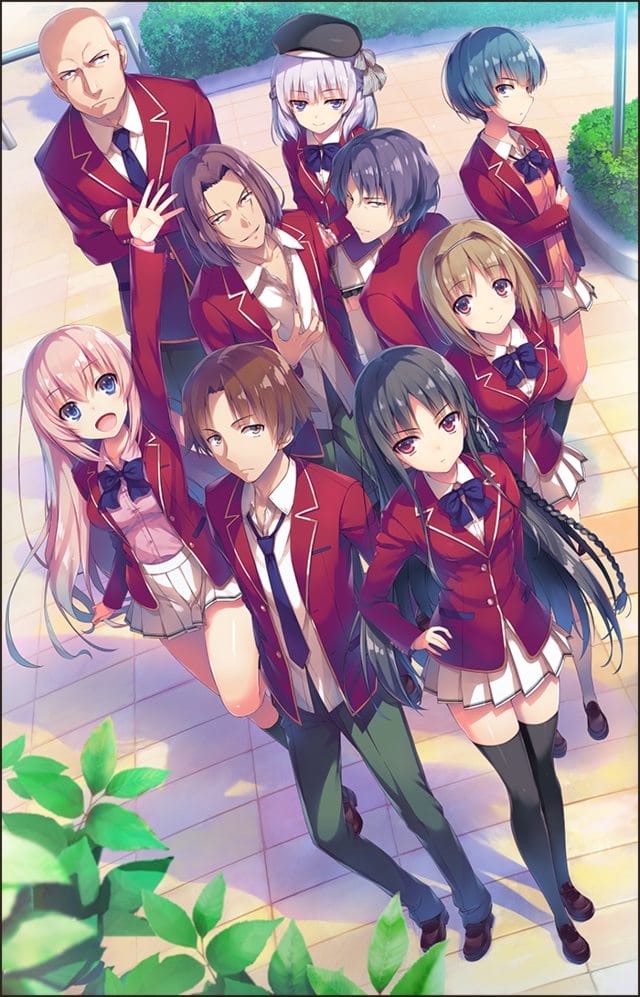 Lerche is graduating from Class 3-E to the Meritocracy this summer.
Earlier today, the official Youkoso Jitsuryoku Shijou Shugi no Kyoushitsu e (Welcome to the Classroom Where Supreme Merit Rules, "Yō Jitsu" for short) anime website updated with the show's main staff members.
Seiji Kishi (Assassination Classroom, Yuki Yuna is a Hero) is directing the project at Lerche, with Kazuaki Morita (Assassination Classroom, Tsukigakirei) providing character designs. Aoi Akashiro () is in charge of series composition.
Youkoso Jitsuryoku Shijou Shugi no Kyoushitsu e will hit Japanese TV in July.
The series is based on the ongoing light novel series of the same name by Syohgo Kinugasa and illustrator Shunsaku Tomose. The series began publication under Media Factory's MF Bunko J Imprint in May 2015. To date, five mainline volumes have been produced, with the most recent hitting bookstores on January 25. A spinoff "volume 4.5" was released in September 2016.
Yuyu Ichino is producing a manga adaptation of Youkoso Jitsuryoku Shijou Shugi no Kyoushitsu e. The series debuted in the pages of Kadokawa's Monthly Comic Alive in early 2016. Three volumes of the manga have been released to date, with the most recent shipping on March 23.
Manga resource Baka-Updates describes Youkoso Jitsuryoku Shijou Shugi no Kyoushitsu e as:
Kodo Ikusei Senior High School, a leading prestigious school with state-of-the-art facilities where nearly 100% of students go on to university or find employment. The students there have the freedom to wear any hairstyle and bring any personal effects they desire. Kodo Ikusei is a paradise-like school, but the truth is that only the most superior of students receive favorable treatment.

The protagonist Kiyotaka Ayanokoji is a student of D-class, which is where the school dumps its "inferior" students in order to ridicule them. For a certain reason, Kiyotaka was careless on his entrance examination, and was put in D-class. After meeting Suzune Horikita and Kikyo Kushida, two other students in his class, Kiyotaka's situation begins to change.
Source: MoCa News