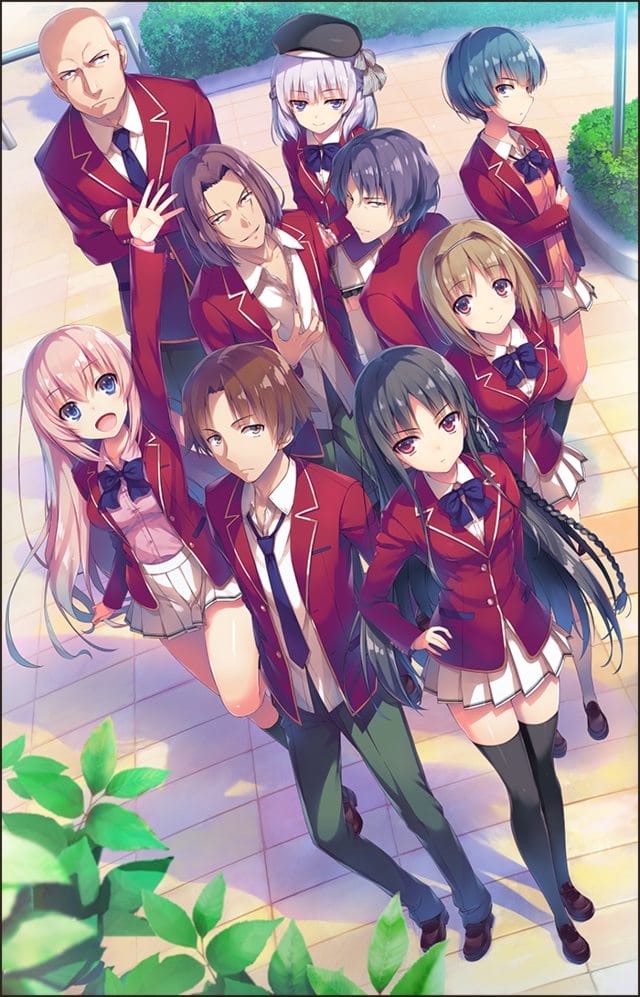 We have a whole classroom of cast members. Just be warned that they won't be doing any assassinations – this isn't Koro-sensei's beat.
On Monday, the official Youkoso Jitsuryoku Shijou Shugi no Kyoushitsu e (Welcome to the Classroom Where Supreme Merit Rules, "You Jitsu" for short) anime website updated with twenty-one new cast members. For ease of reference, we've broken the list up by classroom below.
D-Class
Airi Sakura: M.A.O
Haruki Yamauchi: Mutsuki Iwanaka
Kei Karuizawa: Ayana Taketatsu
Ken Sudō: Eiji Takeuchi
Kenji Ike: Daiki Abe
Kikyō Kujita: Yurika Kubo
Kiyotaka Ayanokōji: Shōya Chiba
Rokusuke Kōenji: Toshiki Iwasawa
Suzune Horikita: Akari Kitō
Teruhiko Yukimura: Tsubasa Gōda
Yōsuke Hirata: Ryota Ohsaka
A-Class
Arisu Sakayanagi: Rina Hidaka
Kōhei Katsuragi: Satoshi Hino
B-class
Honami Ichinose: Nao Tōyama
Ryūji Kanzaki: Akihisa Wakayama
C-Class
Kakeru Ryūen: Masaaki Mizunaka
Mio Ibuki: Mikako Komatsu
Student Council
Akane Tachibana: Konomi Kohara
Manabu Horikita: Yuichiro Umehara
Teachers
Chie Hoshinomiya: Hisako Kanemoto
Sae Chabashira: Rina Satou
Youkoso Jitsuryoku Shijou Shugi no Kyoushitsu e will hit Japanese TV in July.
The series is based on the ongoing light novel series of the same name by Syohgo Kinugasa and illustrator Shunsaku Tomose. Seiji Kishi (Assassination Classroom, Yuki Yuna is a Hero) is directing the project at Lerche, with Kazuaki Morita (Assassination Classroom, Tsukigakirei) providing character designs. Aoi Akashiro (Fuuka, KonoSuba – God's blessing on this wonderful world!!) is in charge of series composition.
ZAQ will perform the show's opening theme, though a specific song title has yet to be announced.
The Youkoso Jitsuryoku Shijou Shugi no Kyoushitsu e light novels began publication under Media Factory's MF Bunko J Imprint in May 2015. To date, five mainline volumes have been produced, with the most recent hitting bookstores on January 25. A spinoff "volume 4.5" was released in September 2016.
Yuyu Ichino is producing a manga adaptation of Youkoso Jitsuryoku Shijou Shugi no Kyoushitsu e. The series debuted in the pages of Kadokawa's Monthly Comic Alive in early 2016. Three volumes of the manga have been released to date, with the most recent shipping on March 23.
Manga resource Baka-Updates describes the title as:
Kodo Ikusei Senior High School, a leading prestigious school with state-of-the-art facilities where nearly 100% of students go on to university or find employment. The students there have the freedom to wear any hairstyle and bring any personal effects they desire. Kodo Ikusei is a paradise-like school, but the truth is that only the most superior of students receive favorable treatment.

The protagonist Kiyotaka Ayanokoji is a student of D-class, which is where the school dumps its "inferior" students in order to ridicule them. For a certain reason, Kiyotaka was careless on his entrance examination, and was put in D-class. After meeting Suzune Horikita and Kikyo Kushida, two other students in his class, Kiyotaka's situation begins to change.
Source: MoCa News