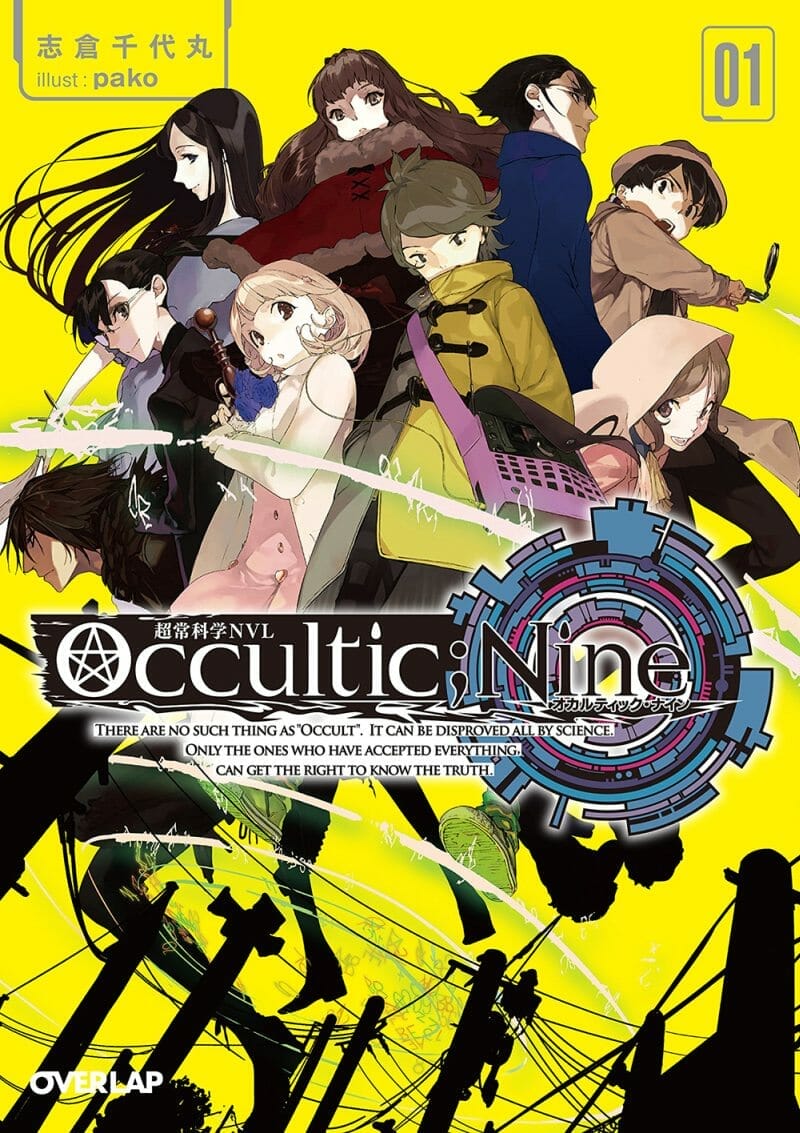 It's time to meet the folks who hack and slash away at the occult.
Earlier today, Aniplex of America unveiled the English dub cast for Occultic;Nine. The series will star the following:
Yuta Gamon: Erik Scott Kimerer
Ryoka Narusawa: Faye Mata
Sarai Hashigami: Robbie Daymond
Miyuu Aikawa: Kayli Mills
Touko Sumikaze: Erica Lindbeck
Kuenaino Aria: Cristina Vee
Kiryu Kusakabe: Greg Chun
Ririka Nishizono: Michelle Ruff
Shun Moritsuka: Max Mittelman
Asuna Kisaki: Erika Harlacher
Kouhei Izumi: Ben Diskin
Chizu Kawabata: Xanthe Huynh
Chris Cason is directing the adaptation and writing the scripts.
Occultic;Nine will hit stores on two Blu-Ray sets. Both sets will include six episodes, and carry a suggested price of $99.98 (79.98 in-store). The release schedule is as follows:
Volume 1: 9/26/2017
Volume 2: 12/26/2017
You can check out the tentative box art for both volumes below:
Occultic;Nine is based on a light novel series by MAGES. head Chiyomaru Shikura (Steins;Gate). Kyōhei Ishiguro (Your Lie in April, Lance 'n' Masques) directed the project at A-1 Pictures, with Tomoaki Takase (Saekano: How to Raise a Boring Girlfriend) providing character designs. Studio Mages (Psycho-Pass: Mandatory Happiness, B-PROJECT) was in charge of series composition.
Aniplex of America describes Occultic;Nine as:
Yuta Gamon is a second year student in high school. For a shot at quick money, he runs "Kiri Kiri Basara," an affiliate blog that rounds up occult forum posts. He challenges himself to the occult night and day to "hack and slash away!" the many supernatural phenomena existing in the world from a scientific standpoint.

With that blog of his as a catalyst, a group of downright maniacal and insane comrades gather together.

Their lives mysteriously intertwine, despite destiny's original plans; and a multitude of small, miniscule "incidents" starts to happen around them. Over time, they become a giant swell and later develop into a case so large, it is beyond imagination…
J-Novel Club currently holds the digital license for the original light novel series.